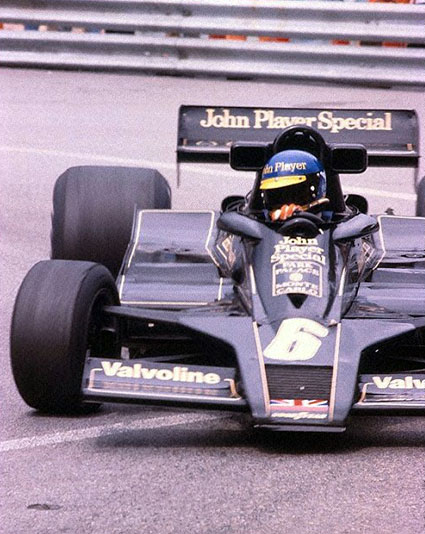 Grand Prix de Monaco 7 Maj 1978
Ronnie Petersons 114:e F1-start sker i Monacos GP. Tävlingen markerar också starten av den europeiska F1-säsongen, där Ferrari och Lotus delat på segrarna i de fyra inledande tävlingarna.
Endast 20 bilar tillåts att starta i Monte Carlo. Reutemann (Ferrari) tar "pole" före de båda Brabham-bilarna med Watson och Lauda. Andretti (Lotus) delar det andra startledet med en fjärde bästa tid. Före Ronnie på en sjundeplats återfinns Depailler (Tyrrell) och Hunt (McLaren).
Återigen för Watson en bra start och denna gång lyckas han ta sig in i första kurvan som ledare. Depailler rusar in som tvåa efter ett ryck från den femte startpositionen. I den första schikanen touchar Lauda och Reutemann varandra, Hunt gör en undanmanöver och kör in i väggen. Både Reutemann och Hunt tvingas in i depå för reparation. Lauda är trea före Andretti och Scheckter. På varv 13 har såväl Ronnie som Villeneuve kört om Jones på sjätteplatsen. På varv 38 tar sig Depailler förbi Watson, även Lauda lyckas med detta - men kör ett par varv senare i depå för en punktering. Även Andretti halkar bakåt i fältet efter att ha fått en bränsleläckage åtgärdat, vilket gör att Scheckter kan ta tredjeplatsen. Ronnie tvingas 19 varv från mål efter med växellådsproblem.
Patrick Depailler tar efter 69 starter sin första F1 seger någonsin i karriären. Lauda tar sig de sista varven förbi Watson och Scheckter och når andraplatsen. Watson tappar även tredjeplatsen till Scheckter.
Snabbaste varv från Niki Lauda med 1.28.65 och loppets två ledarfigurer blir: Watson 1-37; Depailler 38-75.
Summary in english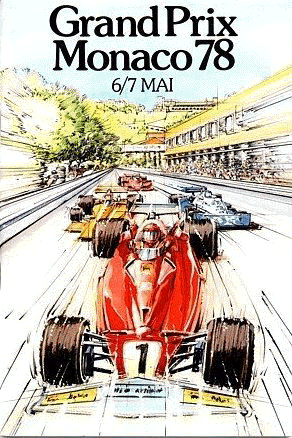 The Monaco race marked the start of the European season and with Lotus and Ferrari having split the wins in the opening four races, interest was high. The field was much the same as it had been at Long Beach with the addition of the Martini team. Ensign had dropped Lamberto Leoni and Jacky Ickx was making another F1 comeback with the team.

With only 20 starters being allowed at Monaco there had to be a pre-qualifying session again and this got rid of Keke Rosberg (Theodore), Hector Rebaque, Brett Lunger, Derek Daly (Hesketh) and Rene Arnoux (Martini).

Qualifying resulted in pole position for Carlos Reutemann (Ferrari) but the Brabham-Alfas of John Watson and Niki Lauda were second and third fastest. Mario Andretti was fourth fastest with Patrick Depailler (Tyrrell) fifth, James Hunt (McLaren) sixth and Ronnie Peterson (Lotus) seventh. The top 10 was completed by Gilles Villeneuve (Ferrari), Jody Scheckter (Wolf) and Alan Jones (Williams).

In the race Watson made the best start with Depailler behind him after a brilliant start from fifth on the grid. Reutemann was battling for third with Lauda and Hunt. At the chicane Lauda and Reutemann touched, Hunt had to swerve to avoid contact and hit the wall and so both he and Reutemann pitted for repairs, leaving Lauda third ahead of Andretti, Scheckter and Jones. The order did not change until lap 13 when Jones was overtaken by Peterson and Villeneuve.

On lap 38 Watson went up an escape road and dropped behind Depailler and Lauda but within a few laps the Austrian had to pit after a puncture. Andretti had also dropped down the order when he stopped to have a fuel leak fixed and so Scheckter moved to third place. Both Peterson and Villeneuve went out in the laps that followed, the Swede with a gearbox problem and the Canadian crashing while under pressure from the recovering Lauda.

Depailler duly won the race - his first F1 victory after 69 races - but Lauda's charge took him ahead of Watson (who had a second off and fell behind Scheckter) and Scheckter to claim second. Watson was fourth with Pironi fifth and Patrese sixth.
Sammanställning

Grand Prix

Datum

7 Maj 1978

Bana

Säsong

1978

Deltävling

5

Längd (km)

3.312

Varv

75

Tid

1:55:14.660
| | | | | | |
| --- | --- | --- | --- | --- | --- |
| Placering | Nr | Förare | Team | Tid | Grid |
| 1 | 4 | | | 1:55:14.660 | 5 |
| 2 | 1 | | | 22.450 | 3 |
| 3 | 20 | | | 32.290 | 9 |
| 4 | 2 | | | 33.530 | 2 |
| 5 | 3 | | | 68.060 | 13 |
| 6 | 35 | | | 68.770 | 14 |
| 7 | 8 | | | +1 varv | 11 |
| 8 | 11 | | | +1 varv | 1 |
| 9 | 14 | | | +1 varv | 20 |
| 10 | 15 | | | +4 varv | 12 |
| 11 | 5 | | | +6 varv | 4 |
| r | 12 | | | +13 varv | 8 |
| r | 6 | | | +19 varv | 7 |
| r | 7 | | | +32 varv | 6 |
| r | 36 | | | +37 varv | 19 |
| r | 27 | | | +46 varv | 10 |
| r | 22 | | | +48 varv | 16 |
| r | 16 | | | +51 varv | 17 |
| r | 26 | | | +62 varv | 15 |
| r | 18 | | | +67 varv | 18 |
| nq | 9 | | | | |
| nq | 17 | | | | |
| nq | 10 | | | | |
| nq | 19 | | | | |
| npq | 32 | | | | |
| npq | 24 | | | | |
| npq | 31 | | | | |
| npq | 25 | | | | |
| npq | 30 | | | | |
| npq | 37 | | | | |
| | | |
| --- | --- | --- |
| NC=Not Classified | NT=No time set in qualifying | R=Retired |
| EX=Excluded from meeting | W=Withdrawn | DQ=Disqualified |
| NS=Did not start | NQ=Did not qualify | NPQ=Did not pre-qualify |

Aktuell ställning
| | | | |
| --- | --- | --- | --- |
| Position | Förare | Nation | Poäng |
| 1 | | | 23 |
| 2 | | | 18 |
| " | | | 18 |
| 4 | | | 16 |
| 5 | | | 14 |
| 6 | | | 7 |