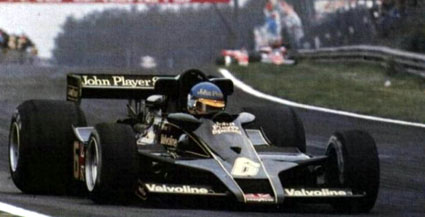 Grand Prix de Belgique 21 Maj 1978, Zolder
Ronnie Peterson sitter till skillnad från stallkollegan Andretti fortfarande i den gamla Lotus 78:an inför sin 115:e start i Formel 1. Detta avspeglar sig i startfältet, där Andretti i tidskvalet är hela 0,8 sekunder före tvåan Reutemanns Ferrari. Lauda är trea med sin Brabham och Villeneuve fyra i den andra Ferrari-bilen. Ronnie är inte bättre placerad än tia, men dagen bär bättre resultat i sitt sköte...

Loppet visar sig bli en uppvisning från Andretti som leder från start till mål. Primiärkörningen i den nya Lotus 79:an är en succé. Bakom honom är det ett kaos i starten. Reutemann missar en växel. Villeneuve lyckas smita förbi, men i undanmanövrar från Scheckter och Lauda uppstår en dominoeffekt med ett flertal bilar inblandade i mindre kollisioner. Scheckter kan trots allt ta tredjeplatsen, men bakom honom följer Ronnie, Patrese och Watson.
Då Scheckter måste in i depå för att reparera nosen är Ronnie ny trea. Denna ordning står sig till det 40:e varvet, då Villeneuve måste in för att byta däck. Även Ronnie måste lämna ifrån sig andraplatsen i samma ärende, vilket gör att han hamnar bakom Reutemann och Laffite då han åter kommer ut på banan. Ronnie lyckas emellertid återta förlorade placeringar och är tvåa i mål - knappt 10 sekunder efter Lotus 79:an med Mario Andretti. En formidabel uppkörning.
Långt därefter rullar de båda Ferraribilarna i mål som trea och fyra med Reutemann och Villeneuve.
Lotus tar således en dubbelseger och placerar Andretti i topp i det totala sammandraget. Lotus 79:an noteras för sin första seger och Andretti uttrycker efter loppet sin entusiasm:
"Jeez - a monkey could have done what I did; concratulate Colin!"
Ronnie klockas emellertid för loppets snabbaste varvtid med 1.23,13 och detta i den äldre Lotusen. Andretti har kört ifrån allt motstånd och Ronnie har trots depåstopp åkt igenom resten av fältet. Bättre födelsedagspresent kunde inte Colin Chapman ha fått - han har fyllt 50 år under helgen. Det rådde ingen tvekan om att han lyckats konstruera en klart överlägsen bil och att han hade de snabbaste förarna i sitt stall. Vem skulle kunna hota?
Summary in english
Two weeks after Patrick Depailler's victory for Tyrrell at Monaco the F1 circus was in action again in Zolder. The field was much as usual although Patrick Tambay was missing from the McLaren team as a result of a burn he had received when a fire extinguisher went off in his car during the F2 race at Pau. His place was taken by Marlboro favorite Bruno Giacomelli, who had been due to race for the team as a third driver. Jean-Pierre Jarier had fallen out with ATS and his place was taken by Italian Alberto Colombo. With 30 drivers there had to be a pre-qualifying session and this resulted in Arturo Merzario (Merzario) and Hector Rebaque (Lotus) missing out. In official qualifying Rupert Keegan (Surtees), Derek Daly (Hesketh), Keke Rosberg (Theodore) and Colombo missed out.

Pole position went to Mario Andretti at the wheel of the new Lotus 79 and this was nearly 0.8secs faster than Carlos Reutemann's Ferrari. Niki Lauda was third fastest in his Brabham-Alfa with Gilles Villeneuve fourth in his Ferrari. Then came Jody Scheckter in the new Wolf WR5 and James Hunt (McLaren). The top 10 was completed by Ronnie Peterson (in an old Lotus 78), Riccardo Patrese (Arrows), John Watson (Brabham) and Jean-Pierre Jabouille in the turbocharged Renault.

The race proved to be a dominant display by Andretti, who led from flag to flag. Behind him there was chaos at the start as Reutemann missed a gear. Villeneuve was not affected by as everyone tried to squeeze past the Ferrari Scheckter knocked into Lauda on one side of the track and Patrese clipped Hunt on the other. Further back Jacky Ickx (Ensign) hit Emerson Fittipaldi (Fittipaldi) and Didier Pironi (Tyrrell) collided with Rene Arnoux (Martini) as everyone tried to avoid Lauda and Hunt.

At the front Andretti led Villeneuve with Scheckter still going in third. Then came Peterson, Patrese and Watson. Then came Jabouille and Reutemann, although the Renault driver dropped back with brake trouble. Watson too was unable to keep up and dropped behind Reutemann while Scheckter pitted to have the nose of his car fixed and so left Peterson in third place.

The order at the front stayed the same until the 40th lap when Villeneuve had a tire blow and had to pit, leaving the Lotuses to run 1-2. That remained the case until lap 56 when Peterson pitted for new tires which dropped him behind Reutemann and Jacques Laffite (Ligier) The Swede was able to catch and pass both men before the flag. Laffite was challenging Reutemann for third when the two collided and the Ligier went off. He was classified fifth behind Villeneuve, while sixth place went to Didier Pironi (Tyrrell), the Frenchman scoring for the fourth time in his first five races.
Sammanställning

Grand Prix

Datum

21 Maj 1978

Bana

Säsong

1978

Deltävling

6

Längd (km)

4.262

Varv

70

Tid

1:39:52.020
| | | | | | |
| --- | --- | --- | --- | --- | --- |
| Placering | Nr | Förare | Team | Tid | Grid |
| 1 | 5 | | | 1:39:52.020 | 1 |
| 2 | 6 | | | 9.900 | 7 |
| 3 | 11 | | | 24.340 | 2 |
| 4 | 12 | | | 47.040 | 4 |
| 5 | 26 | | | +1 varv | 14 |
| 6 | 3 | | | +1 varv | 23 |
| 7 | 30 | | | +1 varv | 24 |
| 8 | 33 | | | +1 varv | 21 |
| 9 | 31 | | | +2 varv | 19 |
| 10 | 27 | | | +2 varv | 11 |
| 11 | 9 | | | +2 varv | 16 |
| 12 | 22 | | | +6 varv | 22 |
| r | 19 | | | +7 varv | 12 |
| r | 16 | | | +14 varv | 20 |
| nc | 15 | | | +14 varv | 10 |
| r | 20 | | | +17 varv | 5 |
| r | 4 | | | +19 varv | 13 |
| r | 17 | | | +30 varv | 18 |
| r | 35 | | | +39 varv | 8 |
| r | 36 | | | +44 varv | 17 |
| r | 2 | | | +52 varv | 9 |
| r | 14 | | | +70 varv | 15 |
| r | 7 | | | +70 varv | 6 |
| r | 1 | | | +70 varv | 3 |
| nq | 18 | | | | |
| nq | 24 | | | | |
| nq | 32 | | | | |
| nq | 10 | | | | |
| npq | 25 | | | | |
| npq | 37 | | | | |
| npq | 0 | | | | |
| npq | 0 | | | | |
| | | |
| --- | --- | --- |
| NC=Not Classified | NT=No time set in qualifying | R=Retired |
| EX=Excluded from meeting | W=Withdrawn | DQ=Disqualified |
| NS=Did not start | NQ=Did not qualify | NPQ=Did not pre-qualify |

Aktuell ställning
| | | | |
| --- | --- | --- | --- |
| Position | Förare | Nation | Poäng |
| 1 | | | 27 |
| 2 | | | 23 |
| 3 | | | 22 |
| 4 | | | 20 |
| 5 | | | 16 |
| 6 | | | 7 |