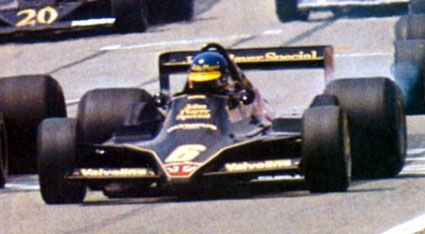 Gran Premio de Espana 4 Juni 1978, Jarama
Ronnie Peterson får äntligen sätta sig i den nya skapelsen från Colin Chapman - Lotus 79. Det är samma bil som Andretti hade då han vann med i Belgiens GP. Två veckor tidigare har stallet tagit en dubbelseger i Belgiens GP där Andretti med önskvärd tydlighet visade den nya bilens potential. Inför sin 116:e start har Ronnie en plats i första startled bredvid teamkompisen Mario Andrettis "pole position". Detta är närmast en utklassning, först en sekund senare återfinns Carlos Reutemann i en Ferrari på tredje startposition. James Hunt har med sin McLaren tagit den fjärde kvaltiden.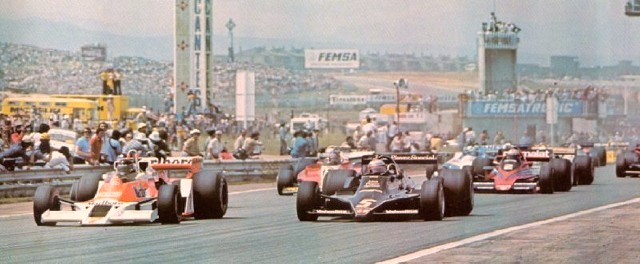 Inför starten har såväl Ronnie som Mario tagit en pokerchans och satsat högt på hårda däck med långt ifrån bästa greppförmåga. Det blir Hunt som gör en kanonstart, detta till skillnad från Ronnie som direkt åker bak i fältet till en nionde placering. Tvåa Andretti, följd av Reutemann, Watson, Villeneuve, Patrese, Laffite och Scheckter. På det åttonde varvet blåser Andretti förbi Hunt och två varv senare har även Ronnie tagit en placering. När såväl Villeneuve som Patrese och Reutemann drabbas av problem kan Ronnie avancera ytterligare och är efter 29 varv uppe på en femte plats.
Både Laffite och Ronnie lyckas därefter ta sig förbi Watson när denne stoppas upp i trafiken ett varv senare, är Ronnie även förbi Ligier:en och är plötsligt trea i jakten på Hunt. På varv 53 är Ronnie förbi även Hunt och detta blir en ordning Lotusbilarna kan hålla in över mållinjen. Ånyo en dubbelseger för Lotusstallet och den första dubbeln för modell 79. Trea blir Laffite i en Ligier.
Precis som på Zolder har Ronnie ännu en gång gett prov på sin eminenta förarförmåga. Dessa klappjakter och upphämtningar från långt ner i fältet var redan sen go-karttiden Ronnies signum.
Andretti, som är knappt 20 sekunder före Ronnie i mål, klockas för loppets snabbast varvtid med 1.20,06 och loppets ledare kan summeras i: Hunt 1-5; Andretti 6-75.
Med segern utökar Andretti sin ledning i förarmästerskapet, men ny tvåa är Ronnie - 10 poäng efter. Lotus "vingbilar" visade sig än en gång outstanding. Lotus tog sin 67:e GP-vinst, Andretti sin tredje för säsongen och stallet sin andra raka dubbelseger!
Summary in english
Two weeks after Mario Andretti's debut victory with the Lotus 79 at Zolder, there were two of the cars in Spain and the team had landed additional sponsorship from Olympus, which had given up its efforts with Hesketh. As a result the Hesketh team had disappeared. Patrick Tambay was back in the second McLaren having missed the Belgian GP while Emilio de Villota reappeared in his McLaren M23. Rene Arnoux's Martini was missing and so there were 29 drivers for 28 places in qualifying. The unlucky man in pre-qualifying was Keke Rosberg in his Theodore.

The official qualifying sessions were completely dominated by Lotus with Andretti ending up fastest with Peterson second. Andretti was a second faster than third-placed Carlos Reutemann (Ferrari) who shared the second row of the grid with James Hunt's McLaren. Gilles Villeneuve was fifth in his Ferrari, ahead of Niki Lauda and John Watson (Brabham-Alfas), Riccardo Patrese (Arrows), Jody Scheckter (Wolf) and Jacques Laffite (Ligier).

The race saw Hunt take the lead while Peterson made a poor start and ended up in ninth place at the end of the first lap. For the first few laps Hunt led Andretti, Reutemann, Watson, Villeneuve, Patrese, Laffite, Scheckter and Peterson. On the sixth lap, however, Andretti breezed into the lead and began to pull away. Two laps later Peterson overtook Scheckter for eighth. This became seventh when Villeneuve began to hit tire trouble and dropped back. On lap 22 Peterson was sixth after Patrese's race ended with engine failure and on lap 29 he was fifth when Reutemann went into the pits for new tires.

Laffite and Peterson then managed to get ahead of Watson when the Brabham driver lost time in traffic and a lap later Peterson went ahead of the Ligier as well to be third. He chased after Hunt and on lap 53 moved into second. Hunt dropped behind Laffite and Lauda (who was making up for a bad start) but a lap later the Brabham went out with an engine failure so Hunt held on to fourth for a few more laps until Scheckter and Watson overtook him.

Reutemann was charging back through the field when something broke on the Ferrari and he went off, into and over the barriers and into the debris fencing. Fortunately he was unhurt.

Thus Lotus came home to a second consecutive 1-2 finish with Laffite third, Scheckter fourth, Watson fifth and Hunt sixth.

The result put Andretti 10 points clear of Peterson in the World Championship.
Sammanställning

Grand Prix

Datum

4 Juni 1978

Bana

Säsong

1978

Deltävling

7

Längd (km)

3.404

Varv

75

Tid

1:41:47.060
| | | | | | |
| --- | --- | --- | --- | --- | --- |
| Placering | Nr | Förare | Team | Tid | Grid |
| 1 | 5 | | | 1:41:47.060 | 1 |
| 2 | 6 | | | 19.560 | 2 |
| 3 | 26 | | | 37.240 | 10 |
| 4 | 20 | | | 60.060 | 9 |
| 5 | 2 | | | 65.920 | 7 |
| 6 | 7 | | | +1 varv | 4 |
| 7 | 19 | | | +1 varv | 16 |
| 8 | 27 | | | +1 varv | 18 |
| 9 | 9 | | | +1 varv | 17 |
| 10 | 12 | | | +1 varv | 5 |
| 11 | 18 | | | +2 varv | 23 |
| 12 | 3 | | | +4 varv | 13 |
| 13 | 15 | | | +4 varv | 11 |
| 14 | 36 | | | +4 varv | 19 |
| r | 17 | | | +8 varv | 22 |
| r | 22 | | | +11 varv | 21 |
| r | 14 | | | +13 varv | 15 |
| r | 11 | | | +18 varv | 3 |
| r | 1 | | | +19 varv | 6 |
| r | 4 | | | +24 varv | 12 |
| r | 16 | | | +30 varv | 24 |
| r | 25 | | | +54 varv | 20 |
| r | 35 | | | +54 varv | 8 |
| r | 8 | | | +59 varv | 14 |
| nq | 37 | | | | |
| nq | 30 | | | | |
| nq | 36 | | | | |
| nq | 10 | | | | |
| npq | 32 | | | | |
| | | |
| --- | --- | --- |
| NC=Not Classified | NT=No time set in qualifying | R=Retired |
| EX=Excluded from meeting | W=Withdrawn | DQ=Disqualified |
| NS=Did not start | NQ=Did not qualify | NPQ=Did not pre-qualify |

Aktuell ställning
| | | | |
| --- | --- | --- | --- |
| Position | Förare | Nation | Poäng |
| 1 | | | 36 |
| 2 | | | 26 |
| 3 | | | 23 |
| 4 | | | 22 |
| 5 | | | 16 |
| 6 | | | 10 |