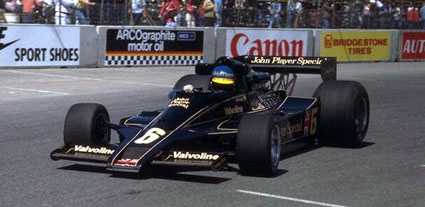 United States Grand Prix West 2 April 1978, Long Beach
Ronnie Peterson gör sin 113:e F1-start en månad efter segern i Sydafrika. Lotus satsar fortfarande på den äldre Lotus 78:an i väntan på den nyare modellen. Däckskriget mellan GoodYear och Michelin fortsätter. Ronnie presterar sjätte bästa kvaltid och stallkompisen Andretti är ett par snäpp vassare. I det första startledet återfinns de båda väl fungerande Ferraribilarna med Reutemann och Villeneuve. Niki Lauda tar den tredje startpositionen med sin Brabham. Den andra Brabham-bilen med Watson är placerad femma.
I starten är det bilarna från Ferrari och Brabham som rusar mot den första kurvan. Watson försöker sig på en manöver mot tätpositionen, men trycker till Reutemann och Lauda så att Villeneuve kan gå upp i ledning. På det tionde varvet bryter Watson, vilket gör att Lauda kan attackera mot täten. Lauda måste dock bryta på det 29:e varvet efter elektriska problem i bilen. Reutemann ny tvåa. Jones är uppe på en tredjeplats efter att ha passerat Andretti. På det 39:e varvet försöker Villeneuve varva Clay Regazzonis Shadow, men misslyckas och kraschar - Reutemann nu i ledning.
Under den andra hölften av loppet har Andretti lyckats återta sin förlorade plats från Watson och är nu uppe på en andraplats. Trots en snurrning så kan Reutemann behålla ledningen och ta en 10-sekunders seger före Andretti. Depailler (Tyrrell) kör in som trea, emedan Ronnie lägger beslag på en ohotad fjärdeplats. Ronnie har ännu en gång lagt på för mjuka däck och tvingades in i depå för ett tidsödande hjulbyte.
Snabbaste varv går till Alan Jones med 1.22,215 och loppets två förare i ledning är alltså: Villeneuve 1-38; Reutemann 39-80.
Med de poäng han tar halkar Ronnie ner till en delad tredjeplats i den totala sammanställningen, men ändock - Ronnie har aldrig lyckats med en så fin säsongstart.
Summary in english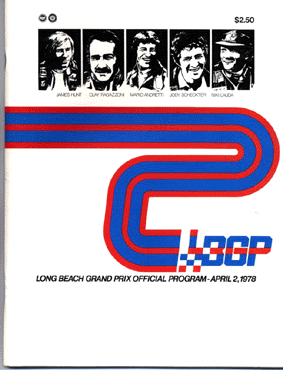 In the month between the South African and Long Beach races the F1 teams raced in the International Trophy at Silverstone with Keke Rosberg pulling off a big surprise by winning for Theodore while another youngster Derek Daly made a big impression in a Hesketh on a day when all the big names crashed out. As a result Daly was still in the Hesketh at Long Beach in place of American Eddie Cheever. The Shadow team had finished the new DN9 and Danny Ongais was back in action, running in a third Shadow entered by Interscope Racing. With only 22 cars allowed to start there was an hour-long pre-qualifying session on Friday morning during which Rosberg, Daly, Hector Rebaque and Ongais failed to make it, while Arrows drivers Riccardo Patrese and Rolf Stommelen, Arturo Merzario (Merzario) and Brett Lunger (BS Fabrications McLaren) were allowed to take part in official qualifying.

The Ferraris were highly competitive and pole position went to Carlos Reutemann with Gilles Villeneuve two-tenths slower. Niki Lauda was third in the Brabham and Mario Andretti fourth. John Watson was fifth fastest with Ronnie Peterson sixth in the second Lotus. The top 10 was completed by James Hunt (McLaren), Alan Jones (Williams), Riccardo Patrese (Arrows) and Jody Scheckter (Wolf).

In the race the Brabhams and Ferraris set off together at the front and at the hairpin Watson made a bid for the lead, sliding down the inside line, pushing Reutemann and Lauda out, which allowed Villeneuve to dive inside and take the lead. When the situation was unscrambled Villeneuve led Watson, Lauda and Reutemann. The order remained the same until the 10th lap when Watson went out, leaving Villeneuve under pressure from Lauda. But the second Brabham-Alfa went out on lap 28 with electrical trouble and so Villeneuve was left leading Reutemann. Jones was up to third having passed Andretti. On the 39th lap Villeneuve tried to lap Clay Regazzoni's Shadow and crashed out, leaving Reutemann in the lead.

In the second half of the race Andretti was able to catch and repass Jones for second place and the Australian then fell back with fuel pressure problems which dropped him to seventh place.

Reutemann survived a spin to win the race with Andretti just over 10 seconds behind him. Patrick Depailler was third in his Tyrrell with Peterson fourth, Jacques Laffite (Ligier) fifth and Patrese sixth, giving the Arrows team its first World Championship point.
Sammanställning

Grand Prix

Datum

2 April 1978

Bana

Säsong

1978

Deltävling

4

Längd (km)

3.251

Varv

80

Tid

1:52:01.301
| | | | | | |
| --- | --- | --- | --- | --- | --- |
| Placering | Nr | Förare | Team | Tid | Grid |
| 1 | 11 | | | 1:52:01.301 | 1 |
| 2 | 5 | | | 11.061 | 4 |
| 3 | 4 | | | 28.951 | 12 |
| 4 | 6 | | | 45.603 | 6 |
| 5 | 26 | | | 82.884 | 14 |
| 6 | 35 | | | +1 varv | 9 |
| 7 | 27 | | | +1 varv | 8 |
| 8 | 14 | | | +1 varv | 15 |
| 9 | 36 | | | +1 varv | 18 |
| 10 | 17 | | | +1 varv | 20 |
| 11 | 10 | | | +5 varv | 19 |
| r | 8 | | | +6 varv | 11 |
| r | 20 | | | +21 varv | 10 |
| r | 19 | | | +30 varv | 17 |
| r | 15 | | | +37 varv | 13 |
| r | 12 | | | +42 varv | 2 |
| r | 1 | | | +53 varv | 3 |
| r | 3 | | | +55 varv | 22 |
| r | 37 | | | +63 varv | 21 |
| r | 9 | | | +69 varv | 16 |
| r | 2 | | | +71 varv | 5 |
| r | 7 | | | +75 varv | 7 |
| ns | 18 | | | | |
| ns | 16 | | | | |
| nq | 30 | | | | |
| nq | 22 | | | | |
| npq | 32 | | | | |
| npq | 25 | | | | |
| npq | 39 | | | | |
| npq | 24 | | | | |
| | | |
| --- | --- | --- |
| NC=Not Classified | NT=No time set in qualifying | R=Retired |
| EX=Excluded from meeting | W=Withdrawn | DQ=Disqualified |
| NS=Did not start | NQ=Did not qualify | NPQ=Did not pre-qualify |

Aktuell ställning
| | | | |
| --- | --- | --- | --- |
| Position | Förare | Nation | Poäng |
| 1 | | | 18 |
| " | | | 18 |
| 3 | | | 14 |
| " | | | 14 |
| 5 | | | 10 |
| 6 | | | 6 |