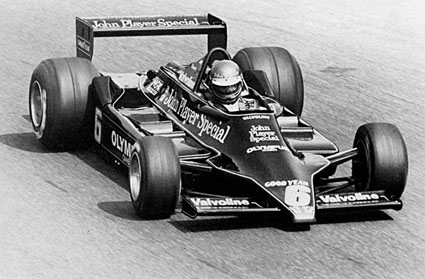 Gran Premio d`Italia 10 September 1978, Monza
Ronnie Peterson har beslutat sig för att lämna Lotus trots att han offererats ett fint bud av Chapman. Detta bud är dock oacceptabelt då Andretti tidigare försäkrats ett nytt likartat kontrakt som det han hade under 1978. Utan att avslöja vilket stall han skall gå till, säger Ronnie inför sin 123:e och nästa F1-start i Italiens GP:
"Det mest guldkantade kontrakt jag någonsin skrivit sen jag kom in i den här karusellen, men jag har tillförsäkrats en vinnarbil i ett team som är lika proffsigt som Lotus."
Tyvärr blir det inte något nytt stall för Ronnie. Starten i Italiens GP på Monza blir Ronnies sista. Efter en bedrövlig helg av idel problem och en svår avkörning under söndagens uppvärmning, tvingas Ronnie starta från tredje led i reservbilen - fjolårsmodellen Lotus 78. Av oklar anledning kommer Ronnie något efter i starten - en start som för övrigt är under all kritik då fältet släpps iväg innan alla bilar står stilla. Ricardo Patrese, som startar längre bak i fältet försöker sig på en fräckis och kör om en rad bilar utanför själva banan. Då startrakan smalnar av finns inte tillräckligt med plats för Patrese som försöker ta sig in på banan igen och plötsligt kastas James Hunts bil åt sidan så att han kolliderar med Ronnie. Ronnies bil kastas in i avbärarräcket och studsar i ett eldhav åter in på banan. Bilen blir ännu en gång påkörd. I det virrvarr som uppstår lyckas James Hunt ta sig fram till Ronnies brinnande bil och får efter möda loss Ronnie som har svårt sargade ben. Efter en lång stund flygs Ronnie, som är vid medvetande, till ett närliggande sjukhus. Loppet kan startas om.
Andretti on pole before Villeneuve. Fastest Lap: Andretti 1.38.23 Leaders: Jabouille 1-5; Lauda 6-40.
Lauda Brabham-Alfa Romeo wins, Watson Brabham-Alfa Romeo second, Reutemann Ferrari third and Ronnie Peterson Lotus crashed heavily at the start and died later in hospital.
Summary in english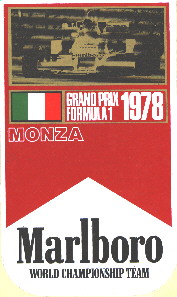 After a summer of Team Lotus domination, the World Championship was effectively settled when the F1 teams arrived at Monza in early September. Mario Andretti was only 12 points ahead of his team mate Ronnie Peterson but the Swede had agreed to help his team leader (and had done so) and so he was not a challenge. Niki Lauda (Brabham) was third but he was 28 points behind Andretti and with only three races left he could not win the title.

Jochen Mass had had a big accident while testing the brand new ATS chassis at Silverstone and the German was out of action with a broken leg. Michael Bleekemolen was retained to drive one of the old HS1 chassis and Harald Ertl was given the other after he failed to pre-qualify the Ensign. Surtees replaced the injured Rupert Keegan with the local driver "Gimax" (Carlo Franchi). Pre-qualifying got rid of Rolf Stommelen (Arrows), Hector Rebaque and Alberto Colombo (in a second Merzario).

Qualifying was not plain sailing for the Lotus team but Mario Andretti took pole position ahead of Gilles Villeneuve (Ferrari), Jean-Pierre Jabouille (Renault) and Niki Lauda (Brabham). Peterson was next with Alan Jones alongside in his Williams. The top 10 was completed by John Watson (Brabham), Jacques Laffite (Ligier), Jody Scheckter (Wolf) and James Hunt (McLaren). In the morning warm-up on Sunday Peterson crashed heavily when the rear brakes on his Lotus 79 failed. He had to start the race in an old Lotus 78.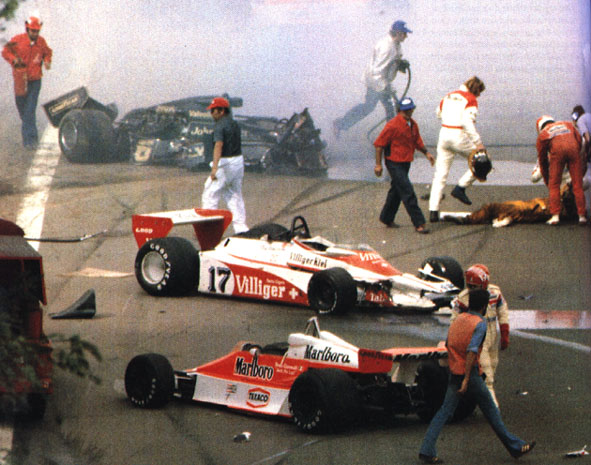 At the start the back rows of the grid were still moving and so those at the back had extra momentum and so the midfield was rather more crowded than usual. Villeneuve made the best start and led Andretti and Lauda down to the first corner. Jabouille was with them while a second bunch of cars included Jones, Watson, Laffite, Scheckter, Peterson, Hunt and Patrese. The young Italian had decided to use the track on the wrong side of the white line on the run towards the chicane and as the corner approached he needed to slot into the pack. Hunt did not want to give him space. The two cars collided, Hunt's then hitting Peterson and being launched into the air. Peterson's Lotus speared off into the barriers, while Hunt's McLaren landed and went down the road sideways. Behind them there was pandemonium as Reutemann, the Shadows of Clay Regazzoni and Hans Stuck, the Tyrrells of Didier Pironi and Patrick Depailler, Vittorio Brambilla's Surtees, Derek Daly's Ensign and Brett Lunger's McLaren were all involved in a high-speed multiple accident. Peterson's Lotus was torn in half and burst into flames. Hunt ran back and went into flames and was joined by Regazzoni and the pair managed to drag Peterson clear on the wreck. He had suffered serious leg injuries. Brambilla had been hit on the head by a flying wheel and was unconscious while Stuck was badly shaken up having also been hit on the head on the head by a flying wheel.

Peterson and Brambilla were taken to hospital.

The race was going to be restarted but as the cars were getting ready Scheckter lost a wheel in the Lesmo and crashed heavily. The barriers did not hold up well and so repairs had to be made and it was nearly six o'clock before the race started again with 19 cars (six drivers being in their spares and five being unable to start).

At the restart Villeneuve was too quick away and Andretti went with him and so both drivers were given a one minute penalty as a result. Andretti was unable to take the lead until the 35th of 40 laps (the race having been shortened) when Villeneuve began to struggle with his brakes and tires.

Jabouille ran third early on but soon retired with an engine failure and so Lauda moved to third, while Watson was able to move up to fourth ahead of Reutemann and Laffite. With the penalties added Andretti and Villeneuve dropped to sixth and seventh positions (Andretti having been only 15secs clear of Lauda at the finish) and so Patrick Tambay (McLaren) inherited fifth place.

With Peterson in hospital and obviously out for the rest of the season, Andretti was champion but there was no celebrating.

It seemed that Peterson's injuries were not dangerous and he had not been burned. But that night he underwent an operation on his legs. There were complications with a clot forming in his blood stream and the Swede slipped into a coma and died early the next morning.
Sammanställning

Grand Prix

Italien

Datum

10 September 1978

Bana

Säsong

1978

Deltävling

14

Längd (km)

5.800

Varv

40

Tid

1:07:04.540
| | | | | | |
| --- | --- | --- | --- | --- | --- |
| Placering | Nr | Förare | Team | Tid | Grid |
| 1 | 1 | | | 1:07:04.540 | 4 |
| 2 | 2 | | | 1.480 | 7 |
| 3 | 11 | | | 20.470 | 11 |
| 4 | 26 | | | 37.530 | 8 |
| 5 | 8 | | | 40.390 | 19 |
| 6 | 5 | | | 46.330 | 1 |
| 7 | 12 | | | 48.480 | 2 |
| 8 | 14 | | | 55.240 | 13 |
| 9 | 29 | | | 66.830 | 24 |
| 10 | 22 | | | 69.110 | 18 |
| 11 | 4 | | | 76.570 | 16 |
| 12 | 20 | | | +1 varv | 9 |
| 13 | 27 | | | +1 varv | 6 |
| 14 | 33 | | | +1 varv | 20 |
| nc | 17 | | | +7 varv | 15 |
| r | 35 | | | +11 varv | 12 |
| r | 7 | | | +21 varv | 10 |
| r | 37 | | | +26 varv | 22 |
| r | 15 | | | +34 varv | 3 |
| r | 6 | | | +40 varv | 5 |
| r | 19 | | | +40 varv | 23 |
| r | 30 | | | +40 varv | 21 |
| r | 3 | | | +40 varv | 14 |
| r | 16 | | | +40 varv | 17 |
| nq | 25 | | | | |
| nq | 10 | | | | |
| nq | 9 | | | | |
| nq | 18 | | | | |
| npq | 32 | | | | |
| npq | 36 | | | | |
| npq | 34 | | | | |
| | | |
| --- | --- | --- |
| NC=Not Classified | NT=No time set in qualifying | R=Retired |
| EX=Excluded from meeting | W=Withdrawn | DQ=Disqualified |
| NS=Did not start | NQ=Did not qualify | NPQ=Did not pre-qualify |

Aktuell ställning
| | | | |
| --- | --- | --- | --- |
| Position | Förare | Nation | Poäng |
| 1 | | | 64 |
| 2 | | | 51 |
| 3 | | | 44 |
| 4 | | | 35 |
| 5 | | | 32 |
| 6 | | | 25 |