United States Grand Prix 1 Oktober 1978, Watkins Glen
Andretti i pole före Reutemann. Reutemann Ferrari vinner, Jones Williams tvåa och Scheckter Wolf trea. Snabbaste varv: Jarier 1.39.557 Loppets ledare: Andretti 1-2; Reutemann 3-59.
Summary in english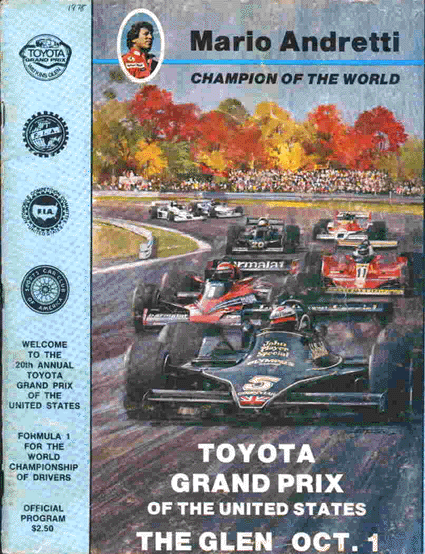 The death of Ronnie Peterson three weeks earlier after an accident in the Italian Grand Prix had caused much controversy. Riccardo Patrese was blamed by the members of the Grand Prix Drivers Association and they asked the organizers at Watkins Glen to Refuse his entry. Patrese then tried to get an injunction to stop the race happening. Patrese's injunction was refused he was unable to race but for years there was bitterness between those involved (particularly between James Hunt and Patrese).

Team Lotus was required to enter a second car and so hired Jean-Pierre Jarier to replace Peterson. Vittorio Brambilla was also still out of action and his place at Surtees was taken by an Italian youngster called Beppe Gabbiani. Rupert Keegan was still out of action and so Rene Arnoux drove the second car, Martini having given up on its F1 plans.

Brett Lunger had fallen out with BS Fabrications and so appeared as Derek Daly's team mate at Ensign (replacing Harald Ertl) while Keke Rosberg had finally given up with Theodore and was driving for ATS while Walter Wolf was fielding a second car for rising star Bobby Rahal. Nelson Piquet had been signed by Brabham for the 1979 season and was due to join Niki Lauda and John Watson but as no car was ready he missed out so there were 27 entries. With a 26-car grid only Gabbiani missed out.

The new World Champion Mario Andretti was on pole by a whole second, with Carlos Reutemann (Ferrari) second, Alan Jones (Williams) third and Gilles Villeneuve (Ferrari) fourth. The third row featured perennial rivals Lauda and James Hunt (McLaren) while the fourth row featured Watson and Jarier. The fourth row was all-French with Jean-Pierre Jabouille (Renault) alongside his brother-in-law Jacques Laffite (Ligier) and the top 10 was completed by Patrick Depailler (Tyrrell) and Jody Scheckter (Wolf).

Andretti had a sizable accident on Sunday morning and so started in Jarier's car, while the Frenchman drove a new chassis which arrived on race morning. At the start Andretti went into the lead with Reutemann, Villeneuve, Jones and Jarier chasing. Neither Lotus driver was very happy with his car, however, and Andretti soon fell behind Reutemann and Villeneuve while Jarier was pushed back by Hunt, Watson and Depailler. On lap 21 Jones overtook Andretti for third place and two laps later this became second when Villeneuve went out with engine failure. Andretti and Lauda both disappeared with similar problems and so third place fell to Jabouille until the closing laps when he ran into brake trouble and slipped behind Scheckter and Jarier, who was charging hard after a tire stop. As a result the Frenchman was able to pass Scheckter and grab third but he ran out of fuel with four laps to go and so Scheckter, Jabouille, Emerson Fittipaldi (Fittipaldi) and Patrick Tambay (McLaren) completed the points scorers.
Sammanställning

Grand Prix

Datum

1 Oktober 1978

Bana

Säsong

1978

Deltävling

15

Längd (km)

5.435

Varv

59

Tid

1:40:48.800
| | | | | | |
| --- | --- | --- | --- | --- | --- |
| Placering | Nr | Förare | Team | Tid | Grid |
| 1 | 11 | | | 1:40:48.800 | 2 |
| 2 | 27 | | | 19.739 | 3 |
| 3 | 20 | | | 45.701 | 11 |
| 4 | 15 | | | 85.007 | 9 |
| 5 | 14 | | | 88.089 | 13 |
| 6 | 8 | | | 110.210 | 18 |
| 7 | 7 | | | +1 varv | 6 |
| 8 | 22 | | | +1 varv | 19 |
| 9 | 18 | | | +1 varv | 21 |
| 10 | 3 | | | +1 varv | 16 |
| 11 | 26 | | | +1 varv | 10 |
| 12 | 21 | | | +1 varv | 20 |
| 13 | 23 | | | +1 varv | 24 |
| 14 | 17 | | | +3 varv | 17 |
| r | 55 | | | +4 varv | 8 |
| 16 | 36 | | | +5 varv | 22 |
| r | 37 | | | +13 varv | 26 |
| r | 9 | | | +16 varv | 25 |
| r | 1 | | | +31 varv | 5 |
| r | 5 | | | +32 varv | 1 |
| r | 2 | | | +34 varv | 7 |
| r | 4 | | | +36 varv | 12 |
| r | 12 | | | +37 varv | 4 |
| r | 32 | | | +38 varv | 15 |
| r | 16 | | | +58 varv | 14 |
| r | 25 | | | +59 varv | 23 |
| nq | 19 | | | | |
| | | |
| --- | --- | --- |
| NC=Not Classified | NT=No time set in qualifying | R=Retired |
| EX=Excluded from meeting | W=Withdrawn | DQ=Disqualified |
| NS=Did not start | NQ=Did not qualify | NPQ=Did not pre-qualify |

Aktuell ställning
| | | | |
| --- | --- | --- | --- |
| Position | Förare | Nation | Poäng |
| 1 | | | 64 |
| 2 | | | 51 |
| 3 | | | 44 |
| " | | | 44 |
| 5 | | | 32 |
| 6 | | | 25 |