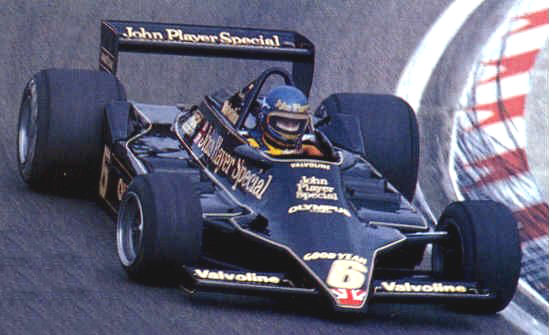 Grote Prijs van Nederland 27 Augusti 1978, Zandvoort
Ronnie Peterson avslöjar dagen före Hollands GP för några journalister att han samma natt skrivit på ett nytt tvåårskontrakt. Han vill dock inte avslöja vart han skall gå eller om han rent av skall stanna hos Lotus. Inför Ronnies 122:a F1-start är intresset på topp hemma i Sverige och tävlingen på Zandvoortbanan kommer även att direktsändas i TV.
Kvalificeringen ger samma resultat som många gånger tidigare med de båda Lotus-bilarna i första startled, denna gång med Mario Andretti i "pole" och Ronnie alldeles bredvid. Där bakom följer, en sekund efter, Niki Lauda (Brabham) och de två Ferrari-bilarna med Carlos Reutemann och Gilles Villeneuve. Jacques Laffite (Ligier) placerad som sexa i det tredje startledet tillsammans med James Hunt (McLaren).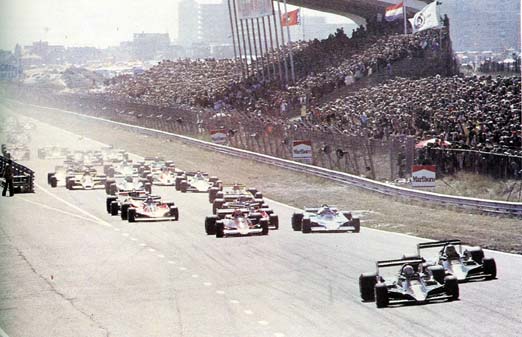 Starten...
Andretti tar starten före Ronnie. Laffite lyckas kasta sig fram till en tredjeplats. I den andra kurvan kolliderar Pironi (Tyrrell) och Patrese (Arrows) längre bak i fältet, vilket sinkar andra förare att ta sig förbi. Patreses bil står fortfarande kvar på banan då de båda Lotusbilarna kommer för varvning - de passerar på varsin sida av vraket.
Andretti och Ronnie fortsätter att dra ifrån. Bakom dem är Lauda trea följd av Laffite (som snart faller bakåt i fältet), Reutemann, Watson, Fittipaldi och Villeneuve. Denna ordning står sig till det 38:e varvet då fjärdeplacerade Reutemann blir omkörd av Watson och Fittipaldi efter problem med däcken.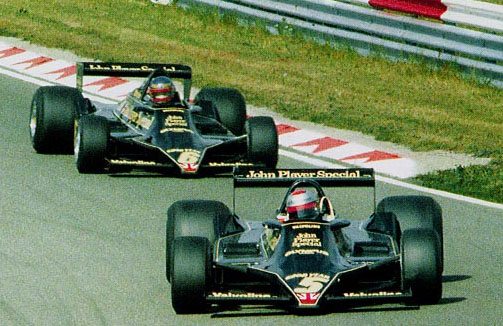 Andretti med följeslagare...
Lotus tar ånyo en komfortabel 1-2 seger före de två Brabham-bilarna med Lauda och Watson. Ronnie avslöjar efteråt att han kanske kunnat köra förbi Mario då Lauda var alltför närgången, men att han klokt nog slog bort sådana tankar. I mål är Ronnie endast 0,3 sekunder efter emedan Lauda distanserats med hela 12 (dock efter att ha presterat loppets snabbaste varvtid med 1.19,57).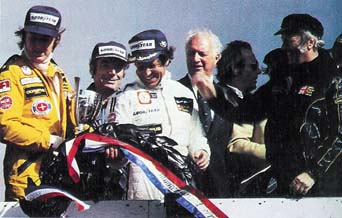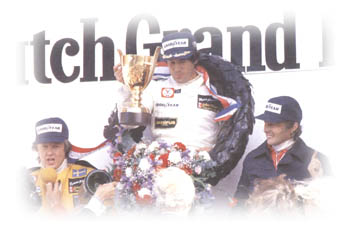 Tvåa igen!
Med denna seger kan Mario Andretti i praktiken redan räkna hem världsmästerskapet. Med endast tre tävlingar kvar att köra leder han med 12 poäng före Ronnie (63 mot 51), men eftersom Ronnie har inskrivit i kontraktet att Andretti skall gå före så är VM-titeln klar. Då det endast återstår 27 poäng att tävla om kan Lauda på tredjeplatsen i det totala sammandraget, 28 poäng efter, inte hota Andretti om segern.
Summary in english
After Ronnie Peterson's win in the chaotic Austrian GP, it was back to business as usual in Holland with the field much as normal. Hans Binder had been replaced at ATS by local driver Michael Bleekemolen and Danny Ongais popped up again in his old Interscope-run Shadow. Pre-qualifying got rid of Ensign's Harald Ertl, Rolf Stommelen in the Arrows and Ongais.

Qualifying resulted in the usual 1-2 for Team Lotus with Mario Andretti beating Peterson on this occasion. Third fastest, a second behind Andretti, was Niki Lauda in the Brabham-Alfa Romeo. Then came the two Ferraris with Carlos Reutemann just ahead of Gilles Villeneuve while Jacques Laffite (Ligier) was sixth. The top 10 was completed by James Hunt (McLaren), John Watson (Brabham), Jean-Pierre Jabouille (Renault) and Emerson Fittipaldi (Fittipaldi). In the warm-up on Sunday Rupert Keegan damaged his wrist in a sizable crash in his Surtees and so was unable to start, which meant that Arturo Merzario (Merzario) made it into the race.

At the start of the race Andretti took the lead from Peterson with Laffite bursting through into third place. At the second corner Didier Pironi (Tyrrell) and Riccardo Patrese (Arrows) had a spectacular collision and several other drivers were delayed and suffered damage as everyone avoided the crash. Patrese's car was still in the middle of the road when the leaders returned but Andretti passed on one side of the wreck and Peterson on the other.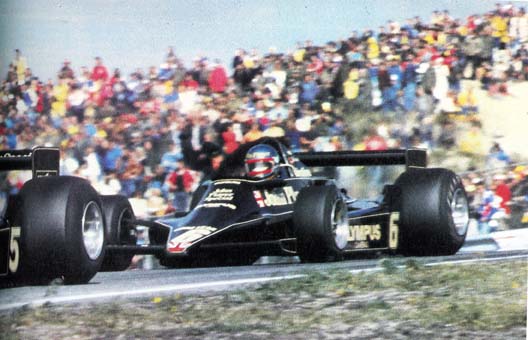 As the Lotuses built up their lead Lauda was left in third as Laffite soon faded back down the order with Reutemann, Watson, Fittipaldi and Villeneuve all passing the Frenchman. The order then settled until lap 38 when fourth-placed Reutemann dropped behind Watson and Fittipaldi with tire trouble.


Andretti thus led Peterson to another Lotus 1-2 ahead of the two Brabhams of Lauda and Watson. Fittipaldi was fifth with Villeneuve getting ahead of Reutemann by the finish to claim the final point.

Andretti was effectively World Champion because although Peterson was only 12 points behind he had agreed to be number two in the team. Lauda was third in the World Championship but was 28 points behind with a maximum of 27 available in the final three races.
Sammanställning

Grand Prix

Nederländerna

Datum

27 Augusti 1978

Bana

Säsong

1978

Deltävling

13

Längd (km)

4.226

Varv

75

Tid

1:41:04.230
| | | | | | |
| --- | --- | --- | --- | --- | --- |
| Placering | Nr | Förare | Team | Tid | Grid |
| 1 | 5 | | | 1:41:04.230 | 1 |
| 2 | 6 | | | 0.319 | 2 |
| 3 | 1 | | | 12.210 | 3 |
| 4 | 2 | | | 20.920 | 8 |
| 5 | 14 | | | 21.500 | 10 |
| 6 | 12 | | | 45.950 | 5 |
| 7 | 11 | | | 60.500 | 4 |
| 8 | 26 | | | +1 varv | 6 |
| 9 | 8 | | | +1 varv | 14 |
| 10 | 7 | | | +1 varv | 7 |
| 11 | 25 | | | +1 varv | 20 |
| 12 | 20 | | | +2 varv | 15 |
| r | 33 | | | +15 varv | 19 |
| r | 16 | | | +19 varv | 18 |
| r | 31 | | | +35 varv | 23 |
| r | 37 | | | +35 varv | 27 |
| dq | 19 | | | | 22 |
| r | 15 | | | +40 varv | 9 |
| r | 30 | | | +40 varv | 21 |
| r | 32 | | | +54 varv | 24 |
| r | 27 | | | +58 varv | 11 |
| r | 29 | | | +59 varv | 26 |
| r | 4 | | | +62 varv | 12 |
| r | 22 | | | +65 varv | 16 |
| r | 35 | | | +75 varv | 13 |
| r | 3 | | | +75 varv | 17 |
| ns | 18 | | | | 25 |
| nq | 17 | | | | |
| nq | 10 | | | | |
| nq | 9 | | | | |
| npq | 23 | | | | |
| npq | 39 | | | | |
| npq | 36 | | | | |
| | | |
| --- | --- | --- |
| NC=Not Classified | NT=No time set in qualifying | R=Retired |
| EX=Excluded from meeting | W=Withdrawn | DQ=Disqualified |
| NS=Did not start | NQ=Did not qualify | NPQ=Did not pre-qualify |

Aktuell ställning
| | | | |
| --- | --- | --- | --- |
| Position | Förare | Nation | Poäng |
| 1 | | | 63 |
| 2 | | | 51 |
| 3 | | | 35 |
| 4 | | | 32 |
| 5 | | | 31 |
| 6 | | | 19 |