1st Speed International Trophy
14 mars 1971, Mallory Park, Kirkby Mallory, Leicestershire, Storbritannien (14)
Ronnie Petersons första framträdande i Formel 2 säsongen -71 sker på smala, kurviga och korta Mallory Park i England. Loppet ingår inte i den officiella EM-serien. Starten kommer att bli Ronnies fjortonde i F2-karriären. Mallory Park har inte haft ett F2-lopp sen 1967 och tävlingen drar stora åskådarmassor. Ronnie har inför loppet endast gjort ett par testrundor på Silverstone med March helt nya fabriksvagn 712M. Ronnie svarar dock för en fantastisk uppvisning under träningen och imponerar stort. Simon Taylor, chefredaktör för en av väldens mest ansedda motortidskrifter, Autosport, skrev t ex så här den 18 mars 1971:
"One driver stood head and shoulders above the rest: Ronnie Peterson. To watch him hurling the yellow March round Mallory with abandon and supreme confidence was to invite instant comparsion with one man - Jochen Rindt. His time came steadily down to 43,3 and then he did a couple of 43 dead and called the day. Ronnie had a long fourth gear in and wasn´t using top: from the hairpin up through the gears to fourth, Devil´s Elbow absolutely flat, no breaking for Gerards, just a little lift before chucking the car sideways, holding it on opposite lock all the way round, hard down the straight, dab the brakes and grab third for the Esses and the throttle hard down through the right and left, up the hill and then heavy breaking beyond the 100 yds marker and down to bottom for the hairpin. He came up on Derek Bell a bit rapidly inte the hairpin on one lap; Derek didn´s see him and the two cars touched, but no damage was done."
På den korta banan, endast 2170 m, var Ronnie hela 0,8 sekunder snabbare än närmaste man, Pescarolo och 1,4 sek snabbare än Derek Bell - bägge förarna också i en varsin March 712M. Ronnie var mycket nöjd med bilen.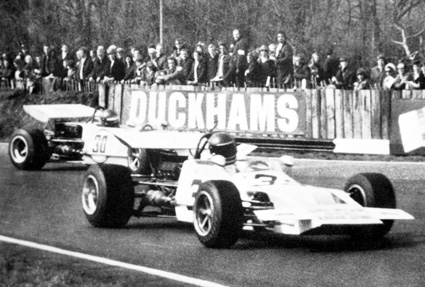 När starten går kommer Ronnie endast iväg som trea - efter Pescarolo och Birell. Den smala och krokiga banan är svår att köra om på, ungefär som Kinnekulle Ring, och det är först på det sjätte varvet som Ronnie lyckas ta sig förbi Birell. Snabbt är han upp i Pescarolos bakhjul och när luckan uppstår på det femtonde varvet är Ronnie blixtsnabb att utnyttja situationen. Den korta banan gör emellertid att varvningar blir ett tidigt problem och inte blir det lättare av att banan är så pass snäv. Efter 30 varv har Ronnie varvat de flesta - många dessutom två gånger. På varv 34 är Ronnie ikapp den lilla grupp som kämpar om fjärdeplatsen. Det är Reutemann som är omedelbart framför. I hårnålen dör dennes motor, men Ronnie lyckas krångla sig förbi. En av Marchens nosfenor snuddar dock vid Reutemanns Brabham och får sig en knäck, men det förefaller inte vara något större fel på bilen och Ronnie kan åter öka farten.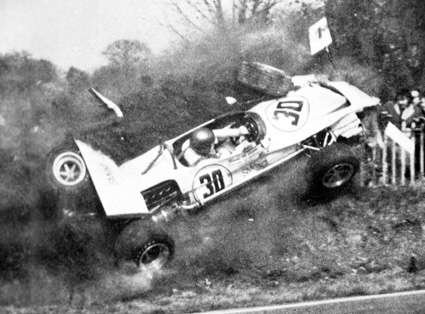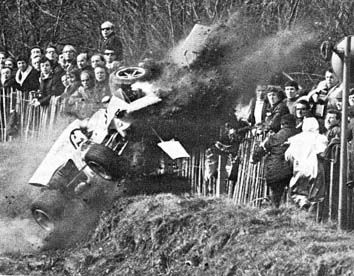 Varvet därpå, då Ronnie är på väg att varva Mike Beuttler i "the Esses", försvinner plötsligt styrförmågan. Endast det ena framhjulet styrde och vänster hjul pekar rakt ut i högerböjen. Ronnie har inte en chans att parera och går rätt in i jordvallen, slungas iväg längs med och landar så småningom ett stort dammoln precis innan publikleden. Ronnie berättar:
"Det måste ha sett verkligen ruskigt ut. Dels publiken ,som bara stod några m ter från nedslagsplatsen, jag själv som var begravd under en salig röra av hjul, splitter och jord. En liten grabb i publikleden hade fått en lätt smäll av flygande splitter och själv klarade jag mig undan med en lindrigt manglad hand. Grabben fick en plåsterlapp i pannan, torkade tårarna och sken som en sol när jag gav honom min autograf på en bit av karossen!"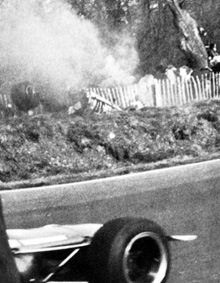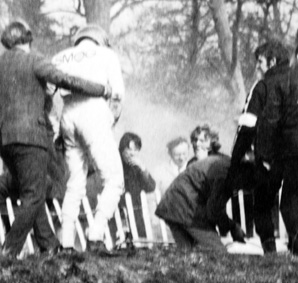 Den pojke som blivit träffad av splitter från Ronnies bil var 10-årige Paul Franks från Leicester. Marchen befanns helskrotad och vid den efterföljande besiktningen kunde konstateras att olycksorsaken var en brusten låsbult i vänstra styrarmen. Det var ett lopp som gav eko i den seriösa fackpressen och Ronnie fick välförtjänt mycket beröm för sitt lopp. I Sverige gick kvällspressen i taket och gav kraschen onaturliga proportioner.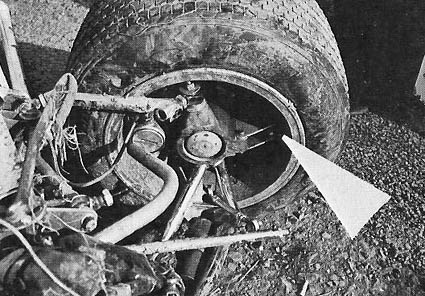 Det visar sig efteråt att styrstaget lossnat (se den vita pilen). Metallerna i kulleden hade smält ihop, vilket gav onormala belastningar så att staget gick av...
Pescarolo (March) vinner, Gerry Birrell (Lotus) tvåa och Brian Hart i en Brabham slutar trea.
| | | | |
| --- | --- | --- | --- |
| Mars 14 | 2 x 40 varv x 2173 m = 173.809 km | Pole Position: Ronnie Peterson, 43.0" | Snabbaste varv: Peterson / Pescarolo, 43.2" = 181.046 km/h |
Pos
Cla.
#
Förare, Nationalitet
Stall
Bil - Motor
Tid
Varv
1
1
31
Henri Pescarolo, F
Frank Williams Racing Cars
March 712M - FVA
0:59'57.2"
2
2
26
Gerry Birrell, GB
J. & J. Stanton / Lotus Racing
Lotus 69 - FVA
1:00'36.0"
3
3
7
Brian Hart, GB
Bob Gerard Racing
Brabham BT30 - FVA
79
4
4
8
Peter Westbury, GB
F. I. R. S. T.
Brabham BT30 - FVA
78
5
5
27
Tetsu Ikuzawa, J
Tetsu Ikuzawa
Lotus 69 - FVA
78
6
6
12
Jeremy Richardson, GB
Paul Watson Racing Organisation
Brabham BT30 - FVA
78
7
7
39
Xavier Perrot, CH
Jo Siffert - Chevron Racing Team
Chevron B18 - FVA
77
8
8
21
Rod Pickering, GB
Rod Pickering
Brabham BT23C - FVA
77
9
9
9
Tommy Reid, IRL
Irish Racing Cars
Brabham BT30 - FVA
76
10
10
35
Mike Beuttler, GB
Clarke/Mordaunt/Guthrie/Durlacher
March 712M - FVA
75
11
NC
1
Carlos Reutemann, RA
Automovil Club Argentina / YPF
Brabham BT30 - FVA
74
12
NC
32
Derek Bell, GB
Frank Williams Racing Cars
March 712M - FVA
72
13
NC
11
John Watson, GB
John Watson
Brabham BT30 - FVA
68
14
NC
42
Brian Nelson, IRL
Crosslé Racing Team
Crosslé 18F - FVA
67
15
NC
37
Hannelore Werner, D
Eifelland Caravaning
March 712M - FVA
63
16
NC
33
Niki Lauda, A
Bosch Racing Team
March 712M - FVA
59
17
NC
38
Jo Siffert, CH
Jo Siffert - Chevron Racing Team
Chevron B18 - FVA
54
18
NC
30
Ronnie Peterson, S
SMOG March Engineering
March 712M - FVA
35
19
NC
34
Tom Walkinshaw, GB
Ecurie Ecosse
March 712M - FVA
24
20
DNA
2
Carlos Ruesch, RA
Automovil Club Argentina / YPF
Brabham BT30 - FVA
21
DNA
3
Peter Gaydon, GB
Eifelland Caravaning
Brabham BT30 - FVA
22
DNA
4
Bernd Terbeck, D
Eifeland Caravaning
Brabham BT36 - FVA
23
DNA
5
Jürg M. Dubler, CH
Team Obrist
Brabham BT30 - FVA
24
DNA
6
Silvio Moser, CH
Scuderia Jolly Club
Brabham BT30 - FVA
25
DNA
10
Alistair Walker, GB
Alistair Walker Racing
Brabham BT30 - FVA
26
DNA
14
Cyd Williams, GB
Ian Bannen
Brabham BT30 - FVA
27
DNA
15
Brian Cullen, GB
Brian Cullen Racing
Brabham BT30 - FVA
28
DNA
16
Ernesto 'Tino' Brambilla, I
Scuderia Ala d'Oro
Brabham BT30 - FVA
29
DNA
17
Vittorio Brambilla, I
Scuderia Ala d'Oro
Brabham BT30 - FVA
30
DNA
18
Tim Schenken, AUS
Rondel Racing
Brabham BT36 - FVA
31
DNA
19
Clay Regazzoni, CH
Rondel Racing
Brabham BT36 - FVA
32
DNA
20
Ronald McKay, GB
Ronald McKay
Brabham BT30 - FVA
33
DNA
22
Johnny Blades, GB
Paul Watson Racing Organisation
Lotus 69 - FVA
34
DNA
23
Graham Hill, GB
Bernard Ecclestone (Jochen Rindt Racing)
Lotus 69 - FVA
35
DNA
24
Wilson Fittipaldi, BR
Team Bardahl (Fittipaldi)
Lotus 69 - FVA
36
DNA
25
Alan Rollinson, GB
Irish Racing Cars
Lotus 69 - FVA
37
DNA
28
Richard Scott, GB
LIRA - Team Lotus
Lotus 69 - FVA
38
DNA
29
Reine Wisell, GB
LIRA - Team Lotus
Lotus 69 - FVA
39
DNA
36
Dieter Quester, A
Eifelland Caravaning
March 712M - FVA
40
DNA
40
Graham Eden, GB
Graham Eden
Chevron B18 - Ford BDA
41
DNA
41
Bruno Frey, CH
Midland Racing Team
Chevron B18 - FVA
Heat 1


| | | | |
| --- | --- | --- | --- |
| Cla. | Förare | Tid, Varv | Anmärkning |
| 1 | Pescarolo | 29'32.0" | |
| 2 | Birrell | 29'56.4" | |
| 3 | Beuttler | 39 | |
| 4 | Westbury | 39 | |
| 5 | Watson | 39 | |
| 6 | Hart | 39 | |
| 7 | Ikuzawa | 39 | |
| 8 | Richardson | 39 | |
| 9 | Reid | 38 | |
| 10 | Perrot | 38 | |
| 11 | Pickering | 38 | |
| 12 | Bell | 36 | |
| 13 | Werner | 36 | |
| NC | Lauda | 31 | |
| DNF | Peterson | 35 | Olycka |
| DNF | Reutemann | 34 | Bränslepump |
| DNF | Nelson | 32 | Insprutning |
| DNF | Walkinshaw | 24 | Oljetryck |
| DNF | Siffert | 14 | Olycka |

Heat 2


| | | | |
| --- | --- | --- | --- |
| Cla. | Förare | Tid, Varv | Anmärkning |
| 1 | Pescarolo | 30'25.2" | |
| 2 | Birrell | 30'39.6" | |
| 3 | Reutemann | 30'46.4" | |
| 4 | Hart | 31'08.2" | |
| 5 | Siffert | 31'12.0" | |
| 6 | Westbury | 39 | |
| 7 | Ikuzawa | 39 | |
| 8 | Perrot | 39 | |
| 9 | Richardson | 39 | |
| 10 | Pickering | 39 | |
| 11 | Reid | 38 | |
| 12 | Bell | 36 | |
| 13 | Beuttler | 36 | Oljeläckage |
| NC | Nelson | 35 | |
| NC | Watson | 29 | |
| NC | Werner | 27 | |
| DNF | Lauda | 28 | Motor |
| DNS | Peterson | - | |
| DNS | Walkinshaw | - | |