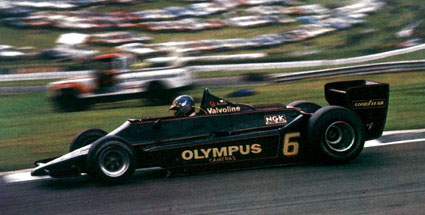 John Player British Grand Prix 16 Juli 1978, Brands Hatch
Ronnie Peterson har inför sin 119:e F1-start återigen plockat en "pole position" och därmed placerat sig före Lotusstallets försteförare Mario Andretti. Det sätt som Ronnie gjorde det på pratas det om än idag bland F1-entusiaster i England. Jody Scheckter (Wolf) delar det andra startledet tillsammans med Niki Lauda (Brabham).
När starten går är det Andretti som är i täten in i den första kurvan och resultatet från de tidigare tävlingarna, med dubbelsegrar för Lotusstallet, ser ut att upprepa sig då bilarna drar ifrån det övriga fältet med Scheckter, Jones, Lauda och Patrese. På det sjunde varvet tvingas dock Ronnie bryta efter bränsleläckage och även Andretti går i depå med en punktering på det 24:e varvet (han kommer ut som elva, men bryter något senare med motorproblem) - det är inte Lotus dag.
Scheckter, i ledning, uppvaktas först av Jones (som bryter på varv 27 med drivaxelproblem) och därefter Lauda. Då Scheckter får problem med växellådan är Patrese ny tvåa, följd av Reutemann, Watson och Pironi (Tyrrell). Sensationell sexa är finländaren Keke Rosberg i en ATS. Efter ytterligare några varv har såväl Patrese som Pironi tvingats bryta, men Rosberg kan inte hålla emot Depailler som kommit upp bakifrån. Mot slutet av loppet måste ledande Lauda se sig omkörd av en högst konkurrenskraftig Ferrari på nyutvecklade Michelindäck och med Reutemann vid ratten. Denna ordning står sig i mål med Watson som trea och Depailler fyra. Tyvärr måste Rosberg bryta i ett sent skede och femma blir istället Hans Stuck i en Shadow.
Snabbaste varvtid presterar Niki Lauda med 1.18,60 och loppet summerar följande förare i ledning: Andretti 1-23; Scheckter 24-33; Lauda 34-59; Reutemann 60-76.
Summary in english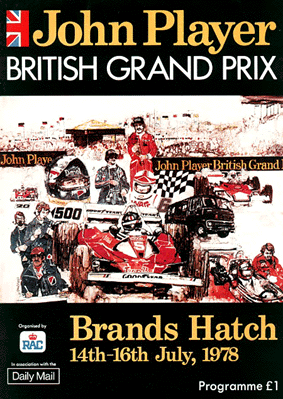 As usual the British GP field was bigger than most other races with the entry being bolstered by the appearance of a second Ensign for Geoff Lees and Tony Trimmer in a Melchester Racing McLaren M23, which was raced on a regular basis in the British F1 championship. Rene Arnoux was denied an entry as there were 30 cars.

Qualifying was not a surprise with the two JPS Lotuses first and second on the grid, Ronnie Peterson outrunning Mario Andretti on this occasion. Jody Scheckter was third in the Wolf with Niki Lauda in his Brabham-Alfa Romeo. John Watson had a poor qualifying session and ended up ninth in his Brabham-Alfa. This meant that Riccardo Patrese (Arrows) and Alan Jones (Williams) shared the third row of the grid with Jacques Laffite (Ligier) and Carlos Reutemann (Ferrari) on row four. The top 10 was completed by Patrick Depailler in the Tyrrell while both Gilles Villeneuve (Ferrari) and James Hunt (McLaren) had a bad time in practice and ended up 13th and 14th on the grid.

In the race Andretti took the lead from Peterson and for the first few laps it looked like being a repeat of the previous races with total Lotus domination. Behind the JPS pair were Scheckter, Jones, Lauda and Patrese. On lap seven, however, Peterson's engine failed. Two laps later Hunt spun off at Surtees, leaving the British fans with only Watson to cheer and he was down in seventh place. The order remained stable until the 24th lap when Andretti pitted with a puncture. Although he rejoined in 11th place he went out soon afterwards with an engine failure. It was not going to be Lotus win.

Scheckter had inherited the lead but he had Jones right with him until lap 27 when the Williams stopped with a driveshaft failure. This left Lauda in second and he gradually closed on Scheckter, who was having gearbox trouble, and took the lead on lap 34. Scheckter went out soon afterwards leaving Patrese in second, Reutemann third, Watson fourth and Didier Pironi (Tyrrell) fifth. Keke Rosberg was having a storming race in the ATS which was in sixth position.

Within a few laps Patrese and Pironi both disappeared: the Italian with a puncture and the Frenchman with gearbox mounting bolts having broken. This left Rosberg fourth but he soon came under pressure from Depailler, the Tyrrell driving moving up to fourth place on lap 49.

Lauda remained in the lead but Reutemann found the Ferrari very competitive on newly-developed Michelin tires and he took the lead when the pair came up to lap Bruno Giacomelli's McLaren. At the same time Rosberg's promising run ended with a driveshaft failure and so the finishing order was Reutemann, Lauda, Watson, Depailler, Hans Stuck (Shadow) and Patrick Tambay (McLaren)
.
Sammanställning

Grand Prix

Datum

16 Juli 1978

Bana

Säsong

1978

Deltävling

10

Längd (km)

4.207

Varv

76

Tid

1:42:12.390
| | | | | | |
| --- | --- | --- | --- | --- | --- |
| Placering | Nr | Förare | Team | Tid | Grid |
| 1 | 11 | | | 1:42:12.390 | 8 |
| 2 | 1 | | | 1.230 | 4 |
| 3 | 2 | | | 37.250 | 9 |
| 4 | 4 | | | 73.270 | 10 |
| 5 | 16 | | | +1 varv | 18 |
| 6 | 8 | | | +1 varv | 20 |
| 7 | 33 | | | +1 varv | 16 |
| 8 | 30 | | | +1 varv | 24 |
| 9 | 19 | | | +1 varv | 25 |
| 10 | 26 | | | +3 varv | 7 |
| nc | 9 | | | +10 varv | 26 |
| r | 10 | | | +17 varv | 22 |
| r | 17 | | | +27 varv | 17 |
| r | 15 | | | +30 varv | 12 |
| r | 35 | | | +36 varv | 5 |
| r | 3 | | | +36 varv | 19 |
| r | 20 | | | +40 varv | 3 |
| r | 14 | | | +44 varv | 11 |
| r | 37 | | | +44 varv | 23 |
| r | 22 | | | +46 varv | 15 |
| r | 5 | | | +48 varv | 2 |
| r | 27 | | | +50 varv | 6 |
| r | 12 | | | +57 varv | 13 |
| r | 25 | | | +61 varv | 21 |
| r | 7 | | | +69 varv | 14 |
| r | 6 | | | +70 varv | 1 |
| nq | 36 | | | | |
| nq | 23 | | | | |
| nq | 18 | | | | |
| nq | 40 | | | | |
| | | |
| --- | --- | --- |
| NC=Not Classified | NT=No time set in qualifying | R=Retired |
| EX=Excluded from meeting | W=Withdrawn | DQ=Disqualified |
| NS=Did not start | NQ=Did not qualify | NPQ=Did not pre-qualify |

Aktuell ställning
| | | | |
| --- | --- | --- | --- |
| Position | Förare | Nation | Poäng |
| 1 | | | 45 |
| 2 | | | 36 |
| 3 | | | 31 |
| " | | | 31 |
| 5 | | | 26 |
| 6 | | | 16 |