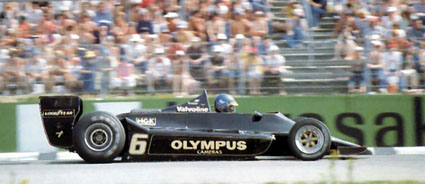 Grosser Preis von Deutschland 30 Juli 1978, Hockenheim
Ronnie Peterson gör sitt 120:e F1-framträdande på Hockenheim i Tysklands GP 1978. Trots missräkningen i England några veckor tidigare toppar fortfarande de båda Lotusförarna årets mästerskap med Mario Andretti på 45 poäng, nio före Ronnie på 36.
Ronnie tar ledningen efter första tidskvalet, trots att han ännu en gång nobbats de snabba kvaldäcken. Dessa beordrar emellertid Andretti på inför avslutande tidsträning och tar en ny "pole position", men endast 0,09 sekunder före Ronnie. Andra startledet delas av Niki Lauda (Brabham) och Jody Scheckter (Wolf).
Ronnie tar starten före Andretti och Lauda (dock snart omkörd av Jones). Scheckter och Watson faller tidigt tillbaka i fältet med problem, de följs snart av Lauda vilket placerar Hunt som ny fyra. På det femte varvet släpper Ronnie förbi Lotusstallets försteförare Mario Andretti och de kan bara invänta rapporter om vad som händer med konkurrenterna längre ner i fältet. Hunt får punktering på det 20:e varvet, Jones följer efter med insprutningsproblem. Scheckter uppe på en tredjeplats, följd av Laffite, Pironi och Fittipaldi.
Drömmen om ytterligare en dubbelseger för Lotusstallet spolieras då Ronnie på endast nio varv från mål tvingas bryta med växellådsproblem, men Ronnie hinner dock sätta snabbaste varv med 1.55,62.
Andretti vinner således, före Scheckter och Laffite. Loppets ledare: Ronnie 1-4; Andretti 5-45.
Summary in english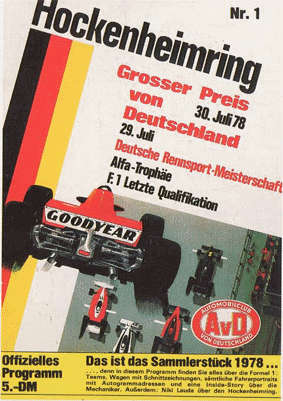 There were a number of changes in the driver lineup between the British and German GPs with Teddy Yip's Theodore Racing having reappeared with old Wolf chassis to replace the troublesome Theodore design. Keke Rosberg was thus transferred back to the team leaving the second ATS drive open for Jean-Pierre Jarier. Ensign had failed to come to terms with Derek Daly and so he had departed and the team had taken on a Brazilian youngster called Nelson Piquet. The second Ensign was also rented out for the weekend, with Harald Ertl coming up with the cash. With Rene Arnoux also getting an entry in his Martini, there was the need for a pre-qualifying session. This resulted in Arnoux and Brett Lunger (BS Fabrications McLaren) going home early.

Qualifying resulted in Mario Andretti taking pole by just 0.09s from his Lotus team mate Ronnie Peterson. Niki Lauda was on the second row in his Brabham-Alfa Romeo with Jody Scheckter fourth for Wolf. Then came, John Watson in the second Brabham and Alan Jones in the Williams. The fourth row featured Jacques Laffite's Ligier and James Hunt in the McLaren with the top 10 being completed by Jean-Pierre Jabouille in the turbo Renault and Emerson Fittipaldi, showing well in his Fittipaldi F5A. Carlos Reutemann was a disappointing 12th in his Ferrari with his team mate Gilles Villeneuve 15th.

Scheckter was in fuel-feed problems and dropped right to the back of the field in the course of the first lap, during which the two Lotuses went away into the lead, Peterson leading Andretti. Lauda was third but was soon pushed back to fourth by Jones, while Watson's hopes disappeared early on when the Ulsterman began to suffer gearbox problems and dropped away, leaving Hunt in fifth place. This soon became fourth when Lauda went out with an engine failure. With the exception of Ertl this ended all Germanic interest in the race as Rolf Stommelen was running at the tail of the field after running into Patrick Depailler's Tyrrell at the start and Jochen Mass had suffered a suspension failure on his ATS and had taken out Hans Stuck's Shadow.

On the fifth lap Peterson moved over to allow Andretti to take the lead and then sat behind his team leader as the chasers fell by the wayside. First to go was Hunt, who pitted with a puncture after 20 laps. Ten laps later Jones disappeared with a fuel vaporization problem. This left Scheckter in third place with Laffite fourth, Didier Pironi (Tyrrell) fifth and Fittipaldi in sixth.

On lap 37, however, Team Lotus's dreams of another 1-2 ended when Peterson stopped with a gearbox failure. This moved Scheckter to second and Laffite to third, which is how they finished. In the closing laps Fittipaldi took fourth from Pironi (who was having brake trouble). The struggle for sixth place provided much entertainment in the closing laps with Villeneuve's suddenly beginning to stutter with fuel vaporization problems. The Ferrari was passed by Ertl's Ensign which promptly stopped with an engine failure. Villeneuve retook the place but was then overtaken by Hector Rebaque (private Lotus) and the recovering Watson. The Mexican took the point by just over a second.
Sammanställning

Grand Prix

Tyskland

Datum

30 Juli 1978

Bana

Säsong

1978

Deltävling

11

Längd (km)

6.789

Varv

45

Tid

1:28:00.900
| | | | | | |
| --- | --- | --- | --- | --- | --- |
| Placering | Nr | Förare | Team | Tid | Grid |
| 1 | 5 | | | 1:28:00.900 | 1 |
| 2 | 20 | | | 15.350 | 4 |
| 3 | 26 | | | 28.010 | 7 |
| 4 | 14 | | | 36.880 | 10 |
| 5 | 3 | | | 57.260 | 16 |
| 6 | 25 | | | 97.860 | 18 |
| 7 | 2 | | | 99.530 | 5 |
| 8 | 12 | | | 116.870 | 15 |
| 9 | 35 | | | +1 varv | 14 |
| 10 | 32 | | | +3 varv | 19 |
| dq | 36 | | | | 17 |
| r | 23 | | | +4 varv | 23 |
| r | 6 | | | +9 varv | 2 |
| dq | 7 | | | | 8 |
| r | 27 | | | +14 varv | 6 |
| r | 22 | | | +14 varv | 21 |
| r | 19 | | | +21 varv | 20 |
| r | 8 | | | +29 varv | 11 |
| r | 11 | | | +31 varv | 12 |
| r | 1 | | | +34 varv | 3 |
| r | 15 | | | +40 varv | 9 |
| r | 16 | | | +44 varv | 24 |
| r | 9 | | | +44 varv | 22 |
| r | 4 | | | +45 varv | 13 |
| nq | 17 | | | | |
| nq | 10 | | | | |
| nq | 18 | | | | |
| nq | 37 | | | | |
| npq | 31 | | | | |
| npq | 30 | | | | |
| | | |
| --- | --- | --- |
| NC=Not Classified | NT=No time set in qualifying | R=Retired |
| EX=Excluded from meeting | W=Withdrawn | DQ=Disqualified |
| NS=Did not start | NQ=Did not qualify | NPQ=Did not pre-qualify |

Aktuell ställning
| | | | |
| --- | --- | --- | --- |
| Position | Förare | Nation | Poäng |
| 1 | | | 54 |
| 2 | | | 36 |
| 3 | | | 31 |
| " | | | 31 |
| 5 | | | 26 |
| 6 | | | 16 |