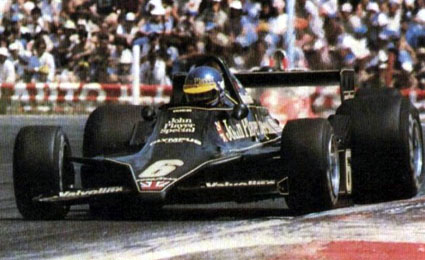 Grand Prix de France 2 Juli 1978, Paul Ricard
Ronnie Peterson gör sin 118:e F1-start i karriären på Paul Ricard-banan i Frankrike där han 78 tävlingar tidigare tog sin första GP-seger någonsin (1 juli 1973). Inför detta lopp har det beslutats att inte godkänna "fäktbilarna" från Brabham vilket gör att stallet måste återställa BT46:orna i ursprunglig konfiguration. Detta tycks dock inte vara hindrande enär John Watson med några få hundradelar lyckas ta "pole position" före Mario Andretti i en Lotus. Trea är Niki Lauda i den andra Brabham-bilen med James Hunt (McLaren) på en fjärdeplats. Först i det tredje startledet återfinns Ronnie tillsammans med Patrick Tambay (McLaren).
Watson lyckas i starten hålla undan för Andretti. Tambay gör en kanonstart och lägger Lauda, Ronnie och Hunt bakom sig. Efter det första varvet har dock Andretti tagit sig förbi och börjar också dra ifrån. Under de varv som följer tar sig Lauda förbi Tambay och senare även Watson, men på det tionde varvet säger motorn ifrån och så är den dagen förstörd för Lauda. Även Ronnie passerar Watson och Tambay och finner sig återigen vara på en andraplats bakom teamkollegan Andretti. Lotus-stallet tar sin tredje dubbelseger på fyra tävlingar och Andrettis ledning före Ronnie är nu nio poäng.
Watson lyckas inte hålla sin tredjeplats, då Hunt - som tagit sig förbi en punkterad Tambay - på det 16:e varvet pressar ner irländaren till en plats utanför pallen. Denna ordning står sig i mål.
Ronnie, som snart kommit upp i bakhjulen på Andretti, får inrikta sig på att hålla undan för engelsmannen som i slutet av tävlingen gör ett flertal attacker utan att komma förbi. Försteföraren i Lotusstallet har säkert anledning att sända en tacksamhetens tanke till sin teamkollega...
"Jag var verkligen tvungen att ta i och köra för fullt, så nära som Ronnie var. Nu har Ronnie och jag bevisat att vi inte heller behöver frukta konkurrenterna på mycket snabba banor. Med lite tur i några lopp till och jag är världsmästare!"
Snabbaste varvtid får Carlos Reutemann som i sin Ferrari presterar 1.48,56, men som också är fem varv efter i mål.
Summary in english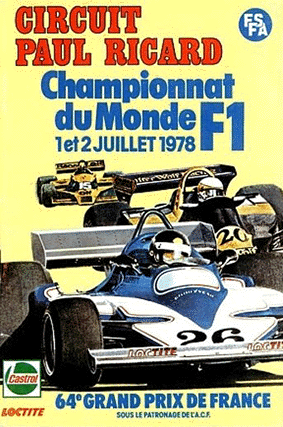 With the international sporting federation having decided that the Brabham fan car was not legal, the Brabham team had to convert its BT46s back to original specification in time for the French GP. There were 29 cars present, the only changes to the field being the disappearance of Jacky Ickx, who had been replaced by Derek Daly at Ensign, and the reappearance of the Martini team with driver Rene Arnoux and a third McLaren for Bruno Giacomelli, who had been busy with F2 commitments in the previous few races.

Qualifying proved to be interesting as John Watson took pole position by a few hundredths of a second in his Brabham-Alfa Romeo, beating the JPS Lotus of Mario Andretti. Niki Lauda was third fastest in his Brabham and then came James Hunt (McLaren). The third row featured Ronnie Peterson (Lotus) and Patrick Tambay (McLaren) while Jody Scheckter (Wolf) shared the fourth row with Carlos Reutemann's Ferrari. The top 10 was completed by Gilles Villeneuve in the second Ferrari and Jacques Laffite in the Ligier.

At the start Watson was able to hold off Andretti. Tambay was third with Lauda, Peterson and Hunt behind him. Before the end of the first lap, however, Andretti had gone into the lead and began to pull away. In the laps which followed Lauda moved ahead of Tambay and then passed Watson but on the tenth lap he suffered an engine failure and disappeared. As Watson and Tambay had both been overtaken by Peterson by that that time it was the Swede who emerged in second place, giving Lotus another 1-2. Watson stayed third for a while Tambay disappeared to the pits with a puncture and then the Ulsterman came under pressure from Hunt and on lap 16 was pushed back to fourth place. Jones was fifth and Scheckter sixth. The order then remained unchanged for the rest of the afternoon, giving Lotus its third 1-2 in four races.

Andretti's World Championship lead was nine points.
Sammanställning

Grand Prix

Datum

2 Juli 1978

Bana

Säsong

1978

Deltävling

9

Längd (km)

5.810

Varv

54

Tid

1:38:51.920
| | | | | | |
| --- | --- | --- | --- | --- | --- |
| Placering | Nr | Förare | Team | Tid | Grid |
| 1 | 5 | | | 1:38:51.920 | 2 |
| 2 | 6 | | | 2.930 | 5 |
| 3 | 7 | | | 19.800 | 4 |
| 4 | 2 | | | 36.880 | 1 |
| 5 | 27 | | | 41.810 | 14 |
| 6 | 20 | | | 54.530 | 7 |
| 7 | 26 | | | 54.740 | 10 |
| 8 | 35 | | | 84.880 | 12 |
| 9 | 8 | | | 87.060 | 6 |
| 10 | 3 | | | 89.980 | 16 |
| 11 | 16 | | | +1 varv | 20 |
| 12 | 12 | | | +1 varv | 9 |
| 13 | 9 | | | +1 varv | 25 |
| 14 | 31 | | | +1 varv | 18 |
| 15 | 36 | | | +1 varv | 21 |
| 16 | 10 | | | +2 varv | 26 |
| 17 | 19 | | | +2 varv | 19 |
| 18 | 11 | | | +5 varv | 8 |
| r | 30 | | | +9 varv | 24 |
| r | 14 | | | +11 varv | 15 |
| r | 18 | | | +14 varv | 23 |
| r | 33 | | | +26 varv | 22 |
| r | 4 | | | +44 varv | 13 |
| r | 1 | | | +44 varv | 3 |
| r | 17 | | | +50 varv | 17 |
| r | 15 | | | +53 varv | 11 |
| nq | 37 | | | | |
| nq | 22 | | | | |
| nq | 25 | | | | |
| | | |
| --- | --- | --- |
| NC=Not Classified | NT=No time set in qualifying | R=Retired |
| EX=Excluded from meeting | W=Withdrawn | DQ=Disqualified |
| NS=Did not start | NQ=Did not qualify | NPQ=Did not pre-qualify |

Aktuell ställning
| | | | |
| --- | --- | --- | --- |
| Position | Förare | Nation | Poäng |
| 1 | | | 45 |
| 2 | | | 36 |
| 3 | | | 25 |
| 4 | | | 23 |
| 5 | | | 22 |
| 6 | | | 12 |