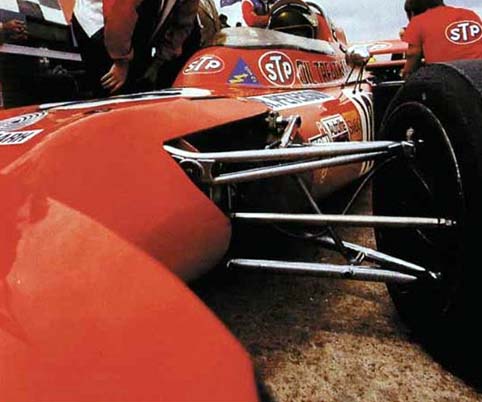 British Grand Prix 17 Juli 1971, Silverstone
Ronnie Petersons 15:onde lopp i Formel 1 och nr 18 på bilen. Åter en Cosworth-motor i Marchen. Efter första tidsträningen endast 1.21,6 med en alltför hög utväxling - en tid som avsevärt förbättrades i avslutande kval där 1.19,0 gav en plats i tredje startledet med en femte bästa tid. Detta blir den bästa kvaltid som Ronnie fram till detta datum erhållit under sin F1 karriär!
Regazzoni står i "pole" före Stewart och Siffert. Ronnie får en sämre start och är endast sexa efter det första varvet. Snart har emellertid Schenken passerats och jakten på Ickx är påbörjad. Ronnie kan dock inte stänga av varvtalsbegränsaren och det är först då Ickx går i depå som Ronnie avancerar ytterligare. Då även Siffert efter ett tag tvingas in i depå har Ronnie tagit sig upp till en tredje plats. Arton varv från mål tvingas Regazzoni bryta varvid Ronnie plötsligt är tvåa bakom Stewart - en placering som han håller in i mål före Fittipaldi!
Stewart har snabbaste varv med 1.99.9 och leder loppet från varv 4.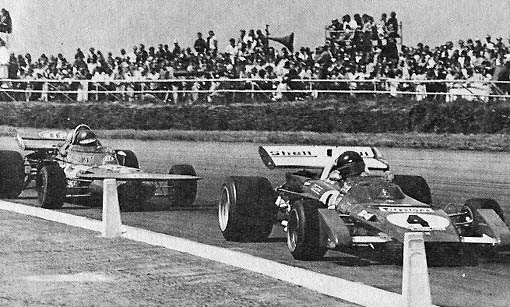 Ronnie jagar Jacky Ickx...
Det finns mycket att skriva om detta lopp. Och mer kommer. Men Ronnie går upp som ensam trea i det totals sammandraget i årets förar-VM och han har nu samlat mer poäng under en Formel 1-säsong än någon annan svensk före honom (d v s Joakim Bonnier)...
Summary in english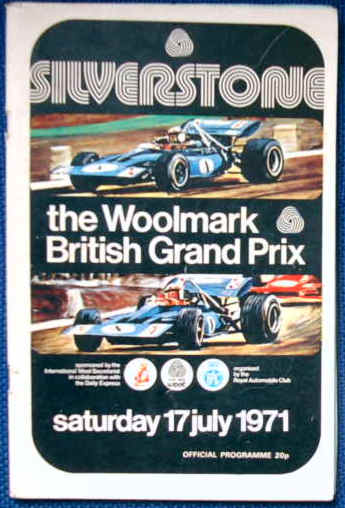 In the fortnight between the French and British Grand Prix the Formula 1 stars were racing in various places as usual. Pedro Rodriguez was driving Herbert Muller's Ferrari 512M sportscar in an Interserie race at the Norisring. The popular Mexican driver crashed heavily and was trapped in the burning car. He was rescued but died of multiple injuries a few hours later in hospital in Nuremburg. BRM did not replace him and ran only two cars for Jo Siffert and Howden Ganley. Team Lotus continued its adventures with the Pratt & Whitney-engined Lotus 56, driven on this occasion by Reine Wisell, while South African customer Dave Charlton was given one of the Lotus 72s. McLaren decided to run a third car for Jack Oliver, while Surtees ran Derek Bell alongside John Surtees and Rolf Stommelen. The other addition to the field was F1 new boy Mike Beuttler in a private March which was entered by the Clarke-Mordaunt team.
There were no major surprises in qualifying with Clay Regazzoni on pole position from Jackie Stewart (who was in a commanding lead in the World Championship) with Jo Siffert's BRM on the outside of the front row. Emerson Fittipaldi shared the second row in his Lotus with Ronnie Peterson's March (now with Cosworth engine after a one-off race with Alfa Romeo power at the French GP) while Jacky Ickx was back on the third row in his Ferrari, alongside an impressive Tim Schenken (Brabham) and Denny Hulme's McLaren.
At the start Regazzoni and Ickx took the lead for Ferrari with Stewart third. At the tail of the field Oliver ran into the back of Graham Hill's Brabham, putting both men out of the race. Stewart and Siffert overtook Ickx during the second lap and on lap four Stewart overtook Regazzoni at Stowe Corner. The Scottish star immediately began to build up a lead. Siffert overtook Regazzoni in the course of the fifth lap and then things began to settle down with Stewart ahead of Siffert, Regazzoni and Ickx. The major interest in the race was supplied by Fittipaldi, who had made a bad start and was driving through the field from 11th place at the end of the first lap.
Siffert began to suffer vibration problems and was caught and repassed by Regazzoni on lap 17. On lap 37 Ickx went into the pits to retire with engine trouble and five laps later Siffert also disappeared with a bad misfire. This put Peterson up to third place with Schenken and Fittipaldi chasing him. On lap 48 Regazzoni disappeared with engine trouble.
Stewart kept going and it looked as though Peterson and Schenken were going to be the other men on the podium but with a few laps to go Schenken suffered transmission failure and retired, leaving third place for Fittipaldi. Everyone else was lapped.
Sammanställning
Grand Prix
Storbritannien
Datum
17 Juli 1971
Bana
Silverstone
Säsong
1971
Deltävling
6
Längd (km)
4.711
Varv
68
Tid
1:31:31.500
| | | | | | |
| --- | --- | --- | --- | --- | --- |
| Placering | Nr | Förare | Team | Tid | Grid |
| 1 | 12 | Jackie Stewart | Tyrrell | 1:31:31.500 | 2 |
| 2 | 18 | Ronnie Peterson | March | 36.100 | 5 |
| 3 | 1 | Emerson Fittipaldi | Lotus | 56.500 | 4 |
| 4 | 26 | Henri Pescarolo | March | +1 varv | 17 |
| 5 | 24 | Rolf Stommelen | Surtees | +1 varv | 12 |
| 6 | 23 | Johnny Surtees | Surtees | +1 varv | 18 |
| 7 | 22 | Jean-Pierre Beltoise | Matra | +2 varv | 15 |
| 8 | 17 | Howden Ganley | BRM | +2 varv | 11 |
| 9 | 16 | Jo Siffert | BRM | +2 varv | 3 |
| 10 | 14 | François Cevert | Tyrrell | +3 varv | 10 |
| 11 | 20 | Nanni Galli | March | +3 varv | 21 |
| r | 8 | Tim Schenken | Brabham | +5 varv | 7 |
| nc | 3 | Reine Wisell | Lotus | +11 varv | 19 |
| nc | 19 | Andrea de Adamich | March | +12 varv | 24 |
| r | 10 | Peter Gethin | McLaren | +15 varv | 14 |
| r | 4 | Jacky Ickx | Ferrari | +17 varv | 6 |
| r | 5 | Clay Regazzoni | Ferrari | +20 varv | 1 |
| r | 21 | Chris Amon | Matra | +33 varv | 9 |
| r | 9 | Denny Hulme | McLaren | +36 varv | 8 |
| r | 25 | Derek Bell | Surtees | +45 varv | 23 |
| r | 6 | Mike Beuttler | March | +47 varv | 20 |
| r | 2 | Dave Charlton | Lotus | +67 varv | 13 |
| r | 11 | Jackie Oliver | McLaren | +68 varv | 22 |
| r | 7 | Graham Hill | Brabham | +68 varv | 16 |
| | | |
| --- | --- | --- |
| NC=Not Classified | NT=No time set in qualifying | R=Retired |
| EX=Excluded from meeting | W=Withdrawn | DQ=Disqualified |
| NS=Did not start | NQ=Did not qualify | NPQ=Did not pre-qualify |

Aktuell ställning
| Position | Förare | Nation | Poäng |
| --- | --- | --- | --- |
| 1 | Jackie Stewart | GBR | 42 |
| 2 | Jacky Ickx | BEL | 19 |
| 3 | Ronnie Peterson | SWE | 15 |
| 4 | Emerson Fittipaldi | BRA | 10 |
| 5 | Mario Andretti | USA | 9 |
| " | Pedro Rodriguez | MEX | 9 |