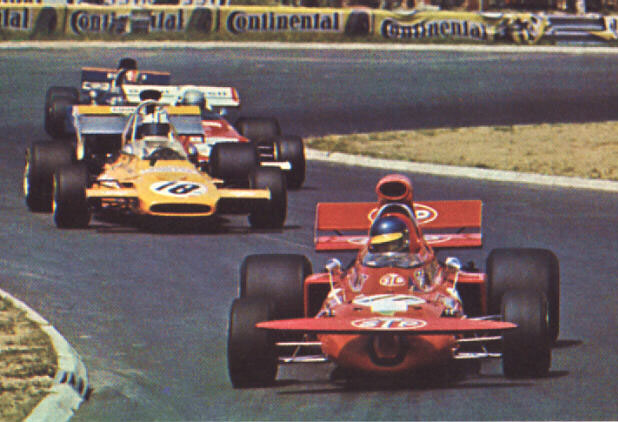 Grosser Preis von Deutschland 1 Augusti 1971, Nürburgring
Ronnie Petersons 16:e F1 start, nu som trea i årets mästerskap!
Ronnie startade tidsträningen med fulla tankar - 180 liter! Detta för att kontrollera hur bilen klarar ojämnheterna - något som har krävt styvare fjädring och ett högre chassi. Detta är dock sämre för väghållningen och Ronnie lyckas endast prestera 7.32,4.
Avslutande träning är fortsatt miserabel för Ronnie - mängder av saker går sönder på bilen. Ronnie lyckas dock köra in på tiden 7.26,6 och därmed en sjunde bästa tid. Stewart står som vanligt i första startledet, denna gång tillsammans med Ickx.
I starten håller Ronnie sin placering, men kan snart passera Hulme. Då Ickx sedan kör av är Ronnie uppe på en 4:e plats. Cevert, som kommit efter, kör dock om Ronnie, men då Siffert sedan kör av är Ronnie återigen fyra. En del av bilens skrov har dock vibrerat loss och Ronnie tvingas i depå för att få den biten avsliten. Under tiden hinner Andretti passera och i mål är Ronnie 5:a!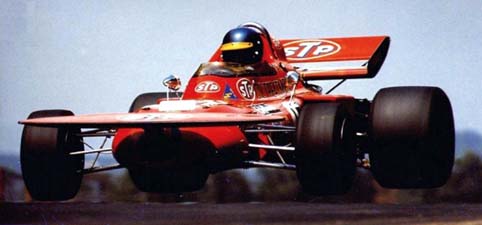 Stewart i sin Tyrrell leder från start till mål och vinner sitt femte lopp för säsongen. Tyrrell tar även andraplatsen genom Cevert (som har snabbaste varvtid med 7.20,1), Regazzoni i en Ferrari blir trea. Reine Wisell kör i mål på en åttonde plats.
Summary in english
After a year away at Hockenheim, the German Grand Prix returned to the Nürburgring where the track had been resurfaced, additional run-off area had been created, and barriers and catch-fencing had been installed.
Missing from the regular grid was Jean-Pierre Beltoise who had been a further period of license suspension which resulted from the accident in Buenos Aires in January which had claimed the life of Ignazio Giunti. He was not replaced. Vic Elford reappeared as the wheel of a BRM ( replacing Pedro Rodriguez, who had been killed a few weeks earlier in a sportscar accident). Ferrari was back up the three cars again with Mario Andretti not having any USAC commitments that weekend.
Qualifying resulted in Jackie Stewart taking pole position for Tyrrell with Jacky Ickx alongside side him on the front row in his Ferrari. Jo Siffert (BRM) and Clay Regazzoni (Ferrari) were on row two with Francois Cevert (Tyrrell) and Denny Hulme (McLaren) on row three. The top 10 was completed by Ronnie Peterson (March), Emerson Fittipaldi (Lotus), Tim Schenken (Brabham) and Henri Pescarolo (Frank Williams March).
One man who failed to qualify was F1 new boy Helmut Marko from Austria who was running in Jo Bonnier's old McLaren. He fell out with the team when the car ran out of fuel on the first lap out of the pits.
There was a huge crowd for the race on Sunday and as Graham Hill (Brabham) and Reine Wisell (Lotus) both hand problems before the start only 20 cars lined up on the grid. Ickx took the lead from Stewart but the Tyrrell was soon back ahead again and pulling away from the rest with Ickx being chased by Regazzoni, Hulme, Siffert, Peterson and Cevert. On the second lap Ickx spun off at the Wippermann corner and Regazzoni went off as he tried to avoid his team mate. This left Stewart with a big lead over Siffert (who had overtaken Hulme). Regazzoni rejoined in third and Peterson (who had also overtaken Hulme) was fourth. The McLaren driver soon fell behind Andretti and Cevert, and the Tyrrell driver soon passed the Ferrari so was up to fifth. In the laps that followed Cevert was the man to watch as he overtook Peterson, Siffert (who soon dropped behind Regazzoni) and then Regazzoni himself. Thereafter the order remained stable at the front with a Tyrrell 1-2 the result. Regazzoni was third with Andretti catching and passing Peterson for fourth.
Sammanställning
Grand Prix
Tyskland
Datum
1 Augusti 1971
Bana
Nürburgring
Säsong
1971
Deltävling
7
Längd (km)
22.835
Varv
12
Tid
1:29:15.700
| | | | | | |
| --- | --- | --- | --- | --- | --- |
| Placering | Nr | Förare | Team | Tid | Grid |
| 1 | 2 | Jackie Stewart | Tyrrell | 1:29:15.700 | 1 |
| 2 | 3 | François Cevert | Tyrrell | 30.100 | 5 |
| 3 | 6 | Clay Regazzoni | Ferrari | 37.100 | 4 |
| 4 | 5 | Mario Andretti | Ferrari | 125.000 | 11 |
| 5 | 15 | Ronnie Peterson | March | 149.100 | 7 |
| 6 | 25 | Tim Schenken | Brabham | 178.600 | 9 |
| 7 | 7 | Johnny Surtees | Surtees | 199.000 | 15 |
| 8 | 9 | Reine Wisell | Lotus | 391.700 | 17 |
| 9 | 24 | Graham Hill | Brabham | 397.000 | 13 |
| 10 | 12 | Rolf Stommelen | Surtees | +1 varv | 12 |
| 11 | 22 | Vic Elford | BRM | +1 varv | 18 |
| 12 | 17 | Nanni Galli | March | +2 varv | 21 |
| r | 8 | Emerson Fittipaldi | Lotus | +4 varv | 8 |
| r | 21 | Jo Siffert | BRM | +6 varv | 3 |
| r | 10 | Chris Amon | Matra | +6 varv | 16 |
| r | 20 | Peter Gethin | McLaren | +7 varv | 19 |
| r | 14 | Henri Pescarolo | March | +7 varv | 10 |
| dq | 28 | Mike Beuttler | March | | 22 |
| r | 18 | Denny Hulme | McLaren | +9 varv | 6 |
| r | 16 | Andrea de Adamich | March | +10 varv | 20 |
| r | 23 | Howden Ganley | BRM | +10 varv | 14 |
| r | 4 | Jacky Ickx | Ferrari | +11 varv | 2 |
| nq | 27 | Jo Bonnier | McLaren | | |
| nq | 27 | Helmut Marko | McLaren | | |
| | | |
| --- | --- | --- |
| NC=Not Classified | NT=No time set in qualifying | R=Retired |
| EX=Excluded from meeting | W=Withdrawn | DQ=Disqualified |
| NS=Did not start | NQ=Did not qualify | NPQ=Did not pre-qualify |

Aktuell ställning
| Position | Förare | Nation | Poäng |
| --- | --- | --- | --- |
| 1 | Jackie Stewart | GBR | 51 |
| 2 | Jacky Ickx | BEL | 19 |
| 3 | Ronnie Peterson | SWE | 17 |
| 4 | Clay Regazzoni | CH | 12 |
| " | François Cevert | FRA | 12 |
| " | Mario Andretti | USA | 12 |