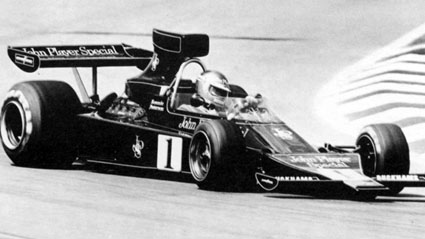 Bang & Olufsen Grand Prix de Belgique 12 Maj 1974, Nivelles
Ronnie Peterson lyckas erövra en femte bästa tid i kvalet till Belgiens GP 1974 där Ronnie kommer att göra sin 52:a F1 start.
Clay Regazzoni står i första startledet tillsammans med Jody Scheckter. Niki Lauda och Emerson Fittipaldi omedelbart därefter.
Regazzoni tar starten och kan hålla ledningen under de första 38 varven. Fittipaldi går förbi och vinner loppet med en mycket liten tidsmarginal (0,35 sekunder) före Niki Lauda. Scheckter trea. Snabbaste varv av Denny Hulme med 1.11,31. Loppet ser följande förare i ledning: Regazzoni 1-38; Fittipaldi 39-85.
Ronnie då? Ja, han tvingas bryta loppet efter 56 varv p g a bränsleläckage.
- Den nya bilen är säkert bra och kan vinna så småningom, men det håller inte loppen ut, förklarade Ronnie.
Summary in english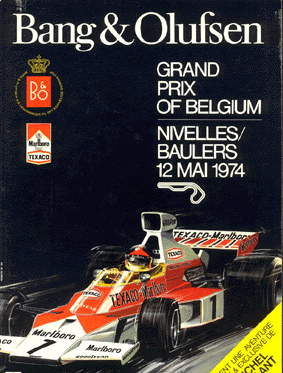 After a year at Zolder the Belgian GP was back at Nivelles again and there were 32 cars present. Missing from the entry in Spain were Chris Amon, who had decided to have his car redesigned, and Tom Belso who had been replaced in the second Iso-Marlboro by Gijs Van Lennep. There were four Grand Prix debutantes: Tom Pryce driving a car which had been designed as a Motul by Ray Jessop for Ron Dennis and Neil Trundle of Rondel but was being run as a Token by Tony Vlassopoulo and Ken Grob; Gerard Larrousse appeared in an old Brabham entered by Bretscher Racing; Leo Kinnunen was at the wheel of an old Surtees; and local hero Teddy Pilette at the wheel of a third Brabham thanks to sponsorship from Hitachi. Australian Vern Schuppan appeared at the wheel of the Ensign thanks to backing from Macau businessman Teddy Yip.

Qualifying resulted in a rather suspect pole position for Clay Regazzoni , who was credited with a time which was a full second faster than everyone else. Then came Jody Scheckter in the new Tyrrell. The next 10 drivers were all covered by a second. Niki Lauda (Ferrari) shared the second row with Emerson Fittipaldi's McLaren while the third row featured Ronnie Peterson (Lotus) and Arturo Merzario, showing well once again in the Iso-Marlboro. The top 10 was completed by Jean-Pierre Beltoise (BRM), Carlos Pace (Surtees), James Hunt (Hesketh) and Hans Stuck (March). Local hero Jacky Ickx was a disappointing 16th in his Lotus, while Carlos Reutemann was a disastrous 24th after a troubled practice. Only Kinnunen failed to qualify.

At the start Regazzoni went off into the lead with Scheckter and Fittipaldi behind him. At the end of the lap Fittipaldi breezed past the Tyrrell to take second place. Behind the top three Peterson led Lauda, Hunt, Pace, Beltoise and Merzario. On the third lap Lauda overtook Peterson and a few laps later went past Scheckter as well. The order then stabilized until the front-runners ran into traffic. Lauda was slightly delayed by one and was retaken by Scheckter. Seven laps later they switched places again. Peterson went into the pits with a brake problem, while Regazzoni was pushed onto the grass by a backmarker and lost the lead to Fittipaldi and Lauda was able to grab second as well. Hunt disappeared when his suspension failed and he was thrown into a spin. He was replaced in fifth place by Depailler but the Frenchman went out soon afterwards with a brake problem. This elevated Beltoise and Hulme into the top six although both were overtaken later by Hailwood, although he dropped behind again because of fuel feed problems in the closing laps. Fuel problems also resulted in Regazzoni dropping behind Scheckter on the final lap and so the podium featured Fittipaldi. Lauda and Scheckter.
Sammanställning
Grand Prix
Belgien
Datum
12 Maj 1974
Bana
Nivelles-Baulers
Säsong
1974
Deltävling
5
Längd (km)
3.724
Varv
85
Tid
1:44:20.570
| | | | | | |
| --- | --- | --- | --- | --- | --- |
| Placering | Nr | Förare | Team | Tid | Grid |
| 1 | 5 | Emerson Fittipaldi | McLaren | 1:44:20.570 | 4 |
| 2 | 12 | Niki Lauda | Ferrari | 0.350 | 3 |
| 3 | 3 | Jody Scheckter | Tyrrell | 45.610 | 2 |
| 4 | 11 | Clay Regazzoni | Ferrari | 52.020 | 1 |
| 5 | 14 | Jean-Pierre Beltoise | BRM | 68.050 | 7 |
| 6 | 6 | Denny Hulme | McLaren | 70.540 | 12 |
| 7 | 33 | Mike Hailwood | McLaren | +1 varv | 13 |
| 8 | 26 | Graham Hill | Lola | +2 varv | 29 |
| 9 | 10 | Vittorio Brambilla | March | +2 varv | 31 |
| 10 | 41 | Tim Schenken | Trojan | +2 varv | 23 |
| 11 | 28 | John Watson | Brabham | +2 varv | 19 |
| 12 | 27 | Guy Edwards | Lola | +3 varv | 21 |
| 13 | 17 | Jean-Pierre Jarier | Shadow | +3 varv | 17 |
| 14 | 21 | Gijs van Lennep | Williams | +3 varv | 30 |
| 15 | 22 | Vern Schuppan | Ensign | +3 varv | 14 |
| 16 | 37 | Francois Migault | BRM | +3 varv | 25 |
| 17 | 34 | Teddy Pilette | Brabham | +4 varv | 27 |
| r | 16 | Brian Redman | Shadow | +5 varv | 18 |
| r | 2 | Jacky Ickx | Lotus | +13 varv | 16 |
| r | 42 | Tom Pryce | Token | +19 varv | 20 |
| r | 7 | Carlos Reutemann | Brabham | +23 varv | 24 |
| r | 1 | Ronnie Peterson | Lotus | +29 varv | 5 |
| r | 43 | Geraud Larrousse | Brabham | +32 varv | 28 |
| r | 19 | Jochen Mass | Surtees | +32 varv | 26 |
| r | 4 | Patrick Depailler | Tyrrell | +32 varv | 11 |
| r | 18 | Carlos Pace | Surtees | +35 varv | 8 |
| r | 8 | Rikky von Opel | Brabham | +36 varv | 22 |
| r | 24 | James Hunt | Hesketh | +40 varv | 9 |
| r | 20 | Arturo Merzario | Williams | +56 varv | 6 |
| r | 15 | Henri Pescarolo | BRM | +73 varv | 15 |
| r | 9 | Hans-Joachim Stuck | March | +79 varv | 10 |
| nq | 44 | Leo Kinnunen | Surtees | | |
| | | |
| --- | --- | --- |
| NC=Not Classified | NT=No time set in qualifying | R=Retired |
| EX=Excluded from meeting | W=Withdrawn | DQ=Disqualified |
| NS=Did not start | NQ=Did not qualify | NPQ=Did not pre-qualify |

Aktuell ställning
| Position | Förare | Nation | Poäng |
| --- | --- | --- | --- |
| 1 | Emerson Fittipaldi | BRA | 22 |
| 2 | Niki Lauda | AUT | 21 |
| 3 | Clay Regazzoni | CH | 19 |
| 4 | Denny Hulme | NZ | 11 |
| 5 | Jean Pierre Beltoise | FRA | 10 |
| 6 | Carlos Reutemann | ARG | 9 |
| " | Mike Hailwood | GBR | 9 |