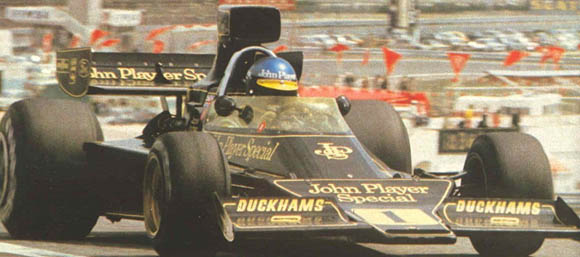 Gran Premio de España 28 April 1974, Jarama
Ronnie Petersons 51:a F1 start. Ronnie börjar komma allt bättre överens med årets Lotusbil och är näst snabbast på träningen. Ronnie står i första startledet tillsammans med Niki Lauda i en Ferrari. Omedelbart bakom - Clay Regazzoni (Ferrari) och mästerskapet ledare Emerson Fittipaldi (McLaren).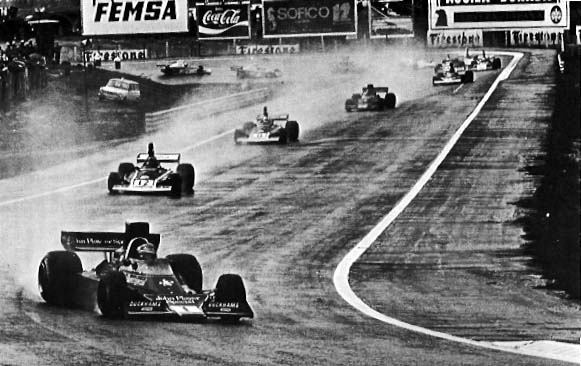 Ronnie tar omedelbart täten och leder loppet i 20 varv. Motorn överhettar emellertid i Lotus 76:an och Ronnie tvingas återigen bryta. Istället kan Lauda gå upp i ledning, men redan efter ett par varv blir han av med denna tätposition till Jacky Ickx i en Lotus. Denne har dock kört slut på sina bromsar och bryter loppet efter endast ett varv i ledning, dessutom med ett hjul som inte blivit riktigt fastsatt. Detta betyder att Niki Lauda återigen intar förstaplatsen och med snabbaste varvtid på 1.20,83 kan Lauda vinna tävlingen i ren utklassningsstil - hela 35 sekunder före teamkompisen Clay Regazzoni. Trean Emerson Fittipaldi (McLaren) är ett helt varv efter. Loppet ser följande förare i ledning: Ronnie 1-20; Lauda 21-23, 25-84; Ickx 24.
Efter fyra tävlingar har Ronnie endast lyckats få ihop en ynka poäng. Han har bevisat att han fortfarande tillhör de absolut snabbaste förarna, men det är den nyutvecklade bilen som inte riktigt håller måttet...
Summary in english
There was a gap of a month after the South African Grand Prix and in that period James Hunt surprised everyone with victory in the International Trophy in the new Hesketh. There were other new cars in Spain with Tyrrell producing the first 007 chassis for Jody Scheckter and the first appearance of Chris Amon's AF101, which had been designed by Gordon Fowell. There was also the Ron Tauranac-designed Trojan, entered by Peter Agg's Trojan Engineering of Croydon and driven by Tim Schenken. Shadow decided to hire Brian Redman to replace the late Peter Revson, while at Brabham Richard Robarts's short career ended when Rikki Von Opel arrived with a bigger budget. As a result Mo Nunn's Ensign team was missing.

In qualifying pole position went to Ronnie Peterson in the Lotus 76 with Niki Lauda's Ferrari alongside on the front row. The second row featured Emerson Fittipaldi in the McLaren and Clay Regazzoni's second Ferrari while Carlos Reutemann was on the third row with Jacky Ickx's Lotus. The top 10 was completed by Denny Hulme (McLaren), Arturo Merzario (showing well again in the Iso-Marlboro), James Hunt (Hesketh) and Scheckter in the Tyrrell. The qualifying was marked by a heavy accident for Vittorio Brambilla in the second factory March although the Italian avoided injury.

It was raining on race day and at the start Peterson took the lead while the rest of the field was lost in a cloud of spray. Lauda and Regazzoni were second and third with Ickx fourth and Fittipaldi fifth. The order remained largely unchanged in the early laps although Fittipaldi's car was misfiring and as the track dried he began to drop back, falling behind Scheckter on lap 11. Soon afterwards the cars began to pit for slick tires. During this period Peterson suffered an engine failure and Ickx's Lotus dropped away when he set off with a wheel which had not been properly fastened. Lauda and Regazzoni thus took first and second places with Stuck running third. Merzario was fourth but on lap 38 he went off, his car going over the barriers and landing amongst a group of photographers. Fortunately no-one was hurt.

The race was stopped at two hours (six laps short of the intended race distance) and Ferrari ended the day with a 1-2, with Lauda scoring his first GP victory. Fittipaldi was able to catch and pass Stuck to claim third in the closing laps. Fifth went to Scheckter while Hulme was able to catch and pass Hunt and Redman to grab sixth.
Sammanställning
Grand Prix
Spanien
Datum
28 April 1974
Bana
Jarama
Säsong
1974
Deltävling
4
Längd (km)
3.404
Varv
84
Tid
2:00:29.560
| | | | | | |
| --- | --- | --- | --- | --- | --- |
| Placering | Nr | Förare | Team | Tid | Grid |
| 1 | 12 | Niki Lauda | Ferrari | 2:00:29.560 | 1 |
| 2 | 11 | Clay Regazzoni | Ferrari | 35.610 | 3 |
| 3 | 5 | Emerson Fittipaldi | McLaren | +1 varv | 4 |
| 4 | 9 | Hans-Joachim Stuck | March | +2 varv | 13 |
| 5 | 3 | Jody Scheckter | Tyrrell | +2 varv | 9 |
| 6 | 56 | Denny Hulme | McLaren | +2 varv | 8 |
| 7 | 16 | Brian Redman | Shadow | +3 varv | 21 |
| 8 | 4 | Patrick Depailler | Tyrrell | +3 varv | 16 |
| 9 | 33 | Mike Hailwood | McLaren | +3 varv | 17 |
| 10 | 24 | James Hunt | Hesketh | +3 varv | 10 |
| 11 | 28 | John Watson | Brabham | +4 varv | 15 |
| 12 | 15 | Henri Pescarolo | BRM | +4 varv | 20 |
| 13 | 18 | Carlos Pace | Surtees | +6 varv | 14 |
| r | 23 | Tim Schenken | Trojan | +8 varv | 25 |
| nc | 17 | Jean-Pierre Jarier | Shadow | +11 varv | 12 |
| r | 26 | Graham Hill | Lola | +41 varv | 19 |
| r | 20 | Arturo Merzario | Williams | +47 varv | 7 |
| r | 19 | Jochen Mass | Surtees | +49 varv | 18 |
| r | 37 | Francois Migault | BRM | +57 varv | 22 |
| r | 2 | Jacky Ickx | Lotus | +58 varv | 5 |
| r | 1 | Ronnie Peterson | Lotus | +61 varv | 2 |
| r | 30 | Chris Amon | Amon | +62 varv | 23 |
| r | 8 | Rikky von Opel | Brabham | +70 varv | 24 |
| r | 7 | Carlos Reutemann | Brabham | +72 varv | 6 |
| r | 14 | Jean-Pierre Beltoise | BRM | +82 varv | 11 |
| ns | 10 | Vittorio Brambilla | March | | |
| nq | 27 | Guy Edwards | Lola | | |
| nq | 21 | Tom Belso | Williams | | |
| | | |
| --- | --- | --- |
| NC=Not Classified | NT=No time set in qualifying | R=Retired |
| EX=Excluded from meeting | W=Withdrawn | DQ=Disqualified |
| NS=Did not start | NQ=Did not qualify | NPQ=Did not pre-qualify |

Aktuell ställning
| Position | Förare | Nation | Poäng |
| --- | --- | --- | --- |
| 1 | Clay Regazzoni | CH | 16 |
| 2 | Niki Lauda | AUT | 15 |
| 3 | Emerson Fittipaldi | BRA | 13 |
| 4 | Denny Hulme | NZ | 10 |
| 5 | Carlos Reutemann | ARG | 9 |
| " | Mike Hailwood | GBR | 9 |