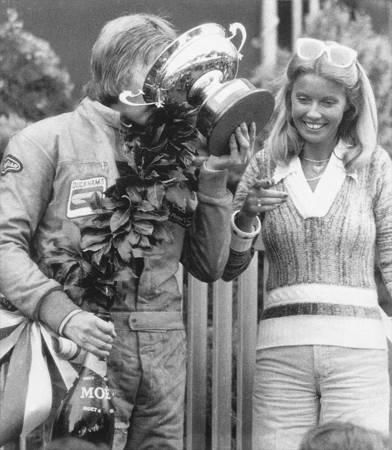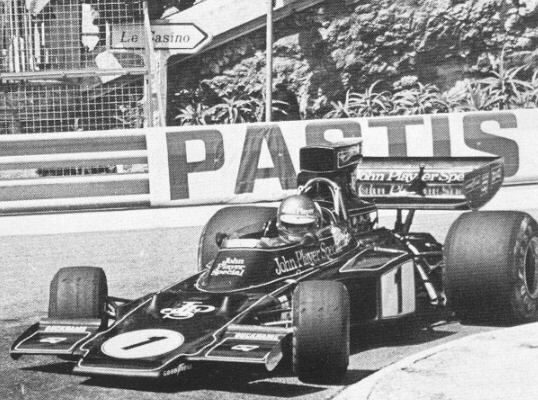 Grand Prix de Monaco 26 Maj 1974
Ronnie Petersons 53:e start i formel 1. Den gamla Lotus 72:an har åter tagits till heder. Träningen har gått över förväntan och Ronnie har presterat en tredje bästa tid. Ronnie står tillsammans med Patrick Depailler (Tyrrell) i det andra startledet bakom de båda Ferraribilarna med Niki Lauda i "pole position" och Clay Regazzoni.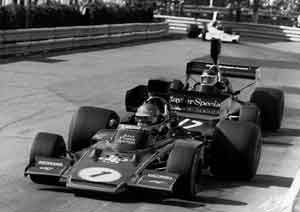 Det blir Regazzoni som tar starten, men stallkamraten Lauda tar över täten på det 21:a varvet. Ronnie får en dålig start och har egentligen stora svårigheter med bilen under hela loppet, men han arbetar sig upp och tar ledningen på den 33:e varvet. Ronnie gör denna dag en makalös insats. Han snurrar, blir stående, arbetar sig upp i fältet, tar ledningen, slår varvrekord (1.27,9) och vinner loppet. Ronnie tar sin första seger för säsongen och adderar ytterligare nio poäng till den ynka som dittills hade bärgats. Jody Scheckter (Tyrrell) blir tvåa, före Jean-Pierre Jarier (Shadow) som trea.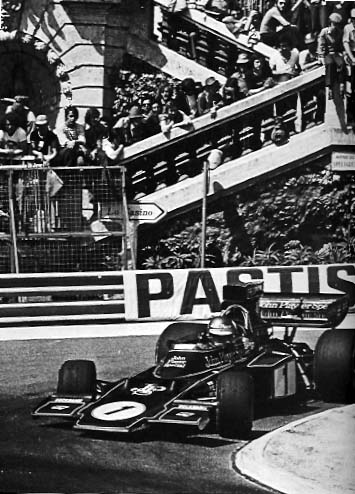 Loppet ser följande förare i ledarposition: Regazzoni 1-20; Lauda 21-32; Ronnie 33-78.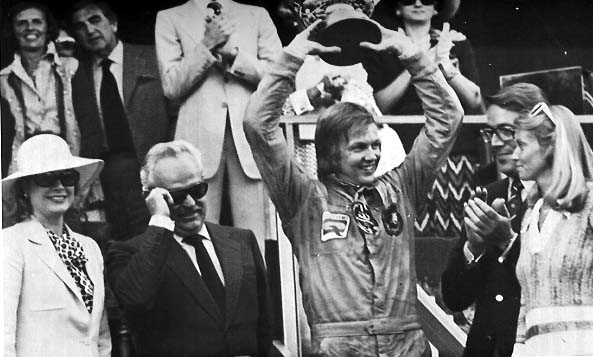 Där förarens körskicklighet är avgörande och bilens prestanda kommer i andra hand, där var Ronnies bländade teknik avgörande. Men en bilkonstruktion som hade åtminstone fyra säsonger bakom sig, skulle inte fortsättningsvis klara anstormningen från konkurrenterna...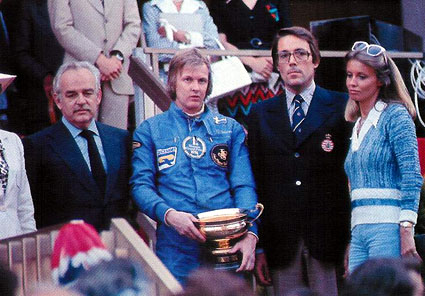 Summary in english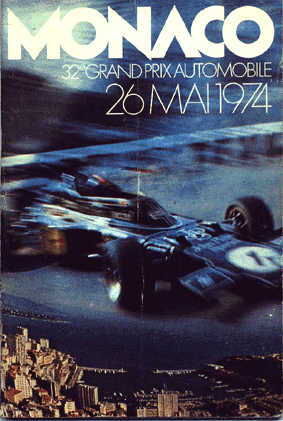 With a huge entry in Belgium a fortnight earlier the Automobile Club de Monaco had to cut back the entry by refusing to allow several teams to take part. There were still 28 drivers vying for the 25 places on the grid. In the end mechanical problems took care of Jochen Mass (Surtees) and Chris Amon (Amon) and so only Rikki Von Opel (Brabham) failed to qualify.

The two Ferraris of Niki Lauda and Clay Regazzoni qualified first and second with Ronnie Peterson (in a Lotus 72 rather than the new 76) and Patrick Depailler (Tyrrell) sharing the second row. Then came Jody Scheckter (Tyrrell) and Jean-Pierre Jarier (Shadow), James Hunt in the Hesketh and Carlos Reutemann's Brabham. The top 10 was completed by Hans Stuck's March and Mike Hailwood in the Yardley McLaren. Emerson Fittipaldi was a disappointed 13th while Jacky Ickx was 19th in his Lotus.

Depailler had engine troubles during the shakedown laps before the race and so started from the back of the grid. This meant that the two Ferraris were able to motor away at the start without anyone threatening their domination. Regazzoni led Lauda. Behind them Jarier was third. In the midfield there was chaos as Denny Hulme (McLaren) collided with Jean-Pierre Beltoise (BRM). The result was carnage involving Arturo Merzario (Iso Marlboro), Carlos Pace (Surtees) and Brian Redman (Shadow). Also suffering damage were Vittorio Brambilla (March), Vern Schuppan (Ensign) and Tim Schenken (Trojan).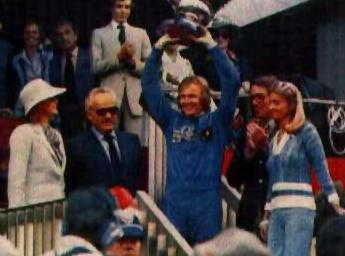 With the midfield decimated, the interest rested firmly on the leaders and it was Peterson who looked strong in the early laps as he forced his way ahead of Jarier on the third lap. On the next lap Stuck ran into the back of Hunt at Casino Square and the March clattered into the barriers, Stuck breaking his thumb. There was also a frightening moment for Francois Migault (BRM) when he had a brake failure at the chicane and went head-on into the catchfencing which had been erected there.

On the sixth lap Peterson made a mistake at Rascasse and was hit by Reutemann. The Brabham driver retired but Peterson was able to continue in sixth place, having been overtaken by Jarier, Scheckter and Hailwood. The last-named did not survive for long because on lap 12 he slid off the road on oil.

Sammanställning

Grand Prix

Monaco

Datum

26 Maj 1974

Bana

Monte Carlo

Säsong

1974

Deltävling

6

Längd (km)

3.278

varv

78

Tid

1:58:03.700
| | | | | | |
| --- | --- | --- | --- | --- | --- |
| Placering | Nr | Förare | Team | Tid | Grid |
| 1 | 1 | | | 1:58:03.700 | 3 |
| 2 | 3 | | | 28.800 | 5 |
| 3 | 17 | | | 48.900 | 6 |
| 4 | 11 | | | 63.100 | 2 |
| 5 | 5 | | | +1 varv | 13 |
| 6 | 28 | | | +1 varv | 23 |
| 7 | 26 | | | +2 varv | 21 |
| 8 | 27 | | | +2 varv | 26 |
| 9 | 4 | | | +3 varv | 4 |
| r | 15 | | | +16 varv | 27 |
| r | 2 | | | +44 varv | 19 |
| r | 12 | | | +46 varv | 1 |
| r | 24 | | | +50 varv | 7 |
| r | 33 | | | +67 varv | 10 |
| r | 7 | | | +73 varv | 8 |
| r | 37 | | | +73 varv | 22 |
| r | 22 | | | +74 varv | 25 |
| r | 9 | | | +75 varv | 9 |
| r | 10 | | | +77 varv | 15 |
| r | 14 | | | +77 varv | 11 |
| r | 23 | | | +78 varv | 24 |
| r | 18 | | | +78 varv | 18 |
| r | 16 | | | +78 varv | 16 |
| r | 20 | | | +78 varv | 14 |
| r | 6 | | | +78 varv | 12 |
| ns | 19 | | | | 17 |
| ns | 30 | | | | 20 |
| nq | 8 | | | | |
| | | |
| --- | --- | --- |
| NC=Not Classified | NT=No time set in qualifying | R=Retired |
| EX=Excluded from meeting | W=Withdrawn | DQ=Disqualified |
| NS=Did not start | NQ=Did not qualify | NPQ=Did not pre-qualify |

Aktuell ställning
| | | | |
| --- | --- | --- | --- |
| Position | Förare | Nation | Poäng |
| 1 | Emerson Fittipaldi | BRA | 24 |
| 2 | Clay Regazzoni | CH | 22 |
| 3 | Niki Lauda | AUT | 21 |
| 4 | Jody Scheckter | ZA | 12 |
| 5 | Denny Hulme | NZ | 11 |
| 6 | Ronnie Peterson | SWE | 10 |
| " | Jean Pierre Beltoise | FRA | 10 |