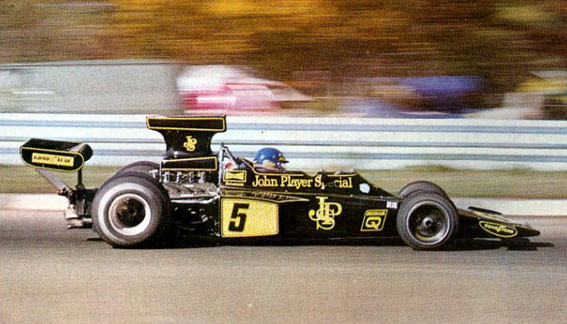 United States Grand Prix 5 Oktober 1975, Watkins Glen
Ronnie Petersons gamla teamkompis och adept - Niki Lauda - gör en makalös säsong. Inför säsongens avslutande GP i USA tar han som en redan klar världsmästare sin nionde "pole position". Ronnie kan inför sin 7:e GP start bara konstatera att bilen inte räcker till och står i sjunde startled långt bak i fältet.
Emerson Fittipaldi (McLaren) står bredvid Lauda och i andra startled återfinns Carlos Reutemann (Brabham) och Jean-Pierre Jarier (Shadow).
Lauda vinner kampen om första kurvan och kan tillsammans med Fittipaldi dra ifrån det övriga fältet. Denna duo håller sina positioner från start till mål och Lauda vinner således med knappt fem sekunder före Fittipaldi - som dock får snabbaste varvtid med 1.43,374.
Klungan där bakom har anförs av Jarier, före Brambilla, Reutemann, Andretti och Hunt. Jarier måste dock bryta på det 19:e varvet efter motortrubbel, liksom Reutemann och Andretti med andra mekaniska problem. Detta gör att Hunt är uppe på en tredjeplats, strax före Jochen Mass och en för dagen magnifik Ronnie Peterson. Mass tar sig förbi Hunt och så gör även Ronnie som plötsligt är uppe på en fjärde plats. Hunt kan dock svara på det sista varvet, så Ronnie slutar "endast" femma - en placering som han dock har all anledning att vara mycket nöjd med efter en uppkörning från 14:e startposition.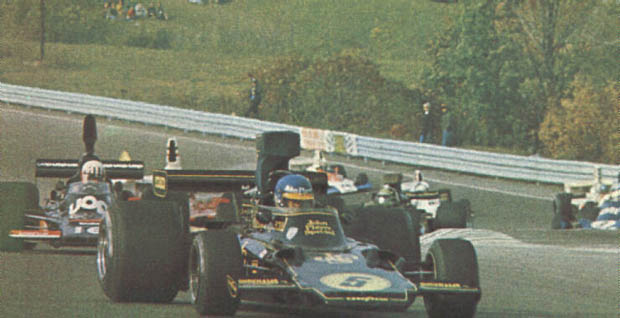 Den totala sammanställningen i 1975 års förar-VM i Formel 1:
Niki Lauda, Ferrari 64.5 p
Emerson Fittipaldi, McLaren 45 p
Carlos Reutemann, Brabham 37 p
Ronnie Peterson slutar tolva med 6 poäng.
Den totala sammanställningen i 1975 års konstruktörsmästerskap:
Ferrari 72.5 p
Brabham-Ford 54 p
McLaren-Ford 53 p
Summary in english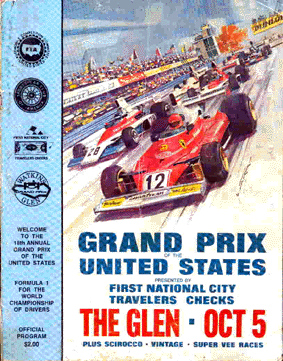 There was a gap of a month after the Italian Grand Prix before the teams gathered at Watkins Glen. The Maki, BRM and Surtees teams did not make the trip and Hill and Ensign sent only one drivers each. Chris Amon had hurt his leg in a road accident at the Long Beach Formula 5000 event. March decided to run only two cars for Hans Stuck and Vittorio Brambilla and so Lella Lombardi moved to the second Williams. Wilson Fittipaldi was back in action in the Fittipaldi, having overcome his hand injuries, while Brian Henton was back in the second Lotus in place of Jim Crawford. Tyrrell entered its third car for Elf protege Michel Leclere while Surtees driver John Watson had been taken on to drive for Penske.

It was no surprise that the new World Champion Niki Lauda took pole position in his Ferrari. Alongside him on the front row was Emerson Fittipaldi's McLaren while the second row featured Carlos Reutemann (Brabham) and Jean-Pierre Jarier (Shadow). On the third row Mario Andretti (Parnelli) lined up alongside Brambilla while Tom Pryce (Shadow) shared the fourth with Patrick Depailler (Tyrrell). Jochen Mass (McLaren) and Jody Scheckter (Tyrrell) completed the top 10. James Hunt was surprisingly off the pace in his Hesketh, lining up 15th on the grid.

Lauda won the race to the first corner and the Ferrari and Fittipaldi then drove away from the rest of the field, leaving Jarier to lead the hunt ahead of Brambilla, Reutmann, Andretti and a charging James Hunt. The order remained unchanged at the front from flag to flag with Lauda winning by five seconds. Jarier retired on lap 19 with a wheel failure but as Reutemann and Andretti had both gone out with mechanical troubles it was Hunt who emerged in third place at the head of a battling group consisting of Mass, Ronnie Peterson (Lotus) and Scheckter. Mass managed to pass Hunt in the mid-race to take third place. On lap 50 Hunt was overtaken by Peterson but the Englishman reclaimed fourth place on the final lap. The pair finished with Scheckter right on their tail.
Sammanställning

Grand Prix

Datum

5 Oktober 1975

Bana

Säsong

1975

Deltävling

14

Längd (km)

5.435

Varv

59

Tid

1:42:58.175
| | | | | | |
| --- | --- | --- | --- | --- | --- |
| Placering | Nr | Förare | Team | Tid | Grid |
| 1 | 12 | | | 1:42:58.175 | 1 |
| 2 | 1 | | | 4.943 | 2 |
| 3 | 2 | | | 47.637 | 9 |
| 4 | 24 | | | 49.475 | 15 |
| 5 | 5 | | | 49.986 | 14 |
| 6 | 3 | | | 50.321 | 10 |
| 7 | 9 | | | 104.031 | 6 |
| 8 | 10 | | | +1 varv | 13 |
| 9 | 28 | | | +2 varv | 12 |
| 10 | 30 | | | +4 varv | 23 |
| nc | 16 | | | +7 varv | 7 |
| nc | 6 | | | +10 varv | 19 |
| r | 25 | | | +13 varv | 18 |
| r | 31 | | | +18 varv | 22 |
| r | 11 | | | +31 varv | 11 |
| r | 17 | | | +40 varv | 4 |
| r | 7 | | | +50 varv | 3 |
| r | 27 | | | +50 varv | 5 |
| r | 23 | | | +54 varv | 17 |
| r | 15 | | | +54 varv | 20 |
| r | 4 | | | +57 varv | 8 |
| r | 8 | | | +57 varv | 16 |
| ns | 21 | | | | 21 |
| ns | 20 | | | | 24 |
| | | |
| --- | --- | --- |
| NC=Not Classified | NT=No time set in qualifying | R=Retired |
| EX=Excluded from meeting | W=Withdrawn | DQ=Disqualified |
| NS=Did not start | NQ=Did not qualify | NPQ=Did not pre-qualify |

Slutlig ställning i 1975 års förar-VM i Formel 1
| | | | |
| --- | --- | --- | --- |
| Position | Förare | Nation | Poäng |
| 1 | | | 64.5 |
| 2 | | | 45 |
| 3 | | | 37 |
| 4 | | | 33 |
| 5 | | | 25 |
| 6 | | | 24 |