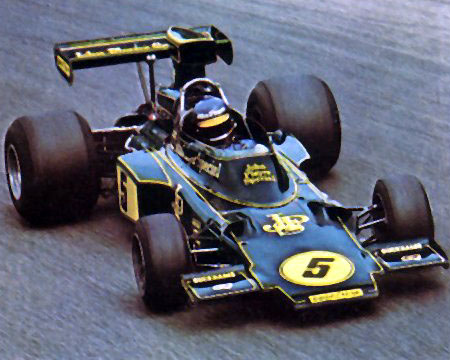 Gran Premio d`Italia 7 September 1975, Monza
Ronnie Peterson är regerande titelförsvarare inför Italiens GP på Monzabanan. Ronnie gör alltid mycket bra lopp på Monza och har sedan många år vunnit den kräsna motorpublikens hjärta. Redan 1971 var det mycket nära att Ronnie tog sin första F1-seger då han med minsta möjliga marginal (endast 0,009 s) blev slagen av Peter Gethin (loppet är än idag det lopp med minsta tidsdifferens mellan ettan och tvåan). Inför sin 75:e GP start kan Ronnie se tillbaka på de två senaste årens segrar på Monza (-73 & -74) och han när vissa förhoppningar att ännu en gång visa att det går att göra bra resultat med ålderstigen materiel...
Tidsträningen går dock som vanligt denna säsong, d v s dåligt och Ronnie har endast 11:e bästa tid efter kvalet. Niki Lauda står för åttonde gången denna säsong i "pole position", denna gång före teamkollegan Clay Regazzoni (Ferrari). Andra startled med Emerson Fittipaldi (McLaren) och Jody Scheckter (Tyrrell).
Lauda behöver endast en halv poäng till för att ta hem årets förarmästerskap, detta då det nu står klart att Kanadas GP måste strykas p g a finansiella problem.
Det blir dock Regazzoni som direkt kan ta täten. Inför ingången till schikanen på det andra varvet tappar trean Scheckter kontrollen över sin bil och en mängd förare blandas in med mer eller mindre allvarliga skador på bilarna som följd. Bl a Ronnie tvingas lämna in då han får problem med motorn.
Clay Regazzoni kan närmast ohotad leda loppet från start till mål och tar sig efter 52 varv i mål som segrare och med bästa varvtid om 1.34,2.
I fältet bakom Regazzoni sker idel omkastningar, men det blir Emerson Fittipaldi (McLaren) som tar hem andraplatsen för Niki Lauda - som därmed säkrar mästerskapet för sig och Ferrari.
Summary in english
A week after the Austrian GP most of the F1 teams took part in a non-championship Swiss Grand Prix. This had to be held at Dijon as there were no racing circuits in Switzerland. The race was won by Switzerland's Clay Regazzoni although Jean-Pierre Jarier led half the race in his Shadow.

The teams then headed on to Monza where Niki Lauda needed only half a point more to win the World Championship, as a result of the decision to cancel the Canadian Grand Prix because of financial difficulties. The field was much as usual. Penske was absent following the death in Austria of Mark Donohue. Ensign ran two cars for Roelof Wunderink and Chris Amon while Frank Williams rented his second car to Renzo Zorzi.

Qualifying resulted in another pole for Niki Lauda with Regazzoni alongside on the front row. On the second row were Emerson Fittipaldi (McLaren) and Jody Scheckter (Tyrrell) while Jochen Mass (McLaren) and Tony Brise (Hill) shared the third row. Completing the top 10 were Carlos Reutemann (Brabham), James Hunt (Hesketh), Austrian winner Vittorio Brambilla (March) and Brabham's Carlos Pace.

Regazzoni took the lead from Lauda with Mass, Scheckter and the rest in hot pursuit. Scheckter got up to third before the end of the first lap but he lost control as the field arrived at the first chicane at the start of lap two. There followed a series of bumps as those behind hit one another and this meant that Mario Andretti (Parnelli), Brise, Brambilla and Ronnie Peterson (Lotus) were all out and a series of others had damage.

This did not bother the two Ferraris which were driving away from the field with ease. Reutemann was third but had Fittipaldi and Hunt right with him and Depailler not far behind. On lap 10 the Frenchman moved ahead of Hunt while four laps later Fittipaldi scrambled ahead of Reutemann. Depailler then went up an escape road and dropped behind Hunt and Tom Pryce (Shadow). Pryce and Hunt then battled for much of the middle part of the race while the order at the front remained stable until the closing laps when Fittipaldi caught and overtook Lauda for second place.

Lauda's third place was enough to make him the World Champion.
Sammanställning

Grand Prix

Datum

7 September 1975

Bana

Säsong

1975

Deltävling

13

Längd (km)

5.780

Varv

52

Tid

1:22:42.600
| | | | | | |
| --- | --- | --- | --- | --- | --- |
| Placering | Nr | Förare | Team | Tid | Grid |
| 1 | 11 | | | 1:22:42.600 | 2 |
| 2 | 1 | | | 16.600 | 3 |
| 3 | 12 | | | 23.200 | 1 |
| 4 | 7 | | | 55.100 | 7 |
| 5 | 24 | | | 57.100 | 8 |
| 6 | 16 | | | 75.900 | 14 |
| 7 | 4 | | | +1 varv | 12 |
| 8 | 3 | | | +1 varv | 4 |
| 9 | 34 | | | +1 varv | 17 |
| 10 | 25 | | | +2 varv | 21 |
| 11 | 30 | | | +4 varv | 26 |
| 12 | 32 | | | +4 varv | 19 |
| 13 | 6 | | | +6 varv | 25 |
| 14 | 20 | | | +6 varv | 22 |
| r | 17 | | | +20 varv | 13 |
| r | 29 | | | +31 varv | 24 |
| r | 10 | | | +37 varv | 16 |
| r | 21 | | | +45 varv | 18 |
| r | 8 | | | +46 varv | 10 |
| r | 22 | | | +49 varv | 23 |
| r | 2 | | | +50 varv | 5 |
| r | 9 | | | +51 varv | 9 |
| r | 27 | | | +51 varv | 15 |
| r | 23 | | | +51 varv | 6 |
| r | 5 | | | +51 varv | 11 |
| r | 14 | | | +52 varv | 20 |
| nq | 31 | | | | |
| nq | 35 | | | | |
| | | |
| --- | --- | --- |
| NC=Not Classified | NT=No time set in qualifying | R=Retired |
| EX=Excluded from meeting | W=Withdrawn | DQ=Disqualified |
| NS=Did not start | NQ=Did not qualify | NPQ=Did not pre-qualify |

Aktuell ställning
| | | | |
| --- | --- | --- | --- |
| Position | Förare | Nation | Poäng |
| 1 | | | 55.5 |
| 2 | | | 39 |
| 3 | | | 37 |
| 4 | | | 30 |
| 5 | | | 25 |
| 6 | | | 24 |