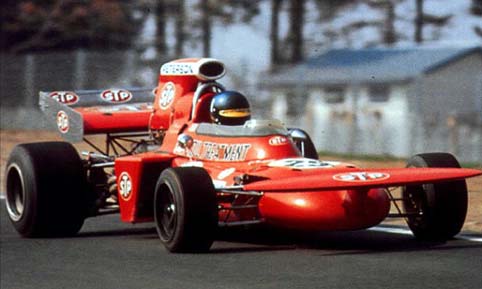 United States Grand Prix 3 Oktober 1971, Watkins Glen
Ronnie Petersons 20:e start i Formel 1 och han har nummer 25 på sin röda March.
Träningen började inte bra för Ronnie. Efter endast femton minuters tidskval exploderar motorn. Inte ens en frisk motor kan hjälpa Ronnie till nya höjder och han lyckas endast prestera en 11:e startposition inför söndagens tävling. Stewart i "pole position" före Fittipaldi och Hulme.
Ronnie startar loppet med hårda däck för att möta hettan på Watkins Glen. Detta gör att han får en dålig start och är endast 14:e man efter det första varvet. Men allt eftersom tävlingen fortskrider får många problem med däcken och Ronnie kan avancera upp i fältet. Ronnie kan slutligen ta hem en tredjeplats efter François Cevert i en Tyrrell (hans enda vinst någonsin i Formel 1) och Jo Siffert i en BRM. Snabbaste varv har Ickx med 1.43,47.
Summary in english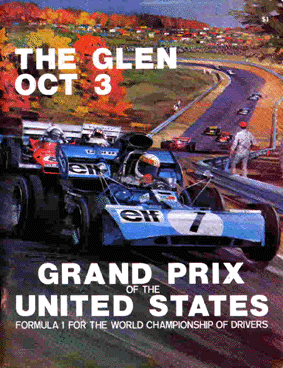 There had been a considerable amount of safety work done at Watkins Glen with a new pit complex and an extension to the track. The field was much as it had been in Canada two weeks earlier although Rolf Stommelen was out of action because of a jaw problem. The second Surtees (a third was being run for Mike Hailwood) was entered for Sam Posey and Gijs van Lennep, the faster of the two (Posey) getting into the race. Tyrrell expanded to three cars with Peter Revson returning to F1 after seven years away. BRM continued to run five cars but George Eaton was replaced in the fifth by Formula 5000 driver John Cannon. Mark Donohue was again in the second McLaren but was sharing the car with David Hobbs as he had to fly backwards and forwards to Trenton, where a delayed USAC race was taking place. Mario Andretti decided not to bother and so Ferrari ran only two cars.
Jackie Stewart took pole position for Tyrrell with Emerson Fittipaldi's Lotus and Denny Hulme's McLaren alongside. The second row featured Clay Regazzoni in the fastest of the Ferraris and Francois Cevert in the second Tyrrell. Jo Siffert (BRM), Jacky Ickx (Ferrari) and Chris Amon (Matra) shared the third row.
Stewart took the lead from Hulme at the start with Cevert jumping up to third place, followed by Regazzoni and Siffert. Fittipaldi made a poor start and was eighth. On the seventh lap Cevert was able to pass Hulme for second place and on lap 14 he moved ahead of Stewart, who was suffering from bad oversteer. Hulme was also having handling problems and he began to drop back, being overtaken by Ickx (who had passed Siffert). Stewart also fell victim to the Ferrari and then Siffert as well. Ickx stalked Cevert until lap 40 when the Ferrari began to fall back with an alternator problem which led to the Belgian's retirement. This moved Siffert to second place and Peterson (who had passed Stewart) to take third. Howden Ganley (BRM) was fourth with Stewart fifth.
It was Cevert's first World Championship victory and with the Mexican GP having been canceled it was the last World Championship race of the 1971 season.
Sammanställning
Grand Prix
USA
Datum
3 Oktober 1971
Bana
Watkins Glen
Säsong
1971
Deltävling
11
Längd (km)
5.435
Varv
59
Tid
1:43:51.991
| | | | | | |
| --- | --- | --- | --- | --- | --- |
| Placering | Nr | Förare | Team | Tid | Grid |
| 1 | 9 | François Cevert | Tyrrell | 1:43:51.991 | 5 |
| 2 | 14 | Jo Siffert | BRM | 40.062 | 6 |
| 3 | 25 | Ronnie Peterson | March | 44.070 | 11 |
| 4 | 16 | Howden Ganley | BRM | 56.749 | 12 |
| 5 | 8 | Jackie Stewart | Tyrrell | 60.003 | 1 |
| 6 | 5 | Clay Regazzoni | Ferrari | 76.426 | 4 |
| 7 | 22 | Graham Hill | Brabham | +1 varv | 18 |
| 8 | 12 | Jean-Pierre Beltoise | Matra | +1 varv | 10 |
| 9 | 15 | Peter Gethin | BRM | +1 varv | 21 |
| 10 | 31 | David Hobbs | McLaren | +1 varv | 22 |
| 11 | 27 | Andrea de Adamich | March | +2 varv | 26 |
| 12 | 11 | Chris Amon | Matra | +2 varv | 8 |
| 13 | 17 | Helmut Marko | BRM | +2 varv | 16 |
| 14 | 28 | Johnny Cannon | BRM | +3 varv | 24 |
| r | 20 | Mike Hailwood | Surtees | +5 varv | 14 |
| r | 29 | Jo Bonnier | McLaren | +5 varv | 28 |
| 17 | 18 | Johnny Surtees | Surtees | +5 varv | 13 |
| nc | 33 | Skip Barber | March | +7 varv | 25 |
| nc | 2 | Emerson Fittipaldi | Lotus | +10 varv | 2 |
| nc | 30 | Pete Lovely | Lotus | +10 varv | 29 |
| r | 4 | Jacky Ickx | Ferrari | +10 varv | 7 |
| r | 7 | Denny Hulme | McLaren | +12 varv | 3 |
| r | 23 | Tim Schenken | Brabham | +18 varv | 15 |
| r | 24 | Chris Craft | Brabham | +29 varv | 27 |
| r | 21 | Henri Pescarolo | March | +36 varv | 20 |
| r | 19 | Sam Posey | Surtees | +44 varv | 17 |
| r | 26 | Nanni Galli | March | +48 varv | 23 |
| r | 3 | Reine Wisell | Lotus | +54 varv | 9 |
| r | 10 | Peter Revson | Tyrrell | +58 varv | 19 |
| ns | 6 | Mario Andretti | Ferrari | | |
| ns | 31 | Mark Donohue | McLaren | | |
| ns | 19 | Gijs van Lennep | Surtees | | |
| | | |
| --- | --- | --- |
| NC=Not Classified | NT=No time set in qualifying | R=Retired |
| EX=Excluded from meeting | W=Withdrawn | DQ=Disqualified |
| NS=Did not start | NQ=Did not qualify | NPQ=Did not pre-qualify |

Total slutställning för 1971 års GP i Formel 1
| | | | |
| --- | --- | --- | --- |
| 1 | Jackie Stewart | GBR | 62 |
| 2 | Ronnie Peterson | SWE | 33 |
| 3 | François Cevert | FRA | 26 |
| 4 | Jacky Ickx | BEL | 19 |
| " | Jo Siffert | CH | 19 |
| 6 | Emerson Fittipaldi | BRA | 16 |