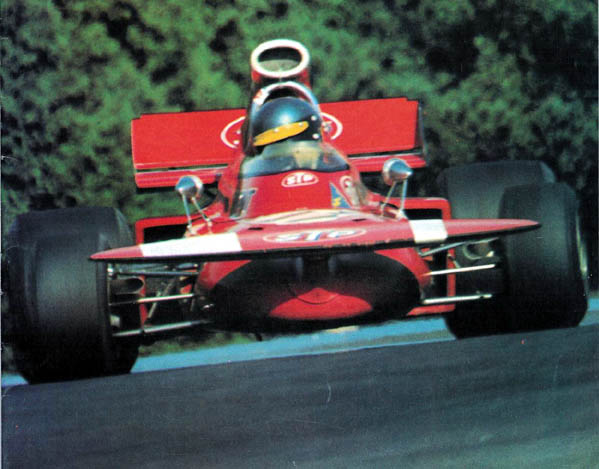 Canadian Grand Prix 19 September 1971, Mosport Park
Ronnie Peterson är inför detta hans 19:e start i Formel 1 ny tvåa i årets världsmästerskap. Detta är sannerligen en beundransvärd insats då det material han har att ratta bevisligen har mer att önska.
Under den första tidsträningen har Ronnie problem med såväl bränsle som med väghållning. Trots detta får teamet ihop materialet någorlunda och Ronnie lyckas prestera en 6:e bästa tid för en plats i tredje startledet bredvid Reine Wisell. I "pole position" står Jackie Stewart före Jo Siffert och François Cevert.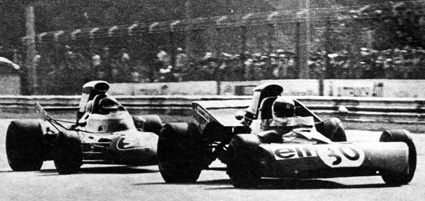 När loppet drar igång så regnar det. Ronnie får en mycket bra start och är tvåa in i första kurvan. Han blir dock omkörd av Beltoise, men har tre varv senare återtagit andraplatsen. Ronnie börjar köra olika spår genom kurvorna och upptäcker att detta är snabbare. Detta innebär att han jagar ikapp Stewart och kan så småningom på det artonde varvet även passera honom. Ronnie är nu i ledning i 13 varv, men då han på det trettionde varvet skall varva Georg Eaton så stöter bilarna ihop och Ronnie spinner av banan. Motorn slocknar och nospartiet blir demolerat. Stewart kan passera och leder med tretton sekunder innan Ronnie kan komma igång igen. Ronnie försöker återigen komma ikapp Stewart, men bilen är alltför skadad och han får nöja sig med att gå i mål som tvåa. Trea blir Mark Donohue i en McLaren och Reine Wisell i en Lotus slutar som 5:a.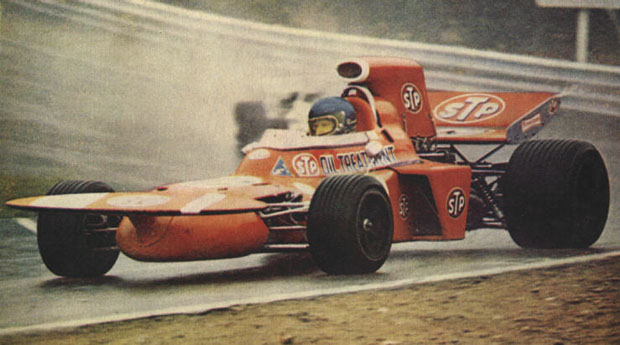 Snabbaste varv har Denny Hulme med 1.43,5 men Ronnie bevisar återigen att han tillhör de snabbaste förarna och har med stor skicklighet befäst sin andraplats i den totala sammanställningen för VM-serien - en placering som dessutom är ohotad inför det avslutande GP i USA.
Summary in english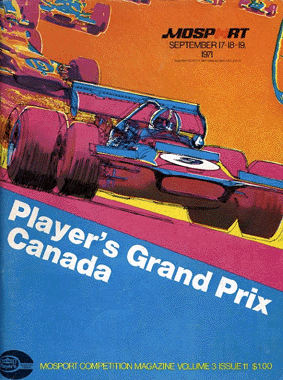 Two weeks after Peter Gethin's amazing victory at Monza, the F1 field gathered in Canada. BRM fielded five cars for the occasion Gethin being joined by regulars Jo Siffert, Howden Ganley, Helmut Marko and Canadian George Eaton. Ferrari was up to three cars again with Mario Andretti joining Jackie Ickx and Clay Regazzoni. McLaren replaced Jack Oliver with US star Mark Donohue (although the second McLaren was owned by Roger Penske and entered in American racing dark blue). There were a variety of extra privateers including Skip Barber's Gene Mason-entered March, Alain de Cadenet's Brabham for Chris Craft and Peter Lovely in an old Lotus.
Qualifying resulted in World Champion Jackie Stewart putting his Tyrrell on pole position ahead of Jo Siffert's BRM and the second Tyrrell of Francois Cevert. Emerson Fittipaldi (Lotus) and Chris Amon shared the second row, while Ronnie Peterson (March), Reine Wisell (Lotus) and Donohue (McLaren) were on the third row. The Ferraris were not competitive with Ickx 12th, Andretti 13th and Regazzoni 18th.
There was a fatal accident in the Formula Ford race and the Grand Prix was delayed, and by the time the race started it was pouring with rain. Howden Ganley demolished his BRM in the warm-up period before the race and so could not make the start. At the start Stewart went into the lead with Peterson second, chased by Beltoise, Donohue, Fittipaldi, Cevert and the rest. On the third lap Graham Hill crashed his Brabham and five laps later Regazzoni did the same in his Ferrari and lucky to emerge unscathed when the car caught fire.
Stewart had a firm grip on the race while Peterson had to fight for second with Beltoise until the Frenchman crashed on lap 16. At the same time Donohue pitted for new goggles but did not lose a place. This left a huge gap between the first two and the rest. Peterson took the lead on lap 18 but on lap 31 Stewart took the lead back while they were going through backmarkers. A few moments later Peterson ran into Eaton's BRM and damaged the front of his car. This upset the balance of the car and Peterson was unable to match Stewart's pace and so the Tyrrell edged away to win by nearly 40 seconds. Donohue finished third on his F1 debut.
Sammanställning
Grand Prix
Kanada
Datum
19 September 1971
Bana
Mosport Park
Säsong
1971
Deltävling
10
Längd (km)
3.957
Varv
64
Tid
1:55:12.900
| | | | | | |
| --- | --- | --- | --- | --- | --- |
| Placering | Nr | Förare | Team | Tid | Grid |
| 1 | 11 | Jackie Stewart | Tyrrell | 1:55:12.900 | 1 |
| 2 | 17 | Ronnie Peterson | March | 38.300 | 6 |
| 3 | 10 | Mark Donohue | McLaren | 95.800 | 8 |
| 4 | 9 | Denny Hulme | McLaren | +1 varv | 10 |
| 5 | 3 | Reine Wisell | Lotus | +1 varv | 7 |
| 6 | 12 | François Cevert | Tyrrell | +2 varv | 3 |
| 7 | 2 | Emerson Fittipaldi | Lotus | +2 varv | 4 |
| 8 | 4 | Jacky Ickx | Ferrari | +2 varv | 12 |
| 9 | 14 | Jo Siffert | BRM | +3 varv | 2 |
| 10 | 20 | Chris Amon | Matra | +3 varv | 5 |
| 11 | 22 | Johnny Surtees | Surtees | +4 varv | 14 |
| 12 | 31 | Helmut Marko | BRM | +4 varv | 19 |
| 13 | 6 | Mario Andretti | Ferrari | +4 varv | 13 |
| 14 | 15 | Peter Gethin | BRM | +5 varv | 16 |
| 15 | 28 | George Eaton | BRM | +5 varv | 21 |
| 16 | 18 | Nanni Galli | March | +7 varv | 20 |
| nc | 19 | Mike Beuttler | March | +8 varv | 22 |
| nc | 35 | Pete Lovely | Lotus | +9 varv | 25 |
| r | 24 | Rolf Stommelen | Surtees | +38 varv | 23 |
| r | 21 | Jean-Pierre Beltoise | Matra | +49 varv | 11 |
| r | 33 | Skip Barber | March | +51 varv | 24 |
| r | 5 | Clay Regazzoni | Ferrari | +57 varv | 18 |
| r | 37 | Graham Hill | Brabham | +62 varv | 15 |
| r | 8 | Tim Schenken | Brabham | +63 varv | 17 |
| ns | 16 | Howden Ganley | BRM | | 9 |
| ns | 26 | Chris Craft | Brabham | | |
| ns | 27 | Henri Pescarolo | March | | |
| | | |
| --- | --- | --- |
| NC=Not Classified | NT=No time set in qualifying | R=Retired |
| EX=Excluded from meeting | W=Withdrawn | DQ=Disqualified |
| NS=Did not start | NQ=Did not qualify | NPQ=Did not pre-qualify |

Aktuell ställning
| | | | |
| --- | --- | --- | --- |
| 1 | Jackie Stewart | GBR | 60 |
| 2 | Ronnie Peterson | SWE | 29 |
| 3 | Jacky Ickx | BEL | 19 |
| 4 | François Cevert | FRA | 17 |
| 5 | Emerson Fittipaldi | BRA | 16 |
| 6 | Jo Siffert | CH | 13 |