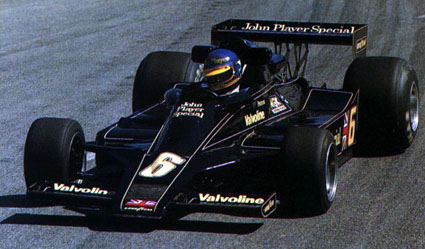 Citizen South African Grand Prix 4 Mars 1978, Kyalami
Ronnie Peterson får en möjlighet att ytterligare tillvänja sig Lotus 78:an under det sex veckor långa uppehållet mellan tävlingarna i Brasilien och Sydafrika. Även den nya Lotus 79:an testas, men Colin Chapman anser inte att bilen ännu är redo för start. Dessutom anser han att så länge den gamla konstruktionen är konkurrenskraftig så finns inte anledning att avslöja den nyutvecklade skapelsen och därmed ge konkurrenterna onödigt gott med tid att komma ikapp. Däremot är nu Ferrari klar med sin modell 312T3 och Brabham visar upp en kraftfullt förändrad BT46.
Tävlingen på Kyalami-banan är den 300:e sedan mästerskapet tog sin början, för Ronnie är det den 112:e F1-starten i karriären. Kvalificeringen går inte lika bra som under de inledande tävlingarna och Ronnie lyckas bara köra in på 12:e bästa tid. I "pole position" återfinns för första gången Niki Lauda i en Brabham. Det första startledet delas med Ronnie teamkompis - Lotus försteförare Mario Andretti. Andra startledet stoltserar med de båda McLaren-bilarna med James Hunt och Patrick Tambay.
Andretti tar direkt ledningen före Scheckter och Lauda. Därefter Hunt följd av Jabuille, Patrese och Watson. Hunt bryter redan på det femte varvet med en trasig motor. Patrese kan ta tredjeplatsen från Lauda på varv 19. Scheckter går upp i ledning ett par varv senare och inom sex varv har även Patrese passerat Andretti. Såväl Andretti som Scheckter faller dock tillbaka i fältet med däcksproblem. Depailler blir ny tvåa och Lauda är ett tag trea tills dess att motorn ger upp på varv 52. Andretti återigen trea, nu med stallkompisen omedelbart bakom - en makalös uppkörning av Ronnie.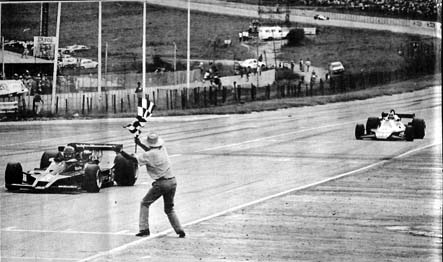 Ledande Patrese ser ut att ha loppet i sin ficka, men han blåser motorn på det 64:e varvet och Depailler hamnar i spets. På de avslutande varven börjar Tyrrell-bilen spy rök. Andretti är dock tvungen att gå i depå för att tanka, vilket gör att Ronnie kan påbörja jakten på förstaplatsen. Efter en intensiv strid hjul mot hjul lyckas Ronnie ta sig förbi på det sista varvet (tre kurvor före mål) och kan gå i mål som segrare, en halv sekund före sin gamle teamkompis från Tyrrell - Patrick Depailler (bilen drabbades av dåligt bränsletryck och sackade i kurvorna). John Watsonslutar trea före Alan Jones i en Williams.
"Min första VM-seger sen september 1976, det här satt fint. Nu blir det intressant i fortsättningen. Mario och jag är nämligen mycket snabba i våra bilar, det vet vi nu. Skulle vara underligt om vi inte vinner flera lopp framöver..."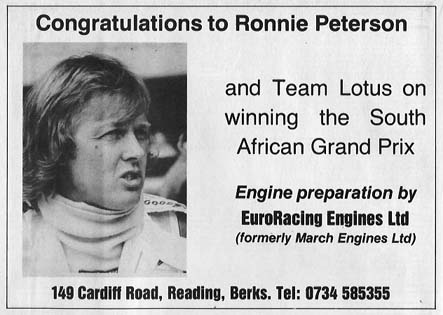 Snabbaste varv presterar Andretti med 1.17,09 och loppet kan summera följande förare i ledning: Andretti 1-20; Scheckter 21-26; Patrese 27-63; Depailler 64-77; Ronnie 78.
Ronnie ligger nu tvåa i den totala sammanställningen - efter Andretti.
En lustig notering är att ingen av de sex förare som tar poäng i loppet fanns placerade bland de tio främsta på "gridden" (och endast en av de 12 främsta)...
Summary in english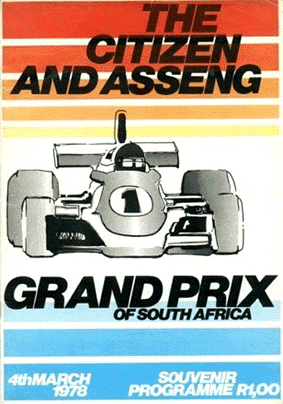 There was a six week gap between the two South American races and the South African GP (the 300th World Championship event) and in that time several new cars had been completed. As a result there were 30 cars fighting for 26 places. Ferrari had its new 312T3s ready, Brabham appeared with the strikingly-different BT46 with angled heat-exchangers instead of radiators. Automobiles Martini appeared for the first time with Rene Arnoux driving the Tico Martini-designed MK23, while Arrows expanded to two cars, running Riccardo Patrese and Rolf Stommelen in Warsteiner Beer-sponsored cars. Renault Sport was also back in action after missing the first two races. There had been some changes in the driver lineup with Eddie Cheever moving from Theodore to Hesketh (where he replaced Divina Galica) and Keke Rosberg being hired by Theodore. Ensign was running only one car (for Lamberto Leoni), Danny Ongais having given up his ideas of being an F1 driver.

Niki Lauda showed the promise of the new Brabham by taking pole position ahead of Mario Andretti (who was still using the old Lotus 78). The two McLarens of James Hunt and Patrick Tambay shared the second row while Jody Scheckter's Wolf and Jean-Pierre Jabouille (in the turbocharged Renault RS1) were on the third row. Then came Patrese, Gilles Villeneuve and Carlos Reutemann (Ferraris) and John Watson in the second Brabham. Cheever qualified 25th to become the third youngest driver ever to start a Grand Prix.

In the race Andretti took the lead with Scheckter getting ahead of Lauda. Hunt followed with a fast-starting Jabouille ahead of Patrese and Watson. Hunt went out after five laps with an engine failure, while Patrese was quickly ahead of Jabouille. On lap 19 the young Italian overtook Lauda for third place. On the 21st lap Scheckter managed to get ahead of Andretti and he was followed through by Patrese and six laps later the Arrows went into the lead. As both Andretti and Scheckter dropped back with tire problems, Patrick Depailler (Tyrrell) moved to second with Lauda third.

The Austrian's car lasted only until lap 52 when its Alfa Romeo engine blew and so Andretti regained third place. Patrese seemed to have the race in his pocket but on lap 64 his engine blew and Depailler went into the lead with Andretti second and Peterson third. In the closing laps the Tyrrell began to trail smoke but Andretti could do nothing because with three laps to go he had to pit for more fuel. This left Peterson to get ahead on the last lap after a dramatic wheel-banging battle with Depailler. The Frenchman finished half a second behind the Lotus. John Watson was third in his Brabham with Alan Jones fourth in the Williams, Laffite fifth in the Ligier and Didier Pironi sixth (to score his second point in three races).
Sammanställning

Grand Prix

Datum

4 Mars 1978

Bana

Säsong

1978

Deltävling

3

Längd (km)

4.104

Varv

78

Tid

1:42:15.767
| | | | | | |
| --- | --- | --- | --- | --- | --- |
| Placering | Nr | Förare | Team | Tid | Grid |
| 1 | 6 | | | 1:42:15.767 | 12 |
| 2 | 4 | | | 0.466 | 11 |
| 3 | 2 | | | 4.442 | 10 |
| 4 | 27 | | | 38.986 | 18 |
| 5 | 26 | | | 69.218 | 13 |
| 6 | 3 | | | +1 varv | 14 |
| 7 | 5 | | | +1 varv | 2 |
| 8 | 10 | | | +1 varv | 17 |
| 9 | 36 | | | +1 varv | 22 |
| 10 | 25 | | | +1 varv | 21 |
| 11 | 30 | | | +2 varv | 20 |
| 12 | 19 | | | +2 varv | 19 |
| r | 35 | | | +15 varv | 7 |
| r | 20 | | | +19 varv | 5 |
| r | 8 | | | +22 varv | 4 |
| r | 11 | | | +23 varv | 9 |
| r | 12 | | | +23 varv | 8 |
| r | 18 | | | +26 varv | 23 |
| r | 1 | | | +26 varv | 1 |
| r | 9 | | | +35 varv | 15 |
| r | 37 | | | +39 varv | 26 |
| r | 15 | | | +40 varv | 6 |
| r | 32 | | | +64 varv | 24 |
| r | 14 | | | +70 varv | 16 |
| r | 24 | | | +70 varv | 25 |
| r | 7 | | | +73 varv | 3 |
| nq | 31 | | | | |
| nq | 17 | | | | |
| nq | 22 | | | | |
| nq | 16 | | | | |
| | | |
| --- | --- | --- |
| NC=Not Classified | NT=No time set in qualifying | R=Retired |
| EX=Excluded from meeting | W=Withdrawn | DQ=Disqualified |
| NS=Did not start | NQ=Did not qualify | NPQ=Did not pre-qualify |

Aktuell ställning
| | | | |
| --- | --- | --- | --- |
| Position | Förare | Nation | Poäng |
| 1 | | | 12 |
| 2 | | | 11 |
| 3 | | | 10 |
| " | | | 10 |
| 5 | | | 9 |
| 6 | | | 6 |