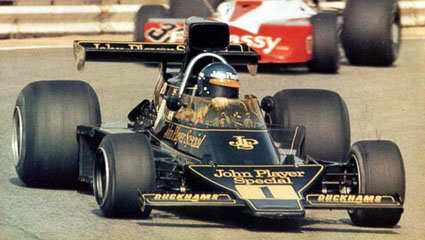 Lucky Strike South African Grand Prix 30 Mars 1974, Kyalami
Ronnie Peterson i ett litet "jubileum" då han står inför sin 50:e start i Formel 1. Lotus 76:an fungerar inte alls bra och Ronnie lyckas endast prestera en 16:e plats i tidskvalet. Niki Lauda (Ferrari) står i "pole" före Carlos Pace (Surtees).
Redan efter två varv tvingas Ronnie bryta loppet efter att ha åkt av banan. Även Lauda ger upp, då han i ledningen på det nionde varvet får problem med tändningen. Reutemann tar därefter över och leder loppet in i mål - med snabbast varvtid på 1.18,16 vinner han före Jean-Pierre Beltoise i en BRM och med Mike Hailwood (McLaren) som trea. Detta är Carlos Reutemanns första F1 seger någonsin i karriären.
Summary in english
In the two months between the Brazilian and South African Grands Prix the F1 teams had raced in the President Medici GP in Brasilia (won by Emerson Fittipaldi) and the Race of Champions at Brands Hatch, which was won by the Lotus of Jacky Ickx. The teams had then headed to Kyalami for testing. At the end of the test Peter Revson's Shadow suffered a suspension failure at Barbecue Bend and the American was killed when the car went head-on into the barriers. The Shadow team packed up and went back to England. Hesketh Racing had its new Hesketh 308 ready for James Hunt. The entry included Tom Belso in the second Williams. The field was bolstered by a number of local drivers led by Team Gunston which was running Jody Scheckter's brother Ian and Paddy Driver, while Dave Charlton appeared in a Lucky Strike-sponsored ex-works McLaren.

Qualifying resulted in Niki Lauda taking his first pole position in the Ferrari with an impressive Carlos Pace second in his Surtees. There was an extraordinary performance from Arturo Merzario who qualified his Iso-Marlboro in third place ahead of Carlos Reutemann's Brabham, Emerson Fittipaldi's McLaren and the second Ferrari, driven by Clay Regazzoni. Seventh on the grid was a good effort for Hans Stuck in one of the factory March 741s while Jody Scheckter was eighth in his Tyrrell, ahead of Denny Hulme's McLaren and Jacky Ickx in the new Lotus 76. Ronnie Peterson had a troubled time with his new car and was only 16th on the grid.

At the start Lauda took the lead with Reutemann getting ahead of Merzario and Pace to take second place. Regazzoni was third with Jody Scheckter fourth. In the midfield there was disaster for Lotus when Peterson's throttle stuck open and he collided with his team mate Ickx. Jochen Mass in the Surtees also went off after being hit by Henri Pescarolo's BRM.

Lauda stayed in the lead for the first nine laps and then Reutemann eased ahead and began to pull away. Regazzoni remained third with Jody Scheckter fourth, Hunt fifth and Emerson Fittipaldi sixth. Hunt disappeared on the 14th lap with a driveshaft failure and then Scheckter began to suffer from tire vibration problems and dropped behind Fittipaldi and Hailwood. The order was unchanged for most of the middle part of the race although Hailwood overtook Fittipaldi for fourth place on lap 49. Both men then fell behind Jean-Pierre Beltoise's BRM.

On lap 66 Regazzoni went out with engine trouble to be followed nine laps later by Lauda with a similar problem. This meant that Beltoise was able to finish second with Hailwood third. Stuck scored his first F1 points with fifth place while Merzario gave Williams a point for sixth.
Sammanställning
Grand Prix
Sydafrika
Date
30 Mars 1974
Bana
Kyalami
Säsong
1974
Deltävling
3
Längd (km)
4.104
Varv
78
Tid
1:42:40.960
| | | | | | |
| --- | --- | --- | --- | --- | --- |
| Placering | Nr | Förare | Team | Tid | Grid |
| 1 | 7 | Carlos Reutemann | Brabham | 1:42:40.960 | 4 |
| 2 | 14 | Jean-Pierre Beltoise | BRM | 33.940 | 11 |
| 3 | 33 | Mike Hailwood | McLaren | 42.160 | 12 |
| 4 | 4 | Patrick Depailler | Tyrrell | 44.190 | 15 |
| 5 | 9 | Hans-Joachim Stuck | March | 46.230 | 7 |
| 6 | 20 | Arturo Merzario | Williams | 56.040 | 3 |
| 7 | 5 | Emerson Fittipaldi | McLaren | 68.390 | 5 |
| 8 | 3 | Jody Scheckter | Tyrrell | 70.540 | 8 |
| 9 | 6 | Denny Hulme | McLaren | +1 varv | 9 |
| 10 | 10 | Vittorio Brambilla | March | +1 varv | 19 |
| 11 | 18 | Carlos Pace | Surtees | +1 varv | 2 |
| 12 | 26 | Graham Hill | Lola | +1 varv | 18 |
| 13 | 29 | Ian Scheckter | Lotus | +2 varv | 22 |
| 14 | 32 | Eddie Keizan | Tyrrell | +2 varv | 24 |
| 15 | 37 | Francois Migault | BRM | +3 varv | 25 |
| r | 12 | Niki Lauda | Ferrari | +4 varv | 1 |
| 17 | 8 | Richard Robarts | Brabham | +4 varv | 23 |
| 18 | 15 | Henri Pescarolo | BRM | +6 varv | 21 |
| 19 | 23 | Dave Charlton | McLaren | +7 varv | 20 |
| r | 11 | Clay Regazzoni | Ferrari | +13 varv | 6 |
| r | 28 | John Watson | Brabham | +22 varv | 13 |
| r | 2 | Jacky Ickx | Lotus | +47 varv | 10 |
| r | 24 | James Hunt | Hesketh | +65 varv | 14 |
| r | 19 | Jochen Mass | Surtees | +67 varv | 17 |
| r | 30 | Paddy Driver | Lotus | +72 varv | 26 |
| r | 1 | Ronnie Peterson | Lotus | +76 varv | 16 |
| r | 21 | Tom Belso | Williams | +78 varv | 27 |
| | | |
| --- | --- | --- |
| NC=Not Classified | NT=No time set in qualifying | R=Retired |
| EX=Excluded from meeting | W=Withdrawn | DQ=Disqualified |
| NS=Did not start | NQ=Did not qualify | NPQ=Did not pre-qualify |

Aktuell ställning
| Position | Förare | Nation | Poäng |
| --- | --- | --- | --- |
| 1 | Clay Regazzoni | CH | 10 |
| 2 | Carlos Reutemann | ARG | 9 |
| " | Denny Hulme | NZ | 9 |
| " | Emerson Fittipaldi | BRA | 9 |
| " | Mike Hailwood | GBR | 9 |
| 6 | Jean Pierre Beltoise | FRA | 8 |