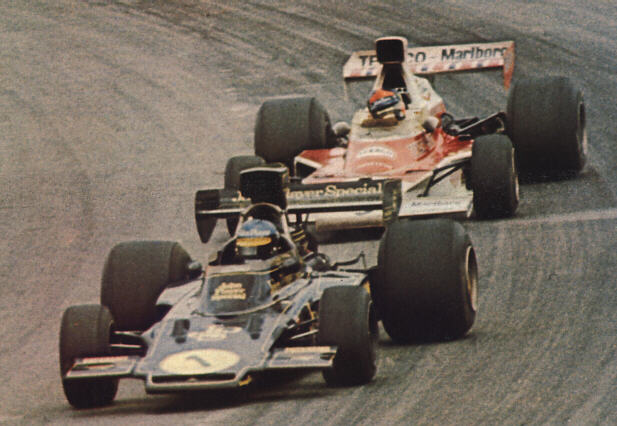 Grande Premio de Brasil 27 Januari 1974, Interlagos
Ronnie Petersons 49:e framträdande i Formel 1. Ronnie står i andra startled efter att ha fått den fjärde bästa tiden i kvalet, fortfarande i den gamla 72:an. I "pole position" står Emerson Fittipaldi i en McLaren före Carlos Reutemann i en Brabham. Niki Lauda (Ferrari) står bredvid Ronnie.
Reutemann tar starten, men tvingas på det fjärde varvet lämna över till Ronnie. Efter halva loppet kan Ronnie inte hålla hemmafavoriten bakom sig och för andra året i rad vinner Emerson Fittipaldi Brasiliens GP. Clay Regazzoni i en Ferrari har den snabbaste varvtiden med 2.36,05 och kör in på en andraplats före Jacky Ickx (Lotus). Trots den lovande inledningen kan Ronnie inte hålla emot och slutar som sexa - dock är säsongens första poäng bärgad. Förare i ledning enligt följande: Reutemann 1-3; Ronnie 4-15; Fittipaldi 16-32.
Summary in english
A fortnight after the opening round of the World Championship in Buenos Aires the teams gathered again in Brazil. Shadow had been forced to fly out a new car after the first lap crash in Argentina but despite some problems with the local customs authorities the field was in place for qualifying. Emerson Fittipaldi was pole in his McLaren with Carlos Reutemann's Brabham alongside while Niki Lauda confirmed that Ferrari was going to be a force to be reckoned with by qualifying third. He shared the second row of the grid with Ronnie Peterson's Lotus. Jacky Ickx was fifth quickest in his Lotus and then came Peter Revson's Shadow. The fourth row was shared by Mike Hailwood's Yardley McLaren and Clay Regazzoni in the second Ferrari while the top 10 was completed by Arturo Merzario in the Williams-run Iso-Marlboro and Jochen Mass's Surtees.

The start of the race saw Reutemann jump into the lead with Peterson chasing him. Fittipaldi was third and Regazzoni fourth. Lauda was in trouble with a misfiring engine. For the first few laps Reutemann was able to keep Peterson behind him but on lap 4 the Swede took the lead and Fittipaldi moved to second. Reutemann would fade as his softer tires began to lose grip and he was overtaken by both Regazzoni and Ickx. Peterson remained in the lead until lap 16 when Fittipaldi outfoxed Peterson while they were lapping Merzario and went into the lead. Peterson then dropped back with a slow puncture and had to pit on lap 19. This promoted Regazzoni to second place and Ickx to third (a lap down).

It had been a dominant and very impressive performance by Fittipaldi.
Sammanställning
Grand Prix
Brasilien
Datum
27 Januari 1974
Bana
Interlagos
Säsong
1974
Deltävling
2
Längd (km)
7.960
Varv
32
Tid
1:24:37.060
| | | | | | |
| --- | --- | --- | --- | --- | --- |
| Placering | Nr | Förare | Team | Tid | Grid |
| 1 | 5 | Emerson Fittipaldi | McLaren | 1:24:37.060 | 1 |
| 2 | 11 | Clay Regazzoni | Ferrari | 13.570 | 8 |
| 3 | 2 | Jacky Ickx | Lotus | +1 varv | 5 |
| 4 | 18 | Carlos Pace | Surtees | +1 varv | 12 |
| 5 | 33 | Mike Hailwood | McLaren | +1 varv | 7 |
| 6 | 1 | Ronnie Peterson | Lotus | +1 varv | 4 |
| 7 | 7 | Carlos Reutemann | Brabham | +1 varv | 2 |
| 8 | 4 | Patrick Depailler | Tyrrell | +1 varv | 16 |
| 9 | 24 | James Hunt | March | +1 varv | 18 |
| 10 | 14 | Jean-Pierre Beltoise | BRM | +1 varv | 17 |
| 11 | 26 | Graham Hill | Lola | +1 varv | 21 |
| 12 | 6 | Denny Hulme | McLaren | +1 varv | 11 |
| 13 | 3 | Jody Scheckter | Tyrrell | +1 varv | 14 |
| 14 | 15 | Henri Pescarolo | BRM | +2 varv | 22 |
| 15 | 8 | Richard Robarts | Brabham | +2 varv | 24 |
| 16 | 37 | Francois Migault | BRM | +2 varv | 23 |
| 17 | 19 | Jochen Mass | Surtees | +2 varv | 10 |
| r | 28 | John Watson | Brabham | +5 varv | 15 |
| r | 9 | Hans-Joachim Stuck | March | +8 varv | 13 |
| r | 17 | Jean-Pierre Jarier | Shadow | +10 varv | 19 |
| r | 20 | Arturo Merzario | Williams | +12 varv | 9 |
| r | 16 | Peter Revson | Shadow | +21 varv | 6 |
| r | 10 | Howden Ganley | March | +23 varv | 20 |
| r | 27 | Guy Edwards | Lola | +29 varv | 25 |
| r | 12 | Niki Lauda | Ferrari | +29 varv | 3 |
| | | |
| --- | --- | --- |
| NC=Not Classified | NT=No time set in qualifying | R=Retired |
| EX=Excluded from meeting | W=Withdrawn | DQ=Disqualified |
| NS=Did not start | NQ=Did not qualify | NPQ=Did not pre-qualify |

Aktuell ställning
| Position | Förare | Nation | Poäng |
| --- | --- | --- | --- |
| 1 | Clay Regazzoni | CH | 10 |
| 2 | Denny Hulme | NZ | 9 |
| " | Emerson Fittipaldi | BRA | 9 |
| 4 | Niki Lauda | AUT | 6 |
| 5 | Mike Hailwood | GBR | 5 |
| 6 | Jacky Ickx | BEL | 4 |