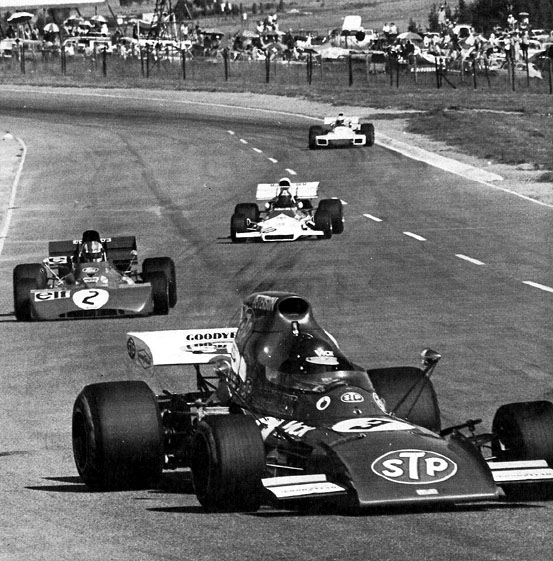 South African Grand Prix 4 Mars 1972, Kyalami
Ronnie Peterson gör i Sydafrikas GP 1972 sin 22:a start i F1 sammanhang. Ronnie har endast nionde bästa tid efter kvalet, Stewart står i "pole" före Regazzoni och Fittipaldi. Ronnies gamla March 721 har fått ett nytt nosparti.
Denny Hulme i en McLaren vinner loppet, Emerson Fittipaldi (Lotus) blir tvåa före Peter Revson som trea och med Ronnie till slut på en femte plats. Snabbaste varv har Hailwood med 1.18,9.
Loppet har sett följande förare i ledning; Hulme 1, 57-79; Stewart 2-44; Fittipaldi 45-56.
Summary in english
Although there were six weeks between the Argentine GP and South Africa, most of the cars were sent directly to Kyalami from Buenos Aires and so there were few changes in the entry. Mike Hailwood joined Surtees, having missed the first race because of clashing Formula 5000 event, while BRM ran Jean-Pierre Beltoise for the first time as he had decided not to race in Argentina because of his legal problems left over from the accident a year earlier which had claimed the life of Ignazio Giunti. The Williams team ran a new Brazilian rising star called Carlos Pace alongside regular driver Henri Pescarolo and Rolf Stommelen made his first appearance in the privately-run Eifelland March. The field was bolstered as usual by some local cars, including Dave Charlton in a Lucky Strike Lotus and Rhodesian driver John Love in a Team Gunston Surtees.
Jackie Stewart had won the opening race of the World Championship for Tyrrell and he took pole in Kyalami, beating Clay Regazzoni (FerrarI) and Emerson Fittipaldi (Lotus) by a few tenths. Hailwood was on the second row with Denny Hulme (McLaren), while Mario Andretti (Ferrari) shared the third row with his team mate Jacky Ickx and Francois Cevert in the second Tyrrell. The top 10 was completed by Ronnie Peterson (March) and Tim Schenken (Surtees).
At the start Hulme was briefly in the lead before Stewart moved ahead, while Fittipaldi, Hailwood, Cevert, Peterson and Andretti gave chase. Regazzoni made a bad start and was in the midfield. Stewart quickly built a lead while the battle for second between Hulme, Fittipaldi and Hailwood detached itself from the rest of the field. When Hulme's car began to overheat he dropped behind both his rivals and a few laps later Hailwood was also able to pass Fittipaldi to move up to second and began to challenge Stewart for the lead. Five laps later Hailwood was stopped by a rear suspension failure. This left Fittipaldi to attack Stewart. The Tyrrell driver stayed ahead but on lap 45 he suffered a gearbox failure and was out, leaving Fittipaldi in the lead with Hulme right on his tail. Fittipaldi now ran into handling problems and on lap 57 Hulme was able to take the lead and go on to win. Fittipaldi was in a strong second place as there was a big gap back to third place and it became even bigger when Chris Amon's Matra developed a serious vibration which dropped him down the order. Third place thus went to Peter Revson in the second McLaren.
Sammanställning
Grand Prix
Sydafrika
Datum
4 Mars 1972
Bana
Kyalami
Säsong
1972
Deltävling
2
Längd (km)
4.104
Varv
79
Tid
1:45:49.100
| | | | | | |
| --- | --- | --- | --- | --- | --- |
| Placering | Nr | Förare | Team | Tid | Grid |
| 1 | 12 | Denny Hulme | McLaren | 1:45:49.100 | 5 |
| 2 | 8 | Emerson Fittipaldi | Lotus | 14.100 | 3 |
| 3 | 14 | Peter Revson | McLaren | 25.800 | 12 |
| 4 | 7 | Mario Andretti | Ferrari | 38.500 | 6 |
| 5 | 3 | Ronnie Peterson | March | 49.000 | 9 |
| 6 | 19 | Graham Hill | Brabham | +1 varv | 14 |
| 7 | 4 | Niki Lauda | March | +1 varv | 21 |
| 8 | 5 | Jacky Ickx | Ferrari | +1 varv | 7 |
| 9 | 2 | François Cevert | Tyrrell | +1 varv | 8 |
| 10 | 9 | Dave Walker | Lotus | +1 varv | 19 |
| 11 | 21 | Henri Pescarolo | March | +2 varv | 22 |
| 12 | 6 | Clay Regazzoni | Ferrari | +2 varv | 2 |
| 13 | 25 | Rolf Stommelen | March | +2 varv | 25 |
| 14 | 24 | Helmut Marko | BRM | +3 varv | 23 |
| 15 | 15 | Chris Amon | Matra | +3 varv | 13 |
| r | 27 | John Love | Surtees | +6 varv | 26 |
| 17 | 22 | Carlos Pace | March | +6 varv | 24 |
| nc | 23 | Howden Ganley | BRM | +9 varv | 16 |
| nc | 18 | Andrea de Adamich | Surtees | +10 varv | 20 |
| nc | 11 | Peter Gethin | BRM | +14 varv | 18 |
| r | 10 | Jean-Pierre Beltoise | BRM | +19 varv | 11 |
| r | 1 | Jackie Stewart | Tyrrell | +34 varv | 1 |
| r | 17 | Mike Hailwood | Surtees | +51 varv | 4 |
| r | 20 | Carlos Reutemann | Brabham | +52 varv | 15 |
| r | 16 | Tim Schenken | Surtees | +70 varv | 10 |
| r | 26 | Dave Charlton | Lotus | +77 varv | 17 |
| ns | 28 | Willie Ferguson | Brabham | | |
| | | |
| --- | --- | --- |
| NC=Not Classified | NT=No time set in qualifying | R=Retired |
| EX=Excluded from meeting | W=Withdrawn | DQ=Disqualified |
| NS=Did not start | NQ=Did not qualify | NPQ=Did not pre-qualify |

Aktuell ställning
| Position | Förare | Nation | Poäng |
| --- | --- | --- | --- |
| 1 | Denny Hulme | NZ | 15 |
| 2 | Jackie Stewart | GBR | 9 |
| 3 | Emerson Fittipaldi | BRA | 6 |
| 4 | Jacky Ickx | BEL | 4 |
| " | Peter Revson | USA | 4 |
| 6 | Clay Regazzoni | CH | 3 |
| " | Mario Andretti | USA | 3 |
| " | Ronnie Peterson | SWE | 3 |