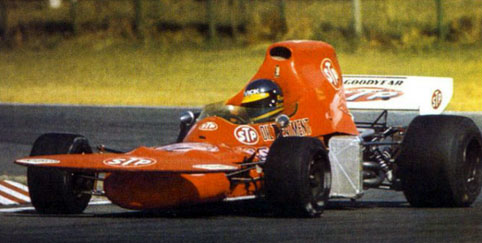 Gran Premio de la Republica Argentina 23 Januari 1972, Buenos Aires
Ronnie Petersons 21:a start i den inledande tävlingen i dennes tredje säsong som förare i Formel 1 - fortfarande kvar i March stallet och i en något modifierad March 711 (de nya March 721 är ännu inte klar). Ronnie lyckas endast få 10:e bästa tid i säsongens inledande kval. Debutanten Carlos Reutemann har sensationellt kört in med bästa tid och står i "pole position".
Det blir dock Jackie Stewart som tar starten och behåller ledningen alla 95 varv in i mål (han har även snabbaste varvet med 1.13,66). Ronnie är mycket snabb i starten och tar genast en femte plats, men tappar senare under loppet en placering.
Denny Hulme i en McLaren blir tvåa, Jacky Ickx i en Ferrari trea och Ronnie Peterson i March slutar 6:a.
Summary in english
There had been some important changes during the off season months in Formula 1. The 1971 season had ended with another tragedy when Jo Siffert crashed his BRM in the World Championship Victory Race at Brands Hatch. The car hit an earth bank at 130mph and overturned. A fire broke out and Siffert perished in the flames.
The dominant Tyrrell team remained unchanged with Jackie Stewart and Francois Cevert, Ferrari retained Jacky Ickx, Clay Regazzoni and Mario Andretti, while Team Lotus kept Emerson Fittipaldi and signed up Dave Walker to replace Reine Wisell. The team landed a major new sponsorship deal from John Player Special. McLaren continued to field Denny Hulme and Peter Revson was hired as his team mate while the team picked up the Yardley sponsorship from BRM. Brabham had been sold again with Ron Tauranac handing over to Bernie Ecclestone. Graham Hill stayed on and was joined by rising Argentine star Carlos Reutemann, who bought backing from YPF. March Engineering continued to have STP backing and took on Niki Lauda to partner Ronnie Peterson, the Austrian buying the drive with money borrowed from an Austrian bank. Matra reduced its involvement to one car (for Chris Amon) and Jean-Pierre Beltoise was loaned out to BRM to partner Peter Gethin and Howden Ganley. The team had landed backing from Marlboro and there were plans for a huge six-car effort with three new cars and three old ones for up and coming drivers. The plans did not quite come together. John Surtees decided to cut back on his driving and hired Mike Hailwood and Brabham's Tim Schenken to drive the Brooke Bond Oxo cars, while an agreement was made for a third car to be run for Andrea de Adamich in the colors of Ceramica Pagnossin.
There were several new teams planned in 1972, notably Tecno, which had backing from Martini and nominated Derek Bell and Nanni Galli to drive the flat-12 engined cars. The team was managed by David Yorke (formerly on Vanwall and the JWA sportscar team). Frank Williams also had plans for a car of his own and contracted Ron Tauranac to build him a chassis called the Politoys, named after his new sponsor.
The arrival of Reutemann in top level racing in Europe in 1971 had created sufficient interest for the Argentines to organize a Grand Prix at the old Buenos Aires track and this opened the season in January 1972. Practice proved to be sensational as F1 debutante Reutemann beat World Champion Jackie Stewart to pole position. The two McLarens of Revson and Hulme shared the second row and the third featured Fittipaldi (Lotus) and Regazzoni (Ferrari). The top 10 was completed by Cevert, Ickx, Andretti and Peterson.
At the start of the race Stewart took the lead with Reutemann second while behind them Fittipaldi quickly moved up to third ahead of Hulme. Then came Regazzoni, the fast-starting Peterson, Cevert and Revson. On the eighth lap Fittipaldi overtook Reutemann for second place and on the 12th lap Hulme bounced Reutemann back to fourth. The order at the front then remained stable with the only change being Cevert getting ahead of Peterson to take take sixth. On lap 34 Cevert was able to pass Regazzoni for fifth. By then Fittipaldi was drifting back towards Hulme because of gear selection trouble and on lap 35 the McLaren took second place. A few laps later Reutemann dropped out of the running, having to stop for new tires, which left Cevert in fourth place. On lap 60 Cevert went out with an oil pipe problem and on the next lap third-placed Fittipaldi ground to a halt with a rear suspension problem and so Jacky Ickx found himself in third place behind Stewart and Hulme.

Sammanställning
Grand Prix
Argentina
Datum
23 Januari 1972
Bana
Buenos Aires No.9
Säsong
1972
Deltävling
1
Längd (km)
3.345
Varv
95
Tid
1:57:58.820
| | | | | | |
| --- | --- | --- | --- | --- | --- |
| Placering | Nr | Förare | Team | Tid | Grid |
| 1 | 21 | Jackie Stewart | Tyrrell | 1:57:58.820 | 2 |
| 2 | 17 | Denny Hulme | McLaren | 25.960 | 4 |
| 3 | 8 | Jacky Ickx | Ferrari | 59.390 | 8 |
| 4 | 9 | Clay Regazzoni | Ferrari | 66.720 | 6 |
| 5 | 19 | Tim Schenken | Surtees | 69.110 | 11 |
| 6 | 14 | Ronnie Peterson | March | +1 varv | 10 |
| 7 | 2 | Carlos Reutemann | Brabham | +2 varv | 1 |
| 8 | 23 | Henri Pescarolo | March | +2 varv | 15 |
| 9 | 3 | Howden Ganley | BRM | +2 varv | 13 |
| 10 | 7 | Helmut Marko | BRM | +2 varv | 19 |
| 11 | 15 | Niki Lauda | March | +2 varv | 22 |
| r | 11 | Emerson Fittipaldi | Lotus | +34 varv | 5 |
| r | 4 | Reine Wisell | BRM | +36 varv | 17 |
| r | 22 | François Cevert | Tyrrell | +36 varv | 7 |
| r | 18 | Peter Revson | McLaren | +45 varv | 3 |
| r | 10 | Mario Andretti | Ferrari | +75 varv | 9 |
| r | 1 | Graham Hill | Brabham | +84 varv | 16 |
| r | 20 | Andrea de Adamich | Surtees | +84 varv | 14 |
| dq | 12 | Dave Walker | Lotus | | 20 |
| r | 5 | Peter Gethin | BRM | +94 varv | 18 |
| r | 6 | Alex Soler-Roig | BRM | +94 varv | 21 |
| r | 16 | Chris Amon | Matra | | 12 |
| | | |
| --- | --- | --- |
| NC=Not Classified | NT=No time set in qualifying | R=Retired |
| EX=Excluded from meeting | W=Withdrawn | DQ=Disqualified |
| NS=Did not start | NQ=Did not qualify | NPQ=Did not pre-qualify |

Aktuell ställning
| Position | Förare | Nation | Poäng |
| --- | --- | --- | --- |
| 1 | Jackie Stewart | GBR | 9 |
| 2 | Denny Hulme | NZ | 6 |
| 3 | Jacky Ickx | BEL | 4 |
| 4 | Clay Regazzoni | CH | 3 |
| 5 | Tim Schenken | AUS | 2 |
| 6 | Ronnie Peterson | SWE | 1 |