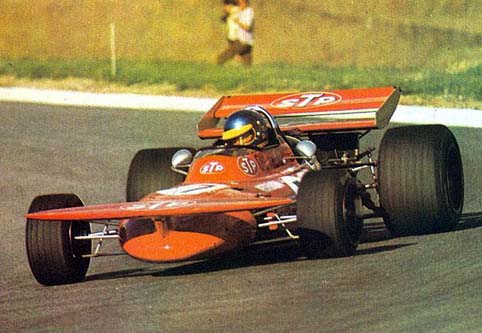 Sydafrikas Grand Prix den 6 Mars 1971, Kyalami
Ronnie Peterson lyckades få femte bästa tid i det första tidskvalet inför sin 10:e start i Formel 1. Teamet bytte därefter fjädring, varpå Mach 711:an gick långsammare! Mot slutet fick man viss ordning på grejorna så att bilen kunde köras något snabbare, men resultatet blev en 13:e tid med 1.19,9 (för övrigt precis samma tid som Reine Wisell i sin Lotus). Även detta lopp ser tre svenskar på startlinjen, då även Jo Bonnier lyckats kvalificera sig i en McLaren som siste man...
Jackie Stewart i "pole position" (körandes på däck från Goodyear snarare än Dunlop) före Chris Amon och Clay Regazzoni. Notabelt var annars den lokale förmågan Dave Charlton som lyckats kvalificera sig med 12:e tid i en Lucky Strike sponsrad Brabham.
På grund av att banan i Kyalami ligger väldigt högt ovanför havet så är det ibland svårt att få motorerna att fungera helt perfekt. Ronnies motor ville inte riktigt gå som den skulle i starten, vilket innebar att Ronnie kom iväg nästan sist. Han lyckades emellertid jobba sig upp genom fältet när bilen plötsligt började överstyra. Det var en punktering baktill! Som om detta inte var tillräckligt så försvann mycket av bromsverkan mot slutet av loppet, dessutom tappade Ronnie tvåans växel. Trots detta slutade Ronnie på en 10:e plats, endast 2 varv efter...
Såväl Stewart som Amon kommer iväg mycket dåligt. Hulme, som tidigt arbetat sig upp till en andraplats, kör på det 17:e varvet om Regazzoni. Stötdämparproblem tvingar honom in i depå och Surtees kan ta täten. Mario Andretti i en Ferrari lyckas emellertid passera på de sista varven och vinner efter att även ha noterats för snabbast varvtid. Jackie Stewart i en Tyrrell kommer in som tvåa före Clay Regazzoni (Ferrari) och Reine Wisell i en Lotus (som blev siste man att fullfölja hela loppet).
Bakgrund inför loppet
Den tragiska säsongen 1970 (med Jochen Rindt postumt utnämnd till världsmästare), hade slutat med Tyrrell som den snabbaste bilen. Ferrari 312B var dock betydligt mer driftsäker vilket medförde att det italienska teamet kunde ta hem fyra av de fem sista tävlingarna. Över vintermånaderna hade därför Mauro Forghieri och hans ingenjörer på Ferrari modifierat modellen till 312B/2. Såväl Jackie Ickx som Clay Regazzoni var kvar i stallet, men tredjeföraren Ignazio Giunti hade dödats i Buenos Aires 1000 sportvagnslopp tidigare i januari då han blev påkörd av Jean-Pierre Beltoise i en Matra då han gående försökte knuffa tillbaka sin Ferrari till "pitstoppen". Som ett resultat av detta hyrdes Mario Andretti in som tredjeförare. Tyrrell hade lyckats behålla Jackie Stewart och François Cevert, emedan Lotus utvecklade sin 1970 års modell för de nya yngre förarna Emerson Fittipaldi och Reine Wisell (fast konstruktionsarbete pågick parallellt på en ny Lotus, modell 56 med gasturbin motorer från Pratt & Whitney). March förlorade båda sina två toppförare från 1970; Chris Amon gick över till Matra (för att där ansluta till Jean-Pierre Beltoise) och Jo Siffert (som ersatte Jack Oliver hos BRM för att bli teamkamrat med Pedro Rodriguez och den nya förmågan Howden Ganley). Chris Amons Matra karriär fick en bra start när han vann Argentinas GP i början av året (ett lopp som ej ingick i världsmästerskapet), men Beltoise - som hade förlorat sin förarlicens i samband med sportvagnsolyckan i Buenos Aires där Ignazio Giunti omkom - tvingades avstå den första deltävlingen i Sydafrika. McLaren fortsatte med Denny Hulme och Peter Gethin, men Alfa Romeo motorerna som användes av Andrea de Adamich följde med när denna anslöt sig till Ronnie Peterson i March stallet och deras märkliga fabriksbilar av typ 711. Rob Walker beslöt att han inte längre hade råd att fortsätta med sitt privata team och överlät därför sponsringen från Brooke Bond Oxo till Surtees (som även rekryterade andreföraren Rolf Stommeln - som hade uppbackning från Auto Moto und Sport och Eifelland husvagnar - från Brabham). Walkers beslut att upphöra med racing gjorde att Graham Hill fritt kunde gå över till Brabham (som nu leddes av Ron Tauranac) där han fick sällskap av förre Williams föraren Tim Schenken. Williams startade i GP med gamla bilar från March med förarna Derek Bell och "flyktingen" från Matra Henri Pescarolo.
Summary in english
The tragic 1970 season had ended with the new Tyrrell being the dominant car, although the Ferrari 312B was more reliable and so the Italian team was able to win four of the last five races that year. Over the winter months Mauro Forghieri and his engineers at Ferrari developed the car into 312B/2 form. Jackie Ickx and Clay Regazzoni were retained but the team's third driver Ignazio Giunti was killed in January during the Buenos Aires 1000 sportscar race. He was pushing his Ferrari 312P sportscar back to the pits when he was hit by the Matra of Jean-Pierre Beltoise. As a result Mario Andretti was hired to be the team's third driver. Tyrrell retained Jackie Stewart and Francois Cevert, while Team Lotus also developed its 1970 car for youngsters Emerson Fittipaldi and Reine Wisell (although design work was progressing on the Lotus 56, a gas turbine car powered by Pratt & Whitney engines). March lost both of its 1970 drivers: Chris Amon moving to Matra Sports to join Beltoise and Jo Siffert replacing Jack Oliver at BRM as team mate to Pedro Rodriguez and new boy Howden Ganley. McLaren continued with Denny Hulme and Peter Gethin but the Alfa Romeo engines used by Andrea de Adamich moved to March where the Italian became Ronnie Peterson's teammate in the curious March 711 factory cars. Rob Walker decided that he could no longer afford to continue his private team and transferred his Brooke Bond Oxo sponsorship to Surtees, which recruited second driver Rolf Stommelen (with backing from Auto Moto und Sport and Eifelland caravans) from Brabham.
Walker's decision to stop racing freed Graham Hill and he moved to Brabham (which was now being run by Ron Tauranac) where he was joined by former Williams driver Tim Schenken while Williams entered old Marches for Derek Bell and Matra refugee Henri Pescarolo.
Amon's Matra career got off to a good start when he won the non-championship Argentine GP in Buenos Aires in January but the year began with bitterness for Beltoise who lost his racing license as a result of the Giunti accident and was forced to miss the opening round of the World Championship in South Africa.
In qualifying Jackie Stewart (running on Goodyears rather than Dunlops) was fastest with Amon and Regazzoni alongside him on the front row. Andretti shared row two with Fittipaldi while Surtees, Hulme and Ickx were on row three. There was an impressive performance from local driver Dave Charlton, who qualified 12th in a Lucky Strike-sponsored Brabham.
At the start Regazzoni took the lead with Fittipaldi second ahead of Ickx, Hulme, Rodriguez, Andretti and a slow-starting Stewart. Surtees had also made a bad start and was 11th while Amon made an even worse start and was down in 14th position. In the early laps Hulme moved to second place and on lap 17 he took the lead from Regazzoni. he stayed there until the 76th lap when he suffered a suspension problem and had to pit for repairs. Regazzoni had run second for a while after Hulme overtook him but he was then passed by Surtees and Andretti and a few laps later the American overtook Surtees as well. When Hulme ran into trouble Andretti went ahead and won his first Grand Prix victory. Towards the end of the race Stewart was able to catch and pass Surtees and then Regazzoni and so finished second with the Italian third. The only other man to go the full distance was Wisell in the Lotus, while Amon and Hulme completed the points scorers after Surtees and Fittipaldi went out with mechanical troubles.
Sammanställning
Grand Prix
Sydafrika
Datum
6 Mars 1971
Bana
Kyalami
Säsong
1971
Deltävling
1
Längd (km)
4.104
Varv
79
Tid
1:47:35.500
| | | | | | |
| --- | --- | --- | --- | --- | --- |
| Placering | Nr | Förare | Team | Tid | Grid |
| 1 | 6 | Mario Andretti | Ferrari | 1:47:35.500 | 4 |
| 2 | 9 | Jackie Stewart | Tyrrell | 20.900 | 1 |
| 3 | 5 | Clay Regazzoni | Ferrari | 31.400 | 3 |
| 4 | 3 | Reine Wisell | Lotus | 69.400 | 14 |
| 5 | 19 | Chris Amon | Matra | +1 varv | 2 |
| 6 | 11 | Denny Hulme | McLaren | +1 varv | 7 |
| 7 | 28 | Brian Redman | Surtees | +1 varv | 17 |
| 8 | 4 | Jacky Ickx | Ferrari | +1 varv | 8 |
| 9 | 14 | Graham Hill | Brabham | +2 varv | 19 |
| 10 | 7 | Ronnie Peterson | March | +2 varv | 13 |
| 11 | 22 | Henri Pescarolo | March | +2 varv | 18 |
| 12 | 21 | Rolf Stommelen | Surtees | +2 varv | 15 |
| 13 | 8 | Andrea de Adamich | March | +4 varv | 22 |
| r | 2 | Emerson Fittipaldi | Lotus | +21 varv | 5 |
| r | 20 | Johnny Surtees | Surtees | +23 varv | 6 |
| r | 10 | François Cevert | Tyrrell | +34 varv | 9 |
| r | 27 | Howden Ganley | BRM | +37 varv | 24 |
| r | 16 | Pedro Rodriguez | BRM | +46 varv | 10 |
| r | 17 | Jo Siffert | BRM | +48 varv | 16 |
| r | 15 | Dave Charlton | Brabham | +48 varv | 12 |
| r | 24 | John Love | March | +49 varv | 21 |
| r | 25 | Jackie Pretorius | Brabham | +57 varv | 20 |
| r | 12 | Peter Gethin | McLaren | +72 varv | 11 |
| r | 23 | Jo Bonnier | McLaren | +74 varv | 23 |
| r | 26 | Alex Soler-Roig | March | +74 varv | 25 |
| | | |
| --- | --- | --- |
| NC=Not Classified | NT=No time set in qualifying | R=Retired |
| EX=Excluded from meeting | W=Withdrawn | DQ=Disqualified |
| NS=Did not start | NQ=Did not qualify | NPQ=Did not pre-qualify |

Aktuell ställning
| Position | Förare | Nation | Poäng |
| --- | --- | --- | --- |
| 1 | Mario Andretti | USA | 9 |
| 2 | Jackie Stewart | GBR | 6 |
| 3 | Clay Regazzoni | CH | 4 |
| 4 | Reine Wisell | SWE | 3 |
| 5 | Chris Amon | NZ | 2 |
| 6 | Denny Hulme | NZ | 1 |