Gislaved Sveriges Grand Prix 19 Juni 1977, Anderstorp
Ronnie Peterson firar lämpligt nog sitt lilla jubileum med sitt 100:e F1-lopp på hemmaplan i Sverige. Ronnie har varit nära att segra på Anderstorp, men har aldrig nått den främsta placeringen. De sexhjuliga Tyrrellbilarna har en dubbelseger från fjolåret att försvara, men ingen tror på allvar att bedriften skall kunna upprepas.
R

esultatet från Belgiens GP, med Gunnar Nilssons seger och Ronnies tredjeplats, har emellertid skapat stora förväntningar hos hemmapubliken. Tidskvalet blir dock en besvikelse för de båda förarna och Ronnie står inte bättre till än i femte startled med den tionde bästa tiden (Gunnar är sjua). I "pole" står dock Gunnars teamkompis Andretti, med Watson som god tvåa. James Hunt har åter fått upp ångan i sin McLaren och tar en tredje bästa kvaltid före VM-ledande Jody Scheckter i en Wolf.
I starten är det återigen Watson som är snabbare iväg än Andretti. Även Scheckter slinker förbi, men Andretti kan direkt svara och återta andraplatsen. På det andra varvet är han även förbi Watson och denna ordning håller sig till det trettionde varvet då Scheckter kör ihop med Watson. Detta gör att Hunt är uppe på en andraplats med Depailler, Mass, Laffite och Reutemann omedelbart bakom.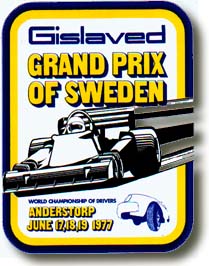 Ur denna jagande kvartett är det Jacques Laffite som har "sin dag". På fem varv har han tagit sig upp till andraplatsen, femton sekunder efter ledande Andretti. Även Mass avancerar och är snart uppe som trea. Med endast två varv kvar får Andretti problem med bränsletillförseln och tvingas in i depå. Detta betyder att Laffite kan ta sin och Ligier-stallets första GP-seger någonsin, den första helfranska vinsten under Formel 1 27-åriga historia. Mass kör in som tvåa, före Reutemann, Depailler och Watson. Andretti, som åter tagit sig in på banan, slutar sexa och klockas även för snabbaste varvtid med 1.27,607.
Loppet kan summera följande förare i ledning: Watson 1; Andretti 2-69; Laffite 70-72.
För svenskarna blir dagen miserabel. Ronnie tvingas ge upp redan på det sjunde varvet efter problem med tändningen. Även Gunnar har tvingats åtta varv från mål.
Ronnie uppvaktas på 100-lopps jubiléet med en kristallvas från F3-förarna. Ronnie hann inte tacka dem ordentligt på banan men lät i sin krönika i Teknikens Värld förarna förstå hur glad han blev:
"Det värmer verkligen med lite uppmuntran mitt i alla motigheter!"
Summary in english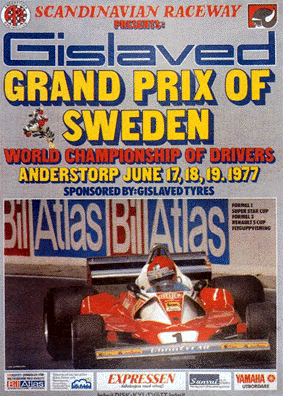 There was much excitement in Sweden as a result of Gunnar Nilsson's victory in Belgium a few days earlier. The field was much the same as it had been in Zolder although Riccardo Patrese was away racing Formula 2 cars at Mugello and so team manager Jacky Oliver had a run in the Shadow. RAM Racing expanded to two cars with a second March 761 being entered for Finland's Mikko Kozarowitsky.

In qualifying things were complicated somewhat by Goodyear's decision to bring different tire compounds. The American company was aware that Michelin would soon be entering F1 with the new Renault team and wanted to be prepared. In the end, however, the tires made little difference as Mario Andretti was again on pole for Lotus with John Watson second in the Brabham-Alfa Romeo, just as they had been in Zolder. Third on the grid was James Hunt in the McLaren M26 with championship leader Jody Scheckter alongside him in the Wolf. Then came Hans Stuck's Brabham, Patrick Depailler's Tyrrell, Nilsson's Lotus and Jacques Laffite in the Ligier-Matra. The top 10 was completed by Jochen Mass in a McLaren M23 and Ronnie Peterson in the second six-wheeler Tyrrell. Niki Lauda, who was one point behind Scheckter in the title race, was 13th.

At the start Watson once again beat Andretti away from the start with Scheckter briefly second before the Lotus driver took control. On the second lap he took the lead from Watson and the order then remained unchanged until lap 30 when Scheckter tried to pass Watson and the two collided. Scheckter retired and Watson had to go into the pits. This put Hunt up to second place but he had Depailler, Mass, Laffite and Reutemann right behind him. Laffite now began the charge and in the space of five laps passed Mass, Depailler and Hunt to take second place. He then set off after Andretti who was 15secs ahead. While this was happening Mass overtook Depailler and Hunt to take third and was followed through by Reutemann.

With two laps to go Andretti ran into a fuel metering problem and arrived in the pits. Laffite took the lead to win the first all-French victory in the 27 year history of the World Championship. Mass was second with Reutemann third, Depailler fourth and Watson fifth. Andretti recovered to finish sixth.
Sammanställning

Grand Prix

Datum

19 Juni 1977

Bana

Säsong

1977

Deltävling

8

Längd (km)

4.018

Varv

72

Tid

1:46:55.520
| | | | | | |
| --- | --- | --- | --- | --- | --- |
| Placering | Nr | Förare | Team | Tid | Grid |
| 1 | 26 | | | 1:46:55.520 | 8 |
| 2 | 2 | | | 8.449 | 9 |
| 3 | 12 | | | 14.369 | 12 |
| 4 | 4 | | | 16.308 | 6 |
| 5 | 7 | | | 18.735 | 2 |
| 6 | 5 | | | 25.277 | 1 |
| 7 | 22 | | | 31.266 | 14 |
| 8 | 34 | | | 64.567 | 17 |
| 9 | 16 | | | 82.479 | 16 |
| 10 | 8 | | | +1 varv | 5 |
| 11 | 30 | | | +1 varv | 22 |
| 12 | 1 | | | +1 varv | 3 |
| 13 | 24 | | | +1 varv | 24 |
| 14 | 31 | | | +2 varv | 19 |
| 15 | 27 | | | +3 varv | 20 |
| 16 | 25 | | | +4 varv | 23 |
| 17 | 17 | | | +5 varv | 11 |
| 18 | 28 | | | +6 varv | 18 |
| r | 6 | | | +8 varv | 7 |
| r | 10 | | | +11 varv | 21 |
| r | 19 | | | +20 varv | 13 |
| r | 11 | | | +25 varv | 15 |
| r | 20 | | | +43 varv | 4 |
| r | 3 | | | +65 varv | 10 |
| nq | 9 | | | | |
| nq | 36 | | | | |
| nq | 18 | | | | |
| nq | 33 | | | | |
| nq | 39 | | | | |
| nq | 35 | | | | |
| nq | 32 | | | | |
| | | |
| --- | --- | --- |
| NC=Not Classified | NT=No time set in qualifying | R=Retired |
| EX=Excluded from meeting | W=Withdrawn | DQ=Disqualified |
| NS=Did not start | NQ=Did not qualify | NPQ=Did not pre-qualify |

Aktuell ställning
| | | | |
| --- | --- | --- | --- |
| Position | Förare | Nation | Poäng |
| 1 | | | 32 |
| 2 | | | 31 |
| 3 | | | 27 |
| 4 | | | 23 |
| 5 | | | 14 |
| 6 | | | 13 |