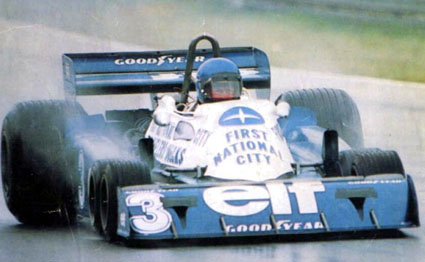 Grand Prix de Belgique 5 Juni 1977, Zolder
Ronnie Peterson har den åttonde bästa tiden inför sin 99:e F1-start. Totalt har 32 bilar kämpat om en plats bland 26 startande bilar. Kvalificeringen har skett under våta förhållanden och de båda Lotusbilarna visar klass - Mario Andretti i "pole" och Gunnar Nilsson på en tredje plats. John Watson har i sin Brabham lyckats klämma sig in däremellan. Mästerskapets ledare Jody Scheckter kniper den fjärde startpositionen i andra startled.
Det har regnat inför starten på söndagseftermiddagen och de flesta i fältet (utom Hunt) har valt att starta med regndäck. Watson gör den bästa starten och går in i första kurvan före Andretti, men i den första chikanen gör Andretti ett misstag och kör in i Watson bakifrån - båda bilarna i täten tvingas bryta. Gunnar Nilsson lyckas med möda undvika att bli inblandad i kollisionen, men tvingas släppa Scheckter förbi sig. Därefter följer Mass, Reutemann, Depailler, Laffite före Ronnie och Lauda. James Hunt experimenterande med däck blev en katastrof och han halkade långt efter.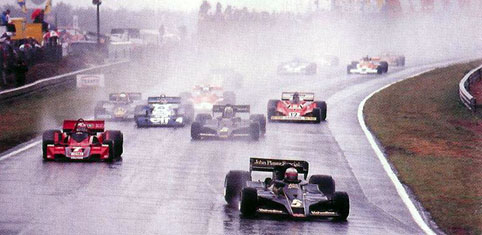 Andretti i ledningen...
Då banan börjar att torka upp går bilarna in i depå en efter en. Lauda är en av de första att byta däck och är i ledning före Mass och Jones då alla fått på sina slicks. Nilsson har halkat tillbaka till en åttondeplats p g a en lös hjulmutter och ligger nu efter Brambilla, Scheckter, Laffite och Ronnie innan han börjar en formidabel upphämtning. Regnet kommer och går, bilar åker in och ut ur depå. När det hela är över har Gunnar på det femtionde varvet tagit över ledningen från Lauda och kan relativt ohotad ta sin första och enda GP seger i Formel 1. Lauda kan hålla under för en jagande sexhjuling, men Ronnie når sin främsta framgång hos Tyrrell då han kör in på en tredjeplats.
När prisceremonin skall genomföras kan vi konstatera att två svenskar delar pallen. Frågan är om vi någonsin kommer att få uppleva ett dylikt ögonblick i Formel 1?
Gunnar Nilsson vinner inte bara loppet utan presterar även den snabbaste varvtiden med 1.27,36 och i sammandraget listar vi följande förare i ledning: Scheckter 1-16; Mass 17-18; Brambilla 19-22; Lauda 23-49; Gunnar Nilsson 50-70.
Laudas andraplats innebär att kampen om världsmästartiteln hårdnar, nu är det bara en poäng som skiljer honom från Schekters 32.
Summary in english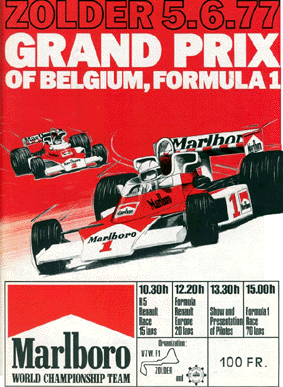 There was another bumper entry for the Belgian GP with a total of 32 cars fighting for the 26 grid positions. Team Surtees had dropped Hans Binder and hired Larry Perkins instead, while the other new entries were Bernard de Dryver in Brian Henton's March and Mexico's Hector Rebaque in a Marlboro-sponsored third Hesketh. James Hunt was back in an M26 and BS Fabrications had acquired a McLaren M23 for Brett Lunger while Fittipaldi had the new FD5 on hand for the first time. Having failed to qualify a car at Monaco, March had the new 771 ready for Ian Scheckter to drive.

Mario Andretti in the Lotus 78, the American 1.5 secs faster than John Watson's Brabham-Alfa Romeo. The second Lotus driver Gunnar Nilsson was third with Jody Scheckter fourth in his Wolf (which had won at Monaco a fortnight earlier). Behind them came Patrick Depailler (Tyrrell), Jochen Mass (McLaren), Carlos Reutemann (Ferrari) and Ronnie Peterson (Tyrrell) while the top 10 was completed by James Hunt in his difficult M26 and Jacques Laffite in the Ligier-Matra. Niki Lauda was 11th in his Ferrari.

It was raining on Sunday afternoon as the start of the race approached but it was not certain it would continue and while most of the field was on wet tires, Hunt chose slicks. Watson made the best start and took the lead from Andretti. The field got through the first corner without any major adventures although both Ian Scheckter and Harald Ertl spun but at the chicane behind the paddock Andretti made a mistake and ran into the the back of Watson. Both spun off. Nilsson had to swerve to avoid the incident and this allowed Scheckter to take the lead. Nilsson was second with Mass third and Reutemann fourth. Behind them came Depailler, Laffite, Peterson and Lauda. Hunt's tire gamble was a disaster and he was dropping away quickly.

On the ninth lap Reutemann overtook Mass for third but a few laps later he spun into retirement and Mass moved back to third. By then the track was drying and there was a series of pit stops. Lauda stopped early and when the stops were over he was ahead with Mass second and Alan Jones third in his Shadow. Nilsson had lost a lot of ground because of sticking wheelnut and was eighth behind Brambilla, Scheckter, Laffite and Peterson.

He overtook Peterson, Laffite and Brambilla, while Scheckter pitted when the rains came again. Mass spun out on lap 40 and so Nilsson was back in second place behind Lauda. He began to close as the track dried again (sending Scheckter back to the pits) and on the 50th lap Nilsson took the lead and drove away to win his first Grand Prix victory. Lauda was second with Peterson third after a battle with Brambilla. Jones finished fifth and Stuck sixth.
Sammanställning

Grand Prix

Datum

5 Juni 1977

Bana

Säsong

1977

Deltävling

7

Längd (km)

4.262

Varv

70

Tid

1:55:05.710
| | | | | | |
| --- | --- | --- | --- | --- | --- |
| Placering | Nr | Förare | Team | Tid | Grid |
| 1 | 6 | | | 1:55:05.710 | 3 |
| 2 | 11 | | | 14.190 | 11 |
| 3 | 3 | | | 19.950 | 8 |
| 4 | 19 | | | 24.980 | 12 |
| 5 | 17 | | | 75.470 | 17 |
| 6 | 8 | | | +1 varv | 18 |
| 7 | 1 | | | +1 varv | 9 |
| 8 | 4 | | | +1 varv | 5 |
| 9 | 25 | | | +1 varv | 25 |
| 10 | 27 | | | +2 varv | 24 |
| 11 | 34 | | | +2 varv | 26 |
| 12 | 18 | | | +3 varv | 23 |
| 13 | 31 | | | +3 varv | 20 |
| 14 | 37 | | | +5 varv | 14 |
| 15 | 33 | | | +7 varv | 27 |
| r | 20 | | | +8 varv | 4 |
| r | 2 | | | +31 varv | 6 |
| r | 26 | | | +38 varv | 10 |
| r | 22 | | | +41 varv | 13 |
| r | 24 | | | +56 varv | 19 |
| r | 12 | | | +56 varv | 7 |
| r | 16 | | | +58 varv | 15 |
| r | 10 | | | +62 varv | 21 |
| r | 28 | | | +68 varv | 16 |
| r | 5 | | | +70 varv | 1 |
| r | 7 | | | +70 varv | 2 |
| ns | 30 | | | | |
| nq | 36 | | | | |
| nq | 35 | | | | |
| nq | 9 | | | | |
| nq | 38 | | | | |
| nq | 39 | | | | |
| | | |
| --- | --- | --- |
| NC=Not Classified | NT=No time set in qualifying | R=Retired |
| EX=Excluded from meeting | W=Withdrawn | DQ=Disqualified |
| NS=Did not start | NQ=Did not qualify | NPQ=Did not pre-qualify |

Aktuell ställning
| | | | |
| --- | --- | --- | --- |
| Position | Förare | Nation | Poäng |
| 1 | | | 32 |
| 2 | | | 31 |
| 3 | | | 23 |
| 4 | | | 22 |
| 5 | | | 13 |
| 6 | | | 9 |