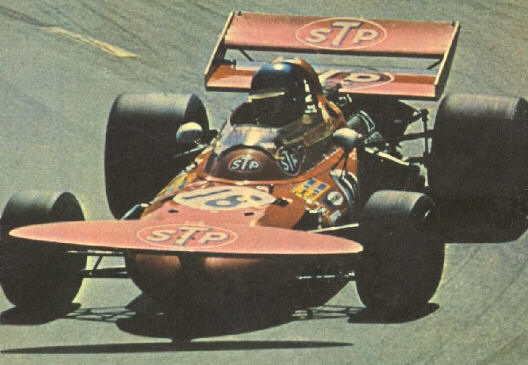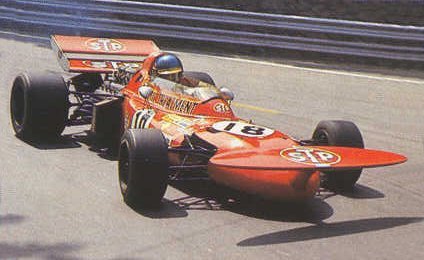 Gran Premio de España 18 April 1971, Montjuich Park
Ronnie Peterson i sin 11:e start i GP sammanhang, denna gång i Spaniens GP den 18 april 1971 med nr 18 på sin röda March.
Såväl under den första som andra tidsträningen hade Ronnie problem med bränslesystemet, vilket innebar att han tvingades försöka göra bra tider med fulla tankar. Inför den tredje och avslutande träningen har det börjat regna - March 711:an är fortfarande hopplös - och Ronnie får endast 13:e bästa tid.
Jackie Ickx hade lyckats få bästa träningstid och stod i "pole" före Regazzoni och Amon. Att Ferrari var snabb hade omvärlden fått bevis för under de sex veckor som gått mellan racen i Sydafrika och Spanien, då bilarna tävlat vid tre olika tillfällen. I Race of Champions på Brands Hatch, vann Regazzoni i sin Ferrari (i denna tävling körde f ö Fittipaldi gastturbinbilen från Lotus). Vid Questor Grand Prix i Ontario i Kalifornien (där F1-bilar tävlade jäms med Formula 5000 bilar), vann Andretti i en Ferrari. Däremot ställde endast en handfull bilar upp i tävlingen på Oulton Park (ej Ferrari), där Rodriguez segrade i en BRM. Sammantaget kunde konstateras att bilarna med V12-motorer var mycket konkurrenskraftig mot V8-motorerna från Cosworth och inför starten av Spaniens GP hade sex av de åtta första bilarna dylika motorer.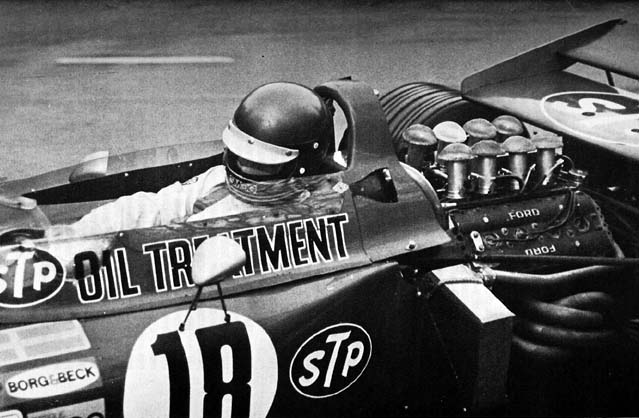 Tävlingen blev emellertid en annan historia, då Stewart omedelbart kastade sig upp till andra plats, jagande Ickx. På sjätte varvet övertog han ledningen, en ledning som han stadigt utökade. Mot slutet lyckades Ickx hämta igen lite av försprånget och åstadkom loppets snabbaste varv på 1.25,1, men Ickx var ändock 3,4 sekunder efter Stewart i mål. Chris Amon slutade trea
För Ronnies del blev loppet en stor besvikelse. Bilen överstyrde kraftigt och från en 11:e plats tvingades Ronnie bryta på det 24:e varvet då en kabel lossnade från generatorn.
Summary in english
There were six weeks between the South African and Spanish GPs with the Race of Champions at Brands Hatch, the Questor Grand Prix at Ontario in California and a minor event at Oulton Park. At Brands Hatch Emerson Fittipaldi raced the Lotus-Pratt & Whitney 56 gas turbine car. The race was won by Clay Regazzoni in a Ferrari. The Californian race - which was run with F1 cars alongside Formula 5000 machinery - was won by Mario Andretti in a Ferrari, while the race at Oulton had only handful of cars (not including the Ferraris) and was won by Pedro Rodriguez's BRM. The V12 engined machines were very competitive against the Cosworth V8-engined cars.
The same was true at Montjuich Park with Jacky Ickx and Clay Regazzoni on the front row in their Ferraris with Chris Amon's Matra. Jackie Stewart's Tyrrell shared the second row with Pedro Rodriguez's BRM while the third row consisted of Jean-Pierre Beltoise's Matra (who had now got his racing license restored after missing the early races of the year after his license was suspended following the sportscar crash in Buenos Aires which resulted in the death of Ignazio Giunti), Peter Gethin in a McLaren and Mario Andretti's Ferrari. Six of the first eight cars had V12 engines.
The race was a rather different matter. however, as Stewart burst through to second place at the start, chasing Ickx. On lap six he forced his way into the lead. Behind the leaders, Amon overtook Regazzoni for third place on lap three, but then the order settled down. Stewart began to increase his lead over Ickx while Amon ran third. Regazzoni went out on lap 13 with a fuel pump failure which promoted Rodriguez to fourth place with Andretti fifth and Denny Hulme sixth in his McLaren. In the mid-race Andretti disappeared with an engine problem and so Hulme moved to fifth place and Beltoise took sixth. In the closing laps Ickx closed the gap to Stewart but he was still 3.4secs behind at the finish.
Sammanställning
Grand Prix
Spanien
Datum
18 April 1971
Bana
Montjuich Park
Säsong
1971
Deltävling
2
Längd (km)
3.791
Varv
75
Tid
1:49:03.400
| | | | | | |
| --- | --- | --- | --- | --- | --- |
| Placering | Nr | Förare | Team | Tid | Grid |
| 1 | 11 | Jackie Stewart | Tyrrell | 1:49:03.400 | 4 |
| 2 | 4 | Jacky Ickx | Ferrari | 3.400 | 1 |
| 3 | 20 | Chris Amon | Matra | 58.100 | 3 |
| 4 | 14 | Pedro Rodriguez | BRM | 77.900 | 5 |
| 5 | 9 | Denny Hulme | McLaren | 87.000 | 9 |
| 6 | 21 | Jean-Pierre Beltoise | Matra | +1 varv | 6 |
| 7 | 12 | François Cevert | Tyrrell | +1 varv | 12 |
| 8 | 10 | Peter Gethin | McLaren | +2 varv | 7 |
| 9 | 8 | Tim Schenken | Brabham | +3 varv | 21 |
| 10 | 16 | Howden Ganley | BRM | +4 varv | 17 |
| 11 | 24 | Johnny Surtees | Surtees | +8 varv | 22 |
| nc | 3 | Reine Wisell | Lotus | +17 varv | 16 |
| r | 2 | Emerson Fittipaldi | Lotus | +21 varv | 14 |
| r | 27 | Henri Pescarolo | March | +22 varv | 11 |
| r | 6 | Mario Andretti | Ferrari | +25 varv | 8 |
| r | 19 | Alex Soler-Roig | March | +29 varv | 20 |
| r | 17 | Andrea de Adamich | March | +49 varv | 18 |
| r | 18 | Ronnie Peterson | March | +51 varv | 13 |
| r | 5 | Clay Regazzoni | Ferrari | +62 varv | 2 |
| r | 25 | Rolf Stommelen | Surtees | +66 varv | 19 |
| r | 7 | Graham Hill | Brabham | +70 varv | 15 |
| r | 15 | Jo Siffert | BRM | +70 varv | 10 |
| | | |
| --- | --- | --- |
| NC=Not Classified | NT=No time set in qualifying | R=Retired |
| EX=Excluded from meeting | W=Withdrawn | DQ=Disqualified |
| NS=Did not start | NQ=Did not qualify | NPQ=Did not pre-qualify |

Aktuell ställning
| Position | Förare | Nation | Poäng |
| --- | --- | --- | --- |
| 1 | Jackie Stewart | GBR | 15 |
| 2 | Mario Andretti | USA | 9 |
| 3 | Chris Amon | NZ | 6 |
| " | Jacky Ickx | BEL | 6 |
| 5 | Clay Regazzoni | CH | 4 |
| 6 | Denny Hulme | NZ | 3 |
| " | Pedro Rodriguez | MEX | 3 |
| " | Reine Wisell | SWE | 3 |
| 9 | Jean Pierre Beltoise | FRA | 1 |