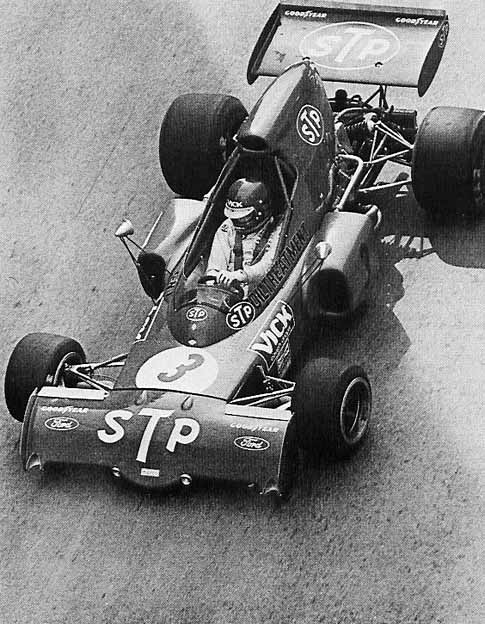 Grand Prix de Monaco 14 Maj 1972
Ronnie Peterson i sin 24:e start i Formel 1. Tyvärr har träningen inte gått bra och Ronnie har endast femtonde bästa tid efter kvalet (hela 2,7 sek efter täten) - i samma startled som Reine Wisell. Fittipaldi står i "pole" före Ickx.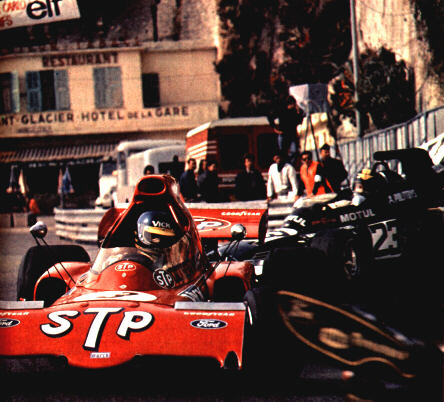 Ronnie under träning inför Monacos Grand Prix
Loppet blir mycket blött. Jean-Pierre Beltoise gör sin livs tävling, leder loppet från start till mål och lyckas varva alla i startfältet utom Ickx. Beltoise har snabbaste varv med 1.40,0 och tar sin enda F1 seger i karriären och den sista någonsin för BRM. Ickx slutar tvåa i sin Ferrari, före Fittipaldi i en Lotus.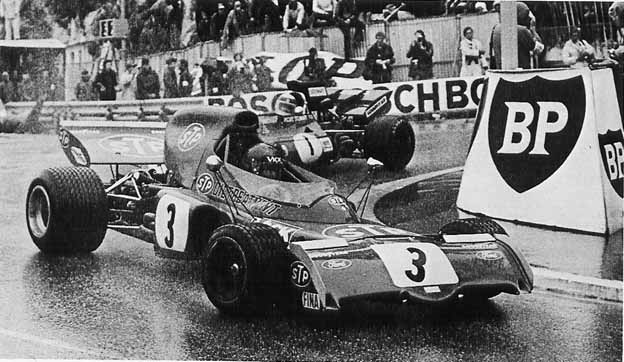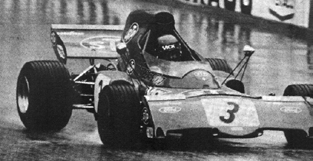 Ronnie blir till slut 11.e man efter att ha blivit varvad 4 gånger. Han till och med måste stanna vid ett tillfälle eftersom ratten hade lossnat!!!
Summary in english
The F1 field was much as it had been at Jarama a fortnight earlier (where Emerson Fittipaldi had won for Lotus). Mario Andretti was missing from the Ferrari lineup being busy at Indianapolis and Carlos Reutemann was still out of action because of his broken ankle and so Wilson Fittipaldi was again in action from Brabham. Peter Revson was also busy at Indy and so Brian Redman was in the second McLaren.
There had been changes to the Monaco circuit with the pits moving to the waterfront by the chicane and the track going straight down from the tunnel to a new chicane nearer Tabac. Under pressure from the teams the Automobile Club of Monaco agreed that 25 cars could start.
Emerson Fittipaldi (Lotus) took pole from Jacky Ickx (Ferrari). The second row featured Clay Regazzoni (Ferrari) and Jean-Pierre Beltoise (BRM) and Peter Gethin (BRM and Chris Amon (Matra) shared row three. Completing the top 10 were Denny Hulme (McLaren), Jackie Stewart (Tyrrell), Henri Pescarolo (in a Williams March) and Redman.
It rained throughout Saturday and on Sunday morning the weather was still bad. At the start Beltoise made a great start to grab the lead from Regazzoni while the front row men were third and fourth. Then came Ickx, Stewart and the rest.
The conditions were terrible and so the leader had a big advantage and he was able to pull away quickly. On the fifth lap he was helped when Regazzoni went up the escape road at the chicane, taking Fittipaldi and Ickx with him. By the time they were all back on track Ickx was ahead of Regazzoni and Fittipaldi. Beltoise was having the race of his life and even Ickx could not make any impression. Further back a lot of drivers made mistakes and hit the barriers but Beltoise kept going to win his first (and only) Grand Prix victory. Ickx finished second while Regazzoni fell behind Stewart (who had worked his way past Amon and Fittipaldi) in the mid-race. The Tyrrell driver then spun and so Regazzoni went back ahead. The Swiss driver then spun on some oil and hit the barriers and so Stewart held third, despite a misfire, until the closing laps when Fittipaldi overtook him to take the final place on the podium. Redman finished fifth after working his way up through the field.
Sammanställning
Grand Prix
Monaco
Datum
14 Maj 1972
Bana
Monte Carlo
Säsong
1972
Deltävling
4
Längd (km)
3.145
Varv
80
Tid
2:26:54.700
| | | | | | |
| --- | --- | --- | --- | --- | --- |
| Placering | Nr | Förare | Team | Tid | Grid |
| 1 | 17 | Jean-Pierre Beltoise | BRM | 2:26:54.700 | 4 |
| 2 | 6 | Jacky Ickx | Ferrari | 38.200 | 2 |
| 3 | 8 | Emerson Fittipaldi | Lotus | +1 varv | 1 |
| 4 | 1 | Jackie Stewart | Tyrrell | +2 varv | 8 |
| 5 | 15 | Brian Redman | McLaren | +3 varv | 10 |
| 6 | 16 | Chris Amon | Matra | +3 varv | 6 |
| 7 | 12 | Andrea de Adamich | Surtees | +3 varv | 18 |
| 8 | 26 | Helmut Marko | BRM | +3 varv | 17 |
| 9 | 21 | Wilson Fittipaldi | Brabham | +3 varv | 21 |
| 10 | 27 | Rolf Stommelen | March | +3 varv | 25 |
| 11 | 3 | Ronnie Peterson | March | +4 varv | 15 |
| 12 | 20 | Graham Hill | Brabham | +4 varv | 19 |
| 13 | 5 | Mike Beuttler | March | +4 varv | 23 |
| 14 | 9 | Dave Walker | Lotus | +5 varv | 14 |
| 15 | 14 | Denny Hulme | McLaren | +6 varv | 7 |
| 16 | 4 | Niki Lauda | March | +6 varv | 22 |
| 17 | 23 | Carlos Pace | March | +8 varv | 24 |
| nc | 2 | François Cevert | Tyrrell | +10 varv | 12 |
| r | 22 | Henri Pescarolo | March | +22 varv | 9 |
| r | 7 | Clay Regazzoni | Ferrari | +29 varv | 3 |
| r | 11 | Mike Hailwood | Surtees | +32 varv | 11 |
| r | 19 | Howden Ganley | BRM | +33 varv | 20 |
| r | 10 | Tim Schenken | Surtees | +49 varv | 13 |
| dq | 18 | Peter Gethin | BRM | | 5 |
| r | 28 | Reine Wisell | BRM | +64 varv | 16 |
| | | |
| --- | --- | --- |
| NC=Not Classified | NT=No time set in qualifying | R=Retired |
| EX=Excluded from meeting | W=Withdrawn | DQ=Disqualified |
| NS=Did not start | NQ=Did not qualify | NPQ=Did not pre-qualify |

Aktuell ställning
| Position | Driver | Nation | Poäng |
| --- | --- | --- | --- |
| 1 | Emerson Fittipaldi | BRA | 19 |
| 2 | Jacky Ickx | BEL | 16 |
| 3 | Denny Hulme | NZ | 15 |
| 4 | Jackie Stewart | GBR | 12 |
| 5 | Jean Pierre Beltoise | FRA | 9 |
| 6 | Clay Regazzoni | CH | 7 |