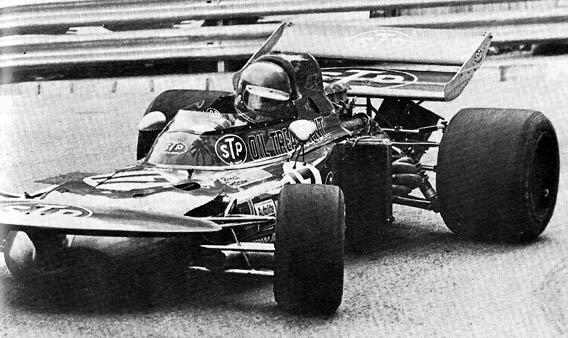 Monaco Grand Prix den 23 Maj 1971
Ronnie Peterson gjorde i Monaco GP 1971 sin tolfte start i ett F1 lopp. Nr 17 på bilen.
Första träningen - mycket regnande, väldigt få ute på banan. Ronnie startade med en ny typ av bromsskivor och kör med dessa riktigt bra. Får 2:a tid i hällregnet, men tvingas ge upp efter tio varv då bromsarna tagit slut. Allt för lite tid återstår av träningen för att bilen skall hinna göras klar. Till detta lopp har Ronnie även en ny motor från Ford som går under beteckningen Serie 10 ½.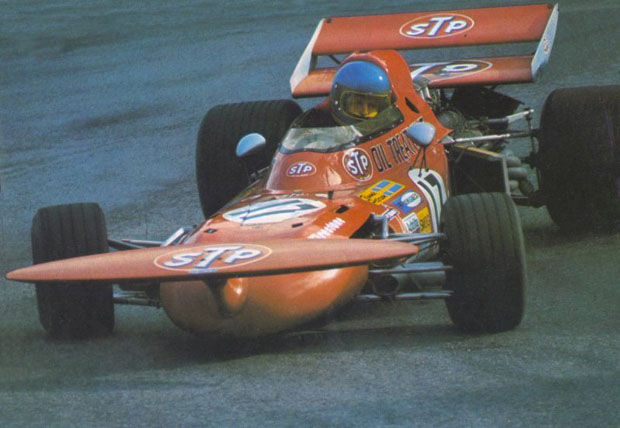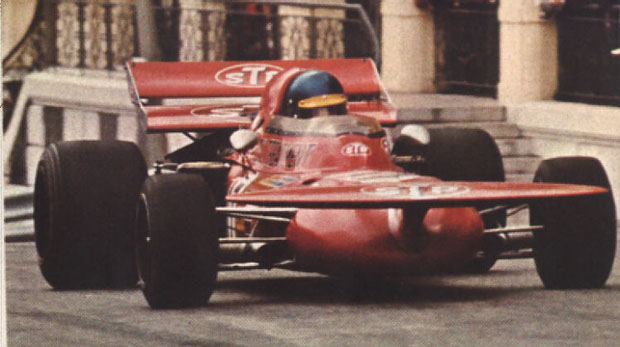 Även under det sista tidskvalet så regnar det. Ronnie lyckas till slut åstadkomma den 8:e bästa tiden - den bästa någonsin i F1 karriären!
Stewart står i "pole position" för Ickx.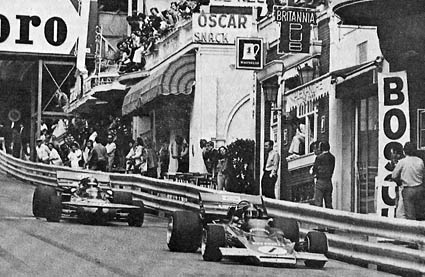 Ronnie på väg att varva Fittipaldi utanför berömda "Oscar"...
I loppet får Ronnie en bra start och är 6:a genom första kurvan. Redan på det första varvet passerar han Hulme och går upp på en 5:e plats. Nästa "offer" är Pedro Rodriguez och det blir en tuff "fight", men på det 17:onde varvet lyckas Ronnie smita förbi då Pedro bromsat för sent. Därefter är Ronnie ensam för ett tag, men på det 28:onde varvet har han lyckats komma ikapp Siffert och Ickx. Efter ytterligare två varv har Ronnie passerat även dessa två och är nu sensationell tvåa!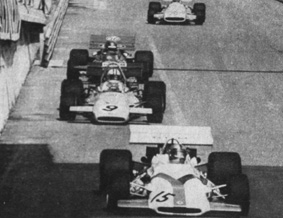 Ronnie påbörjar jakten på Stewart som ligger i ledning, men denne har nåtts av budskapet bakifrån och de kör nu under ett antal varv på likartade tider. Under de sista 20 varven försöker Ronnie endast ta bilen i mål och detta är något han lyckas med. Ronnie slutar som tvåa bakom Jackie Stewart och det blir den bästa placeringen hittills i Formel 1 sammanhang och även de första poängen!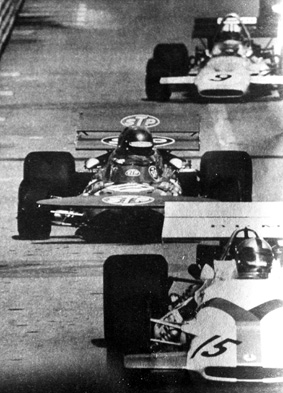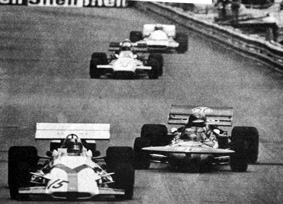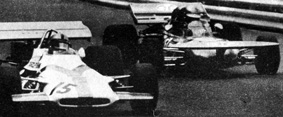 Rob Walker skrev i "Road and Track":
"Ronnie Peterson drove the race of his life and is undoubtly the driver of the future, and on one lap he took five seconds off Denny Hulme. He reminds me of Jochen Rindt, especially in the wet. Everybody watching thinks he has lost control while the driver knows he is in complete command."
Och på liknande sätt skrev Patrick McNally från Autosport:
"While all credit must go to Stewart for a brilliant demonstration of his skill, the man of the race was the young Swedish driver Ronnie Peterson, his speed and thrusting tactics in the March 711 being reminiscent of the late World Champion Jochen Rindt."
Snabbaste varv har dock Stewart med 1.22,2 (som också leder loppet från start till mål).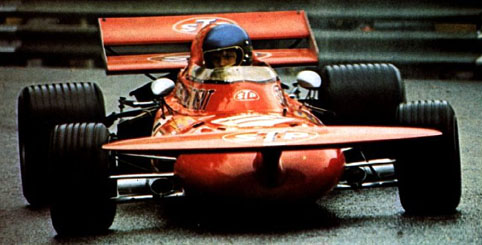 Summary in english
There was a five week break between the Spanish and Monaco Grands Prix which featured the International Trophy at Silverstone, which featured Formula 1 cars against the Chevrolet-engined Formula 5000 machines. Jackie Stewart (the winner in Spain) won the first heat but retired from the second when his throttle stuck open and he crashed at the first corner. This gave Graham Hill victory in his Brabham.
The Monaco organizers decided to allow 18 cars to start rather than the usual 16 and to do away with the complicated system of guaranteed places on the grid. It was simply a question of the fastest 18 cars and there were 23 present. Mario Andretti was unlucky as rain wiped out the Thursday qualifying and on Friday he suffered immediate mechanical trouble and so failed to qualify. Also out were the private March of Skip Barber, the factory March-Alfa Romeo of Nanni Galli and the factory March-Cosworth of Alex Soler-Roig and the third BRM of Howden Ganley (this being an old car).
At the front end of the grid Stewart was dominant, taking pole by 1.2secs from Jacky Ickx's Ferrari. The second row featured Jo Siffert's BRM and Chris Amon's Matra and the third row had Pedro Rodriguez (BRM) alongside Denny Hulme's McLaren. The top 10 was completed by Jean-Pierre Beltoise (Matra), Ronnie Peterson (March), Graham Hill (Brabham) and John Surtees (Surtees). Team Lotus had a terrible time with Reine Wisell 11th and Emerson Fittipaldi 17th. Amon had problems before the start so Ickx and Stewart were left to fight for the first corner with Siffert, who managed to slip ahead of the Ferrari and take second place behind Stewart. Monaco ace Graham Hill made a mistake on this occasion and crashed on the second lap and his Brabham teammate Tim Schenken hit a barrier two laps later while swerving to avoid Francois Cevert's Tyrrell when the Frenchman's engine cut. Both men got going again but Cevert crashed two laps later when the engine cut again. Stewart gradually increased his lead but the man making the most impact was Peterson who climbed up to second place in the mid-race, passing both Ickx and Siffert. Siffert later went out with an engine failure and so fourth place went to Hulme.
Sammanställning
Grand Prix
Monaco
Datum
23 Maj 1971
Bana
Monte Carlo
Säsong
1971
Deltävling
3
Längd (km)
3.145
Varv
80
Tid
1:52:21.300
| | | | | | |
| --- | --- | --- | --- | --- | --- |
| Placering | Nr | Förare | Team | Tid | Grid |
| 1 | 11 | Jackie Stewart | Tyrrell | 1:52:21.300 | 1 |
| 2 | 17 | Ronnie Peterson | March | 25.600 | 8 |
| 3 | 4 | Jacky Ickx | Ferrari | 53.300 | 2 |
| 4 | 9 | Denny Hulme | McLaren | 66.700 | 6 |
| 5 | 1 | Emerson Fittipaldi | Lotus | +1 varv | 17 |
| 6 | 24 | Rolf Stommelen | Surtees | +1 varv | 16 |
| 7 | 22 | Johnny Surtees | Surtees | +1 varv | 10 |
| 8 | 27 | Henri Pescarolo | March | +3 varv | 13 |
| 9 | 15 | Pedro Rodriguez | BRM | +4 varv | 5 |
| 10 | 8 | Tim Schenken | Brabham | +4 varv | 18 |
| r | 14 | Jo Siffert | BRM | +22 varv | 3 |
| r | 21 | Jean-Pierre Beltoise | Matra | +33 varv | 7 |
| r | 20 | Chris Amon | Matra | +35 varv | 4 |
| r | 3 | Clay Regazzoni | Ferrari | +56 varv | 11 |
| r | 10 | Peter Gethin | McLaren | +58 varv | 14 |
| r | 2 | Reine Wisell | Lotus | +59 varv | 12 |
| r | 12 | François Cevert | Tyrrell | +75 varv | 15 |
| r | 7 | Graham Hill | Brabham | +79 varv | 9 |
| nq | 16 | Howden Ganley | BRM | | |
| nq | 6 | Mario Andretti | Ferrari | | |
| nq | 19 | Nanni Galli | March | | |
| nq | 18 | Alex Soler-Roig | March | | |
| nq | 28 | Skip Barber | March | | |
| | | |
| --- | --- | --- |
| NC=Not Classified | NT=No time set in qualifying | R=Retired |
| EX=Excluded from meeting | W=Withdrawn | DQ=Disqualified |
| NS=Did not start | NQ=Did not qualify | NPQ=Did not pre-qualify |

Aktuell ställning
| Position | Förare | Nation | Poäng |
| --- | --- | --- | --- |
| 1 | Jackie Stewart | GBR | 24 |
| 2 | Jacky Ickx | BEL | 10 |
| 3 | Mario Andretti | USA | 9 |
| 4 | Ronnie Peterson | SWE | 6 |
| " | Chris Amon | NZ | 6 |
| " | Denny Hulme | NZ | 6 |