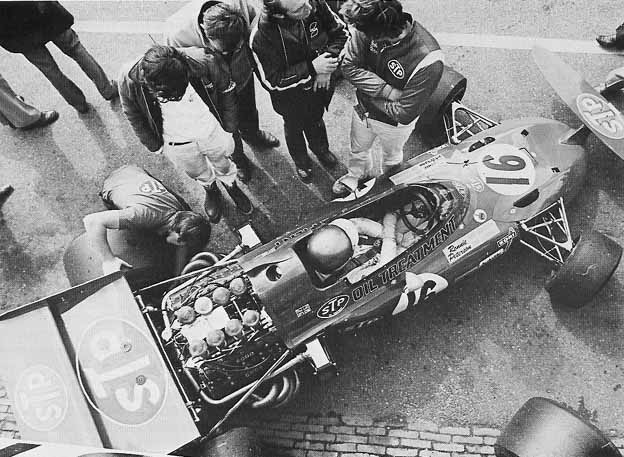 Grote Prijs van Nederland 20 Juni 1971, Zandvoort
Ronnie Peterson gör sin trettonde F1 start och har 13:e bästa tid efter tidskvalet. Kan detta ha varit ett olyckstal för Ronnie? Nr 16 på bilen. Under träningen har en motor från Alfa Romeo testats, men inför tävlingen är det utbytt mot den vanliga motorn från Ford.
"Den rörde sig lika mycket i sidled som framåt, och hur jag än försökte ville den inte gå fort nog. Och när det nu gick dåligt i bra före, vad kunde man då vänta sig under sämre betingelser? På lördagen tog jag ut March-Forden och kämpade under mycket ogynnsamma omständigheter. En envis motvind på banans snabbaste partier, flygsand och åtskilligt med vatten stående på banan, gjorde det omöjligt att förbättra fredagstiderna. För övrigt tror jag ingen var snabbare på lördagen än han varit på fredan. Men ändå bestämde jag för att köra tävlingen med Ford-motorn, för även om det var omöjligt att göra tidsjämförelser så kändes Forden bättre än Alfan. Normalt hoppas väl ingen iden här sporten att regnet skall ösa ner under en tävling, men den här gången verkade det vara min enda chans. På våt bana skulle skillnaden i motorstyrka bli mindre utslagsgivande, och därför var jag inte särskilt ledsen när det verkligen blev regn, regn och åter regn!"
Jacky Ickx står i "pole" före Rodriguez och Stewart
Tävlingen kom att bli mycket blöt, regnet öste ner under hela loppet. Ronnie var inte helt missnöjd med detta eftersom hans brist på hästkrafter därmed inte kom att vara lika avgörande. Efter det första varvet har Ronnie avancerat upp till en nionde plats. Därefter kommer han ikapp Reine och de har en bra duell i vätan. Ronnie går emellertid segrande ur den leken och tar sig upp till en femte plats. Surtees - som ligger precis framför - gör ett litet misstag och Ronnie kan passera. Trots att Surtees lyckas hänga på och hela tiden oroa Ronnie, hinner de upp Regazzoni som har demolerat sin nos på bilen. Ronnie lyckas dock inte ta sig förbi och han slutar fyra.

Snabbaste varv har Ickx i sin Ferrari med 1.34,95 och han vinner även loppet efter att ha återtagit ledningen två gånger från Rodriguez i en BRM (Ickx lever varv 1-8, 30, 32-70 och Rodriguez 9-29, 31). Clay Regazzoni slutar trea.
Ronnie har i och med sin fjärdeplats avancerat upp till en delad tredjeplats i den totala sammanräkningen.
Summary in english
The cancellation of the Belgian Grand Prix (because the authorities had not done the safety work required) meant that the stop-and-go 1971 season had a month-long gap between Monaco and Holland (following six weeks between South Africa and Spain and five weeks between Spain and Monaco). Most of the teams decided to take part in a non-championship race at Hockenheim, although some of the drivers were busy at Le Mans or in CanAm. The race was won by Jacky Ickx's Ferrari.
For the Dutch GP Team Lotus lead driver Emerson Fittipaldi was out of action after a road accident in France and his place was taken by South African Dave Charlton. The team also entered a gas turbine car for F1 debutante Dave Walker. He crashed one of the conventional cars on Friday and this could not be repaired, so Charlton did not get a drive and Walker had to race the Lotus-Pratt & Whitney 56. The only other change in the entry was the appearance of local driver Gij Van Lennep in a third Surtees.
As usual it was Jackie Stewart versus the V12 cars with Ickx taking pole for Ferrari from Pedro Rodriguez (BRM). Stewart was on the outside of the front row in his Tyrrell-Cosworth) which had won two of the first three races of the year. The second row featured Clay Regazzoni's Ferrari and Chris Amon's Matra. This left Reine Wisell to be the second V8 car back on the third row, which the Lotus driver shared with John Surtees (Surtees) and Jo Siffert (BRM).
It was wet on Sunday. At the start Mario Andretti's Ferrari was missing because of a fuel pump problem. He did start the race but was a long way behind and retired after just a few laps.
At the start Ickx went ahead of Rodriguez, Stewart and Amon. Siffert blew his chances with a spin. On the second lap Amon spun out and on the third lap Stewart had a rare spin and dropped to eighth place. This left Regazzoni third and Surtees fourth ahead of Wisell. The Swede did not last long because a rear wheel worked loose and trying to solve the problem he reversed into the pitlane and was disqualified. As everyone else struggled Ickx and Rodriguez built up a big lead with Rodriguez moving ahead on the ninth lap. Their duel would continue for most of the afternoon but towards the end Ickx pulled away to win by nearly eight seconds. Regazzoni finished third.
Sammanställning
Grand Prix
Nederländerna
Datum
20 Juni 1971
Bana
Zandvoort
Säsong
1971
Deltävling
4
Längd (km)
4.193
Varv
70
Tid
1:56:20.090
| | | | | | |
| --- | --- | --- | --- | --- | --- |
| Placering | Nr | Förare | Team | Tid | Grid |
| 1 | 2 | Jacky Ickx | Ferrari | 1:56:20.090 | 1 |
| 2 | 8 | Pedro Rodriguez | BRM | 7.990 | 2 |
| 3 | 3 | Clay Regazzoni | Ferrari | +1 varv | 4 |
| 4 | 16 | Ronnie Peterson | March | +2 varv | 13 |
| 5 | 23 | Johnny Surtees | Surtees | +2 varv | 7 |
| 6 | 9 | Jo Siffert | BRM | +2 varv | 8 |
| 7 | 10 | Howden Ganley | BRM | +4 varv | 9 |
| 8 | 30 | Gijs van Lennep | Surtees | +5 varv | 21 |
| 9 | 21 | Jean-Pierre Beltoise | Matra | +5 varv | 11 |
| 10 | 24 | Graham Hill | Brabham | +5 varv | 16 |
| 11 | 5 | Jackie Stewart | Tyrrell | +5 varv | 3 |
| 12 | 26 | Denny Hulme | McLaren | +7 varv | 14 |
| nc | 31 | Henri Pescarolo | March | +8 varv | 15 |
| nc | 22 | Skip Barber | March | +10 varv | 24 |
| nc | 28 | Peter Gethin | McLaren | +10 varv | 23 |
| r | 19 | Alex Soler-Roig | March | +13 varv | 17 |
| r | 25 | Tim Schenken | Brabham | +31 varv | 19 |
| r | 6 | François Cevert | Tyrrell | +41 varv | 12 |
| dq | 29 | Rolf Stommelen | Surtees | | 10 |
| dq | 14 | Reine Wisell | Lotus | | 6 |
| r | 18 | Nanni Galli | March | +63 varv | 20 |
| r | 15 | Dave Walker | Lotus | +64 varv | 22 |
| r | 4 | Mario Andretti | Ferrari | +65 varv | 18 |
| r | 20 | Chris Amon | Matra | +68 varv | 5 |
| | | |
| --- | --- | --- |
| NC=Not Classified | NT=No time set in qualifying | R=Retired |
| EX=Excluded from meeting | W=Withdrawn | DQ=Disqualified |
| NS=Did not start | NQ=Did not qualify | NPQ=Did not pre-qualify |

Aktuell ställning
| Position | Förare | Nation | Poäng |
| --- | --- | --- | --- |
| 1 | Jackie Stewart | GBR | 24 |
| 2 | Jacky Ickx | BEL | 19 |
| 3 | Ronnie Peterson | SWE | 9 |
| " | Pedro Rodriguez | MEX | 9 |
| " | Mario Andretti | USA | 9 |
| 6 | Clay Regazzoni | CH | 8 |