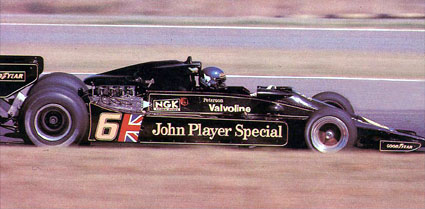 Gran Premio de la Republica Argentina 15 Januari 1978, Buenos Aires
Ronnie Peterson hade inför 1978 års säsong återigen skrivit på för Lotus. De tidigare bråken med Colin Chapman var nu historia, men Ronnie tvingades acceptera ett kontrakt som innebär att han är andreförare i stallet. Ronnie skall således låta försteföraren Mario Andretti gå före om den chansen fanns, inte roligt för någon som bevisligen tillhör de absolut snabbaste. Andretti är å andra sidan en mycket kompetent förare som i kanske högre utsträckning än Ronnie har förmågan att ställa in bilen rätt efter rådande förhållanden - Andretti har anledning att ta åt sig del av äran i utvecklingen av de två Lotus-modellerna 78 och 79, de första F1-bilar som framtagits för att utnyttja den aerodynamiska markeffekten.
Ronnie har tagit sin svenske kollega Gunnar Nilssons plats i Lotus-stallet. Gunnar har istället skrivit på för det nya stallet Arrows, men redan under vinteruppehållet står det klart att han drabbats av cancer vilket gör att alla resurser måste ägnas åt att bekämpa sjukdomen.
Inför sin 110:e F1-start i karriären sitter Ronnie äntligen i en vinnarbil. Tiden har varit kort att lära känna den nya bekantskapen, men Ronnie lyckas ändock prestera en tredje bästa tid under kvalet inför Argentinas GP. I "pole position" står Ronnies stallkamrat Mario Andretti, tvåa är Carlos Reutemann (i den nyutvecklade Ferrari 312T3). Andra startledet delar Ronnie med John Watson, som står precis före den nye stallkamraten Niki Lauda i den andra bilen från Brabham. Nykorade världsmästaren James Hunt (McLaren) återfinns i det tredje startledet tillsammans med den andra Ferraribilen och "vettvillingen" Gilles Villeneuve.
Andretti tar starten och leder odramatiskt loppet från start till mål. Bakifrån jobbar sig Watson upp i fältet och kan på det sjunde varvet gå upp på en andraplats. Denna placering kan han hålla till endast en fjärdedel återstår av loppet då han tvingas bryta med överhettad motor. Tvåa i tävlingen blir istället Lauda, men den som främst utmanar är Patrick Depailler som från en tionde startposition avancerat sin Tyrrell till en slutlig tredjeplats. James Hunt slutar fyra (efter att ha presterat loppets snabbaste varv med 1.50,58), sexton sekunder efter segraren i mål. Knappt en minut senare kan loppets femma passera mållinjen - Ronnie Peterson!
Ronnie drabbas under loppet av bromsproblem och är heller inte van den nya bibekantskapen, men trots detta tar han årets första två poäng.
Summary in english
During the winter of 1977-78 Team Lotus perfected the concept of ground-effect aerodynamics. with the Lotus 79, which would become the most successful racing car of Grand Prix racing up to that point. The year began, however, with the old Lotus 78. The team had hired Ronnie Peterson to replace Gunnar Nilsson. Nilsson signed to drive for the new Arrows team but during the off season it became clear that he was suffering from cancer and would not be fit enough to drive in 1978. Arrows was a new team, led by a number of staff from Shadow, who had become disenchanted with the team. The new team, which included designers Tony Southgate and Dave Wass, designed the Arrows FA1 and Riccardo Patrese was hired to drive it. The formation of Arrows was a major blow to Shadow but the team had the new DN9 which Southgate and Wass had designed before departing and with Clay Regazzoni and Hans Stuck recruited to drive. Stuck had lost his place at Brabham because Bernie Ecclestone had lured World Champion Niki Lauda from Ferrari to join John Watson. Sponsorship had been found from the Parmalat company and designer Gordon Murray was working on a radical new BT46 new car.

Ferrari produced the new 312T3 for Carlos Reutemann and Gilles Villeneuve and took the decision to switch to Michelin tires, the French company having entered F1 in 1977 with Renault Sport. Ligier continued with one car for Jacques Laffite. McLaren dropped Jochen Mass and chose Patrick Tambay as his replacement, while the German moved to ATS which had bought the assets of the March F1 program and ran a new car called the HS1, designed by Robin Herd.

Having lost Peterson, Tyrrell (with Elf encouragement) hired a new young Frenchman called Didier Pironi. The team gave up the six-wheeler concept and appeared with a much more conventional 008. Wolf Racing retained Jody Scheckter and began the year with the old car while Ensign started the year with Danny Ongais and Lamberto Leoni as drivers. Hesketh struggled on but as Rupert Keegan had taken his British Air Ferries sponsorship to Surtees the team was in more difficulty. The year began with Hesketh running Divina Galica. Alongside Keegan at Surtees was Vittorio Brambilla. There were a variety of new teams in the course of the year, notably Merzario which produced the A1 chassis. Hector Rebaque concluded a deal to run a Lotus 78 while Williams Grand Prix Engineering hired Alan Jones and Patrick Head produced the FW06.

The field was completed by Brett Lunger in the BS Fabrications McLaren M23 and the new Theodore TR1, which had been designed for Teddy Yip by Ron Tauranac. It was driven in Argentina by Eddie Cheever, who had just turned 20.

Qualifying in Buenos Aires resulted in pole position for Mario Andretti (Lotus) with Reutemann second, Peterson third and Watson ahead of Lauda. James Hunt was sixth in his McLaren while Villeneuve continued to show extreme promise with seventh on the grid. The top 10 was completed by Laffite, Tambay and Patrick Depailler (Tyrrell). Rebaque, Cheever and Galica failed to qualify for the 24-car grid.

In the race Andretti took the lead at the start and led from flag to flag while Reutemann's hold on second place lasted only until the seventh lap when he was passed by Watson, who had worked his way up past Lauda and Peterson. Watson stayed second until three-quarter distance when he dropped back with overheating problems and retired. This left Lauda second with Depailler third, after an impressive early charge which took him past Hunt, Laffite, Peterson and Reutemann.
Sammanställning

Grand Prix

Datum

15 Januari 1978

Bana

Säsong

1978

Deltävling

1

Längd (km)

5.968

Varv

52

Tid

1:37:04.470
| | | | | | |
| --- | --- | --- | --- | --- | --- |
| Placering | Nr | Förare | Team | Tid | Grid |
| 1 | 5 | | | 1:37:04.470 | 1 |
| 2 | 1 | | | 13.210 | 5 |
| 3 | 4 | | | 13.640 | 10 |
| 4 | 7 | | | 16.050 | 6 |
| 5 | 6 | | | 74.850 | 3 |
| 6 | 8 | | | 79.900 | 9 |
| 7 | 11 | | | 82.600 | 2 |
| 8 | 12 | | | 97.880 | 7 |
| 9 | 14 | | | 100.600 | 17 |
| 10 | 20 | | | 103.500 | 15 |
| 11 | 9 | | | 109.070 | 13 |
| 12 | 10 | | | +1 varv | 11 |
| 13 | 30 | | | +1 varv | 24 |
| 14 | 3 | | | +1 varv | 23 |
| 15 | 17 | | | +1 varv | 16 |
| r | 26 | | | +2 varv | 8 |
| 17 | 16 | | | +2 varv | 18 |
| 18 | 19 | | | +2 varv | 12 |
| r | 2 | | | +11 varv | 4 |
| r | 27 | | | +16 varv | 14 |
| r | 22 | | | +17 varv | 21 |
| r | 23 | | | +24 varv | 22 |
| r | 37 | | | +43 varv | 20 |
| r | 18 | | | +48 varv | 19 |
| nq | 25 | | | | |
| nq | 32 | | | | |
| nq | 24 | | | | |
| | | |
| --- | --- | --- |
| NC=Not Classified | NT=No time set in qualifying | R=Retired |
| EX=Excluded from meeting | W=Withdrawn | DQ=Disqualified |
| NS=Did not start | NQ=Did not qualify | NPQ=Did not pre-qualify |

Aktuell ställning
| | | | |
| --- | --- | --- | --- |
| Position | Förare | Nation | Poäng |
| 1 | | | 9 |
| 2 | | | 6 |
| 3 | | | 4 |
| 4 | | | 3 |
| 5 | | | 2 |
| 6 | | | 1 |