United States Grand Prix West 3 April 1977, Long Beach
Ronnie Peterson har inför sin 96:e F1 start mist två nära förarkollegor. Tom Pryce tragiska dödsfall i Sydafrikas GP hade chockat branschen och stämningen blev inte bättre då man nåddes av nyheten att Carlos Pace omkommit i en flygkrasch utanför Sao Paulo i Brasilien - samma helg (20 mars) som ett flertal av förarna (däribland Ronnie) tävlade i Race of Champions på Brands Hatch.
Inför USA West GP i Long Beach har Alan Jones ersatt Pryce i Shadow-stallet. Niki Lauda lyckas bäst i kvalificeringen och tar sin första "pole" för året. Mario Andretti visar vad som kan förväntas av den nya Lotus 78:an och tar andraplatsen i det första startledet. Trea efter tidskvalet är Jody Scheckter (Wolf), med Carlos Reutemann i den andra Ferrarin som fyra. Ronnie är endast tia, men för första gången i år bättre placerad än teamkompisen Depailler (12:a).
Starten tas av Scheckter som rusar upp i ledning förbi Andretti och Lauda. Som vanligt är det en hård fight in i första kurvan, denna gång med resultatet att Hunt kör in i Watson och med Reutemann kvar på nödvägen vid sidan av banan. Stort kaos. Från de tre ledarbilarna följer en lucka till det övriga fältet med Watson, Fittipaldi, Jones och Depailler. Redan på det första varvet tvingas Reutemann, Hunt och Mass in i depå.
Ordningen i täten förblir statisk under större delen av loppet, men då Scheckter med endast två varv kvar tvingas släppa de två jagande förarna förbi sig på grund av en "pyspunka" så kan Mario Andretti ta en mycket populär hemmaseger. Lauda blir tvåa, mindre än en sekund efter. Detta betyder att det hårdnar i toppen tabellen - Lauda och Scheckter delar förstaplatsen med 19 poäng. Sensationsstallet Wolf hänger fortfarande med!
Niki Lauda får det snabbaste varvet med 1.22,753 och loppet kan summera följande förare i ledning: Scheckter 1-76; Andretti 77-80.
Ronnie kämpar länge i en tillbakaskjuten position i fältet, men tvingas ge upp på det 62:a varvet efter en sprucken bränsleledning. Teamkompisen Depailler plockar återigen poäng med en fjärdeplats. Efter fyra GP tävlingar för Tyrrell har Ronnie ännu inte lyckats ta bilen i mål...
Summary in english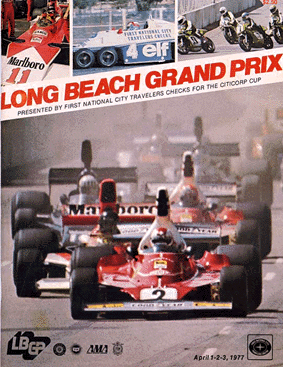 Tom Pryce's death in South Africa was a shock to Formula 1 and there was a further blow a fortnight later when news came from Brazil that Carlos Pace had been killed in a light plane crash near Sao Paulo in Brazil. On the same weekend as Pace's death the Race of Champions took place at Brands Hatch and was won by James Hunt.

The teams then turned their attention to Long Beach. Brabham signed up Hans Stuck to be Pace's replacement and his place at March (where he had been standing in for Ian Scheckter) was taken by Britain's Brian Henton. Stuck had been expected to join the ATS team but the opportunity at Brabham was better and so Gunther Schmid had to do a hasty deal with Jean-Pierre Jarier. Shadow signed Alan Jones (who had been racing for Teddy Yip in Formula 5000 in the United States) to replace Pryce.

Qualifying at Long Beach resulted in pole position for Niki Lauda's Ferrari with Mario Andretti second fastest in the ever-improving Lotus 78. Jody Scheckter was third in the Wolf ahead of the second Ferrari being driven by Carlos Reutemann. Jacques Laffite (Ligier) was fifth ahead of John Watson (Brabham-Alfa Romeo), Emerson Fittipaldi in the Fittipaldi, James Hunt's McLaren, Jarier's ATS Penske and Ronnie Peterson's Tyrrell.

In the race Scheckter made the best start to pass both Andretti and Lauda. There was the usual first corner melee with Reutemann going up the escape road as he tried to dive ahead of Andretti and Lauda. Hunt bumped into Watson and the McLaren bounced across then road. Behind there was chaos but the man left behind when the dust cleared was Brambilla.

The incident meant that Scheckter, Andretti and Lauda were well clear of the rest with Laffite in fourth place, followed by Watson, Fittipaldi, Jones and Patrick Depailler (Tyrrell). Reutemann, Hunt and his team mate Jochen Mass went into the pits at the end of the first lap. The battle at the front remained static for most of the afternoon but with two laps to go Scheckter dropped to third when a tire began to deflate. This gave Andretti a popular home victory with Lauda second and Scheckter a miserable third. Early in the race Watson overtook Laffite for fourth place but he then pitted for new tires and so fourth place went back to Laffite until the penultimate lap when the Ligier stopped with an electrical failure. This handed fourth place to Depailler, fifth to Fittipaldi and sixth to Jarier in the ATS.
Sammanställning

Grand Prix

Datum

3 April 1977

Bana

Säsong

1977

Deltävling

4

Längd (km)

3.251

Varv

80

Tid

1:51:35.470
| | | | | | |
| --- | --- | --- | --- | --- | --- |
| Placering | Nr | Förare | Team | Tid | Grid |
| 1 | 5 | | | 1:51:35.470 | 2 |
| 2 | 11 | | | 0.773 | 1 |
| 3 | 20 | | | 4.857 | 3 |
| 4 | 4 | | | 74.487 | 12 |
| 5 | 28 | | | 80.908 | 7 |
| 6 | 34 | | | +1 varv | 9 |
| 7 | 1 | | | +1 varv | 8 |
| 8 | 6 | | | +1 varv | 16 |
| r | 26 | | | +2 varv | 5 |
| 10 | 10 | | | +3 varv | 18 |
| 11 | 18 | | | +3 varv | 19 |
| r | 3 | | | +18 varv | 10 |
| r | 22 | | | +23 varv | 13 |
| r | 8 | | | +27 varv | 17 |
| r | 17 | | | +40 varv | 14 |
| r | 2 | | | +41 varv | 15 |
| dq | 7 | | | | 6 |
| r | 16 | | | +53 varv | 20 |
| r | 9 | | | +65 varv | 22 |
| r | 12 | | | +75 varv | 4 |
| r | 30 | | | +76 varv | 21 |
| r | 19 | | | +80 varv | 11 |
| | | |
| --- | --- | --- |
| NC=Not Classified | NT=No time set in qualifying | R=Retired |
| EX=Excluded from meeting | W=Withdrawn | DQ=Disqualified |
| NS=Did not start | NQ=Did not qualify | NPQ=Did not pre-qualify |

Aktuell ställning
| | | | |
| --- | --- | --- | --- |
| Position | Förare | Nation | Poäng |
| 1 | | | 19 |
| " | | | 19 |
| 3 | | | 13 |
| 4 | | | 11 |
| 5 | | | 9 |
| 6 | | | 8 |