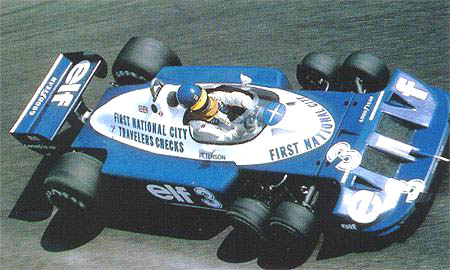 Citizen South African Grand Prix 5 Mars 1977, Kyalami
Ronnie Peterson har sen misslyckandet i Brasiliens GP haft sex veckor på sig att komma underfund om egenskaperna i 6-hjulingen från Tyrrell. Inför sitt 95:e GP lopp har Ronnie en fortsatt stigande kvalificeringskurva med P34:an och har efter träningen presterat en sjunde bästa tid. För tredje gången i rad står James Hunt (McLaren) i "pole position", med Carlos Pace (Brabham) som tvåa. Andra startledet består av Niki Lauda (Ferrari) och Ronnies teamkompis Patrick Depailler.
Det blir Hunt som tar starten. För mycket hjulspinn från Pace sida gör att Lauda kan ta hand om andraplatsen, följd av Jody Scheckter (Wolf) och Depailler. Efter att ha legat mycket tätt ihop kan Lauda på det sjunde varvet passera Hunt och sakta men säkert dra ifrån det övriga fältet. Hunt blir så småningom passerad av såväl Scheckter (18:e varvet) som Depailler (67:e varvet), men däremellan har loppet fått en lika dramatisk som tragisk vändning.
Renzo Zorzi har i sin Shadow tvingats stanna på det 21 varvet med en trasig bränsleledning. En mindre eldsvåda får två brandmän att rusa tvärs över banan i tron att ingen annan bil är annalkande. De har dock inte kontroll över att Hans Stuck och Tom Pryce är på ingående sida vid sida. Pryce kör på den ene brandmannen som kastas upp i luften mot en omedelbar död och som om tragiken inte vore fullständig så träffas Pryce i huvudet av brandmannens eldsläckare så illa att även han går samma öde till mötes. Den herrelösa Shadow-bilen fortsätter rakt fram och träffar avbärarräcket, studsar tillbaka in på banan och kolliderar med Laffite (Ligier) - lyckligtvis utan personskador som följd.
Loppet fortsätter och Lauda kan köra in som segrare. Jody Scheckter lyckas efter en mycket hård kamp hålla Patrick Depailler bakom sig och duon tar de övriga pallplatserna. McLaren tar poängplatserna fyra och fem med Hunt och Mass, emedan John Watson tar hem den sista poängen i sin Brabham (Watson som även klockas för snabbaste varv med 1.17,63). Loppet har endast två förare i ledning: Hunt 1-6; Lauda 7-78.
I Tyrrellstallet är glädjen grumlad. Årets första fyra poäng i och med Depaillers tredjeplats, men fortsatta problem för Ronnie som ännu en gång tvingas bryta tidigt i loppet, denna gång på det sjunde varvet efter problem med bränsletrycket.
Summary in english
There was a six week gap between the Brazilian and South African GPs but little had changed in the F1 field in that period. Ian Scheckter had broken his ankle in a Formula Atlantic race in South Africa and so Hans Stuck took his place at March. Fittipaldi was back down to one car again but there were two new teams both using old March 761s: BS Fabrications entered a Chesterfield-sponsored car for Brett Lunger while F&S Properties had bought a car for Boy Hayje and this was being run by RAM Racing.

Qualifying resulted in James Hunt taking his third consecutive pole position in his McLaren while Carlos Pace put the new Brabham-Alfa Romeo BT45B second on the grid. Then came Niki Lauda's Ferrari, Patrick Depailler's Tyrrell, Jody Scheckter in the Wolf and Mario Andretti in the Lotus. Seventh on the grid was Ronnie Peterson (Tyrrell) with Carlos Reutemann (Ferrari) eighth, Emerson Fittipaldi (Fittipaldi) ninth and Gunner Nilsson (Lotus) 10th.

At the start Pace had too much wheelspin and so Hunt went off into the lead with Lauda, Scheckter and Depailler behind him. Pace slotted in ahead of Mass and Andretti. In the early laps Hunt and Lauda ran nose-to-tail but at the start of the seventh lap the Austrian took the lead and gradually began to get away. Hunt dropped back and came under pressure from Scheckter. On the 18th lap Scheckter took the position.

At the back of the field Renzo Zorzi's Shadow stopped at the side of the track at the end of lap 21 with a split fuel pipe. There was a small fire and two marshals ran across the track, thinking that no-one was coming, despite the fact that they were on the wrong side of a blind brow. Stuck and Pryce arrived, almost side-by-side. Pryce hit the second marshal, who was carrying a fire extinguisher. The man (who was killed instantly) was thrown into the air but the extinguisher hit Pryce on the head, killing him instantly. The Shadow continued down the straight, moving gradually to the right and Laffite, who was unsure what was going on, moved alongside as the two cars approached Crowthorne. The Shadow glanced off the barriers and went straight into the Ligier. Fortunately Laffite was unhurt.

The race went on but the only change at the front came on lap 67 when Hunt slipped back to fourth place behind Depailler. Lauda won but for most of the race had been watching as gauges as part of Pryce's rollbar had become lodged in Lauda's water radiator and the temperatures were rising slowly as the race went on.
Sammanställning

Grand Prix

Datum

5 Mars 1977

Bana

Säsong

1977

Deltävling

3

Längd (km)

0.104

Varv

78

Tid

1:42:21.600
| | | | | | |
| --- | --- | --- | --- | --- | --- |
| Placering | Nr | Förare | Team | Tid | Grid |
| 1 | 11 | | | 1:42:21.600 | 3 |
| 2 | 20 | | | 5.200 | 5 |
| 3 | 4 | | | 5.700 | 4 |
| 4 | 1 | | | 9.500 | 1 |
| 5 | 2 | | | 19.900 | 13 |
| 6 | 7 | | | 20.200 | 11 |
| 7 | 19 | | | 23.600 | 14 |
| 8 | 12 | | | 26.700 | 8 |
| 9 | 22 | | | 46.200 | 16 |
| 10 | 28 | | | 71.700 | 9 |
| 11 | 18 | | | +1 varv | 19 |
| 12 | 6 | | | +1 varv | 10 |
| 13 | 8 | | | +2 varv | 2 |
| 14 | 30 | | | +2 varv | 23 |
| 15 | 14 | | | +5 varv | 22 |
| r | 9 | | | +12 varv | 17 |
| r | 10 | | | +23 varv | 18 |
| r | 5 | | | +35 varv | 6 |
| r | 33 | | | +45 varv | 21 |
| r | 16 | | | +56 varv | 15 |
| r | 26 | | | +56 varv | 12 |
| r | 17 | | | +57 varv | 20 |
| r | 3 | | | +73 varv | 7 |
| | | |
| --- | --- | --- |
| NC=Not Classified | NT=No time set in qualifying | R=Retired |
| EX=Excluded from meeting | W=Withdrawn | DQ=Disqualified |
| NS=Did not start | NQ=Did not qualify | NPQ=Did not pre-qualify |

Aktuell ställning
| | | | |
| --- | --- | --- | --- |
| Position | Förare | Nation | Poäng |
| 1 | | | 15 |
| 2 | | | 13 |
| " | | | 13 |
| 4 | | | 9 |
| 5 | | | 6 |
| " | | | 6 |