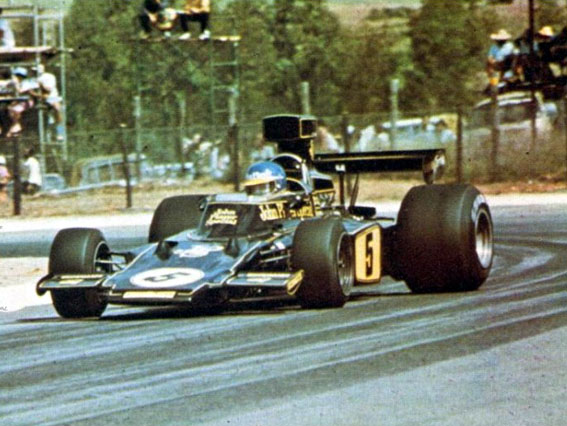 Lucky Strike South African Grand Prix 1 Mars 1975, Kyalami
Ronnie Peterson gör det omöjliga och placerar sig på "10-bästa listan" inför sin 65:e start i Formel 1. Med en plats i det fjärde startledet är det inte alltför långt fram till de båda tätplacerade "Carlosarna" Pace och Reutemann i varsin Brabham. Jody Scheckter (Tyrrell) på en tredjeplats visar att stallet fortfarande är att räkna med. Niki Lauda i en Ferrari är fyra, men säsongsupptakten har för honom och Enzo varit en besvikelse...
Pace tar starten, men måste redan på det tredje varvet "lämna över" till Scheckter. Trots att Pace sätter snabbaste varvtid med 1.17,20 kan ingenting stoppa Tyrrell från att ta årets första seger och Scheckter går i mål före Reutemann och teamkamraten Patrik Depailler. Loppet ser följande förare i ledning: Pace 1-2; Scheckter 3-78.
Ronnie tar sig i mål, men är som 10:a ett varv efter segraren.
I sammandraget är det nu tre sydamerikanare som toppar tabellen...
Summary in english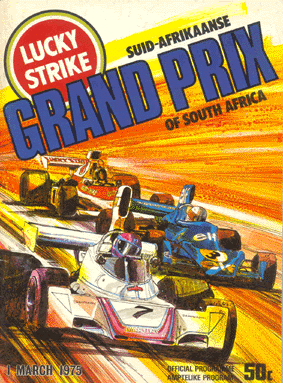 There was a gap of a month after the Brazilian GP before the F1 field gathered again at Kyalami. The biggest change was that Ferrari had finished the new 312T, with a transverse gearbox. The new Hill GH1 appeared for Graham Hill to drive but the veteran crashed heavily and damaged the car enough to be forced to miss the race. Shadow had completed a second DN5 for Tom Pryce to drive. The Stanley-BRM team had hired Bob Evans to replace Mike Wilds and March had the new 751 for Vittorio Brambilla and rented the old 741 to Lella Lombardi. As usual there were several local teams taking part with Team Gunston entering its Lotus 72s for Eddie Keizan and Guy Tunmer, Dave Charlton in a Lucky Strike McLaren and Ian Scheckter in a Tyrrell.

Qualifying resulted in a Brabham 1-2 with Carlos Pace (the winner in Brazil) ahead of team mate Carlos Reutemann. Niki Lauda was on the second row in his new Ferrari alongside Jody Schecketer's Tyrrell. Fifth place went to Mario Andretti in the Parnelli while Patrick Depailler was sixth for Tyrrell. The top 10 was completed by Brambilla's March, Ronnie Peterson's Lotus, Clay Regazzoni's Ferrari and John Watson in the Surtees. Emerson Fittipaldi was a disappointing 11th in his McLaren while Jean-Pierre Jarier (pole man in the first two races of the year) was 13th after engine trouble. At the back of the field Lombardi became the first woman to qualify for a Grand Prix since 1958.

Pace took the lead at the start with Scheckter jumping into second and Ronnie Peterson storming up to third ahead of Reutemann, Depailler, Regazzoni, E Fittipaldi and Lauda. On the third lap Scheckter took the lead (to the delight of the locals) and Reutemann overtook Peterson. The Swede would drift back behind Depailler, Regazzoni, Fittipaldi and Lauda in the laps that followed. Pace too began to struggle with his brakes and let Reutemann through into second before he dropped back behind Depailler and Fittipaldi (who had overtaken Regazzoni by that point). The order was then set for nearly 20 laps until Fittipaldi's engine began to misfire and he had to pit after being repassed by Pace. The top four then remained unchanged until the finish with Scheckter leading home Reutemann, Depailler and Pace. Lauda took fifth after Regazzoni went out with a throttle problem near the end of the race and Mass picked up the final point in the second McLaren.
Sammanställning

Grand Prix

Sydafrika

Datum

1 Mars 1975

Bana

Säsong

1975

Deltävling

3

Längd (km)

4.104

Varv

78

Tid

1:43:16.900
| | | | | | |
| --- | --- | --- | --- | --- | --- |
| Placering | Nr | Förare | Team | Tid | Grid |
| 1 | 3 | | | 1:43:16.900 | 3 |
| 2 | 7 | | | 3.740 | 2 |
| 3 | 4 | | | 16.920 | 5 |
| 4 | 8 | | | 17.310 | 1 |
| 5 | 12 | | | 28.640 | 4 |
| 6 | 2 | | | 63.340 | 16 |
| 7 | 23 | | | 72.910 | 14 |
| 8 | 28 | | | +1 varv | 18 |
| 9 | 16 | | | +1 varv | 19 |
| 10 | 5 | | | +1 varv | 8 |
| 11 | 34 | | | +2 varv | 25 |
| 12 | 6 | | | +2 varv | 21 |
| 13 | 33 | | | +2 varv | 22 |
| 14 | 31 | | | +2 varv | 20 |
| 15 | 14 | | | +2 varv | 24 |
| r | 11 | | | +7 varv | 9 |
| r | 27 | | | +8 varv | 6 |
| nc | 21 | | | +9 varv | 23 |
| nc | 1 | | | +13 varv | 11 |
| r | 32 | | | +23 varv | 17 |
| r | 24 | | | +25 varv | 12 |
| r | 17 | | | +41 varv | 13 |
| r | 10 | | | +55 varv | 26 |
| r | 20 | | | +56 varv | 15 |
| r | 18 | | | +59 varv | 10 |
| r | 9 | | | +62 varv | 7 |
| r | 30 | | | +78 varv | 27 |
| ns | 22 | | | | |
| | | |
| --- | --- | --- |
| NC=Not Classified | NT=No time set in qualifying | R=Retired |
| EX=Excluded from meeting | W=Withdrawn | DQ=Disqualified |
| NS=Did not start | NQ=Did not qualify | NPQ=Did not pre-qualify |

Aktuell ställning
| | | | |
| --- | --- | --- | --- |
| Position | Förare | Nation | Poäng |
| 1 | | | 15 |
| 2 | | | 12 |
| 3 | | | 10 |
| 4 | | | 9 |
| 5 | | | 7 |
| 6 | | | 6 |
| " | | | 6 |