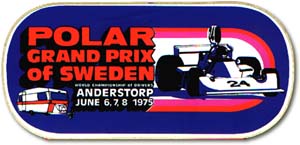 Polar Sveriges Grand Prix 8 Juni 1975, Anderstorp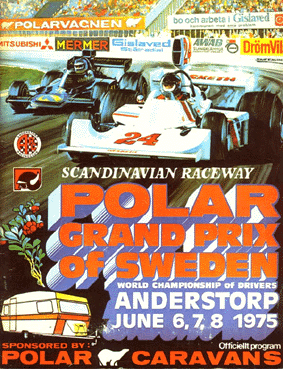 Ronnie Peterson åter på hemmaplan i Sveriges GP. Det är den 69:e starten i Formel 1 och revansch finns att utkräva efter fjolårets tidiga sorti. Träningen går över förväntan och Ronnie får trots allt vara nöjd med att ha lyckats prestera en nionde bästa kvalificeringstid inför loppet.
Brambilla står i "pole" före Depailler, följt av Jarier och Reutemann i andra startled. Denna ordning gäller också in i första kurvan efter start och till skillnad från tävlingen ett par veckor tidigare kan Brambilla (March) hålla ledningen i fler än ett par varv. På det sextonde varvet är dock däcken överhettade och Reutemann kan inta tätpositionen. Mot slutet av loppet lider dock Carlos av svår överstyrning och Lauda - som avancerat i fältet tack vare det stora manfallet - kan överta ledningen och hålla den in i mål resterande 10 varv. Niki Lauda (med snabbaste varvet på 1.28,267) tar sin och Ferraris tredje raka seger. Reutemann är tvåa (Brabham), drygt 6 sekunder efter. Regazzoni (också i en Ferrari) blir trea, halvminuten efter vinnaren. Ledare i loppet: Brambilla 1-15; Reutemann 16-69; Lauda 70-80.
Ronnie (Lotus) blir till slut 9:a - ett varv efter segraren.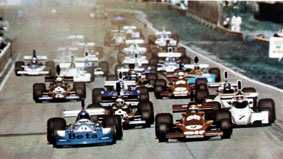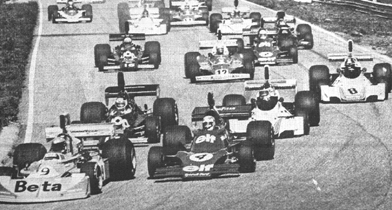 Brambilla tar starten före Depailler, Jarier, Reutemann, Lauda och långt där bakom skymtar vi Ronnie...
Summary in english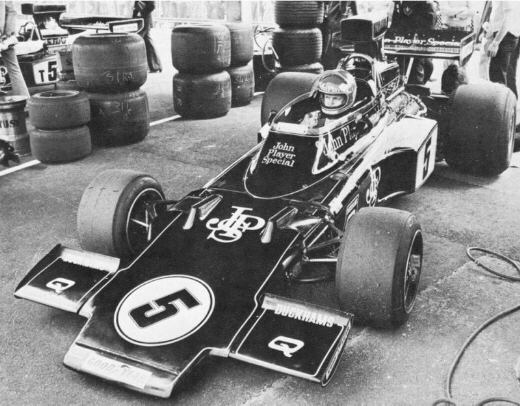 A fortnight after the Belgian GP (Niki Lauda's second consecutive victory) the F1 circus gathered again at Anderstorp in Sweden. There were some changes in the driver lineup with Mario Andretti back in action having missed the Belgian race because of commitments at Indianapolis. Torsten Palm was back in action in his Polar Caravans Hesketh. Frank Williams had two new drivers. Arturo Merzario had left the team and was replaced by Irishman Damien Magee while Jacques Laffite was racing in F2 at Hockenheim and so Ian Scheckter was hired to drive the second car. Graham Hill had also replaced Francois Migault with Vern Schuppan.
Qualifying resulted in pole position for Vittorio Brambilla's March (which had led in Belgium) with Patrick Depailler second in his Tyrrell. Third position went to Jean-Pierre Jarier's Shadow and fourth to Carlos Reutemann (Brabham). Then came Lauda followed by Jody Scheckter (Tyrrell), Tom Pryce (Shadow), John Watson (Surtees) and Ronnie Peterson (Lotus). Clay Regazzoni was 11th and Emerson Fittipaldi 12th.

In the race Brambilla took the lead with Depailler, Jarier, Reutemann, Pace and Lauda in pursuit. In the early laps the only change was that Reutemann overtook Jarier. On the 15th lap, however, Depailler went out with a brake problem and on the next lap Brambilla began to drop back with overheating tires. He was overtaken by Reutemann and decided to pit. This left Jarier second and Pace third with Lauda in fourth position ahead of Regazzoni and Andretti.

On lap 39 Jarier went out with engine failure and so Pace made it a Brabham 1-2 but three laps later he spun off. Lauda was suddenly second and he began to close on Reutemann, who was suffering from oversteer. Lauda closed in and on lap 70 he went ahead and went on to win his third consecutive victory. Reutemann finished second with Regazzoni third, Andretti fourth, Mark Donohue fifth in his Penske and Tony Brise sixth in the Hill.
Sammanställning

Grand Prix

Sverige

Datum

8 Juni 1975

Bana

Säsong

1975

Deltävling

7

Längd (km)

4.018

Varv

80

Tid

1:59:18.319
| | | | | | |
| --- | --- | --- | --- | --- | --- |
| Placering | Nr | Förare | Team | Tid | Grid |
| 1 | 12 | | | 1:59:18.319 | 5 |
| 2 | 7 | | | 6.288 | 4 |
| 3 | 11 | | | 29.095 | 12 |
| 4 | 27 | | | 44.380 | 15 |
| 5 | 28 | | | 90.763 | 16 |
| 6 | 23 | | | +1 varv | 17 |
| 7 | 3 | | | +1 varv | 8 |
| 8 | 1 | | | +1 varv | 11 |
| 9 | 5 | | | +1 varv | 9 |
| r | 32 | | | +2 varv | 21 |
| 11 | 26 | | | +1 varv | 19 |
| 12 | 4 | | | +2 varv | 2 |
| 13 | 14 | | | +2 varv | 23 |
| 14 | 20 | | | +2 varv | 22 |
| 15 | 6 | | | +3 varv | 18 |
| 16 | 18 | | | +3 varv | 10 |
| 17 | 30 | | | +6 varv | 25 |
| r | 16 | | | +27 varv | 7 |
| r | 21 | | | +31 varv | 20 |
| r | 22 | | | +33 varv | 26 |
| r | 8 | | | +39 varv | 6 |
| r | 17 | | | +42 varv | 3 |
| r | 9 | | | +44 varv | 1 |
| r | 2 | | | +46 varv | 14 |
| r | 24 | | | +59 varv | 13 |
| r | 10 | | | +70 varv | 24 |
| | | |
| --- | --- | --- |
| NC=Not Classified | NT=No time set in qualifying | R=Retired |
| EX=Excluded from meeting | W=Withdrawn | DQ=Disqualified |
| NS=Did not start | NQ=Did not qualify | NPQ=Did not pre-qualify |

Aktuell ställning
| | | | |
| --- | --- | --- | --- |
| Position | Förare | Nation | Poäng |
| 1 | | | 32 |
| 2 | | | 22 |
| 3 | | | 21 |
| 4 | | | 16 |
| 5 | | | 15 |
| 6 | | | 12 |