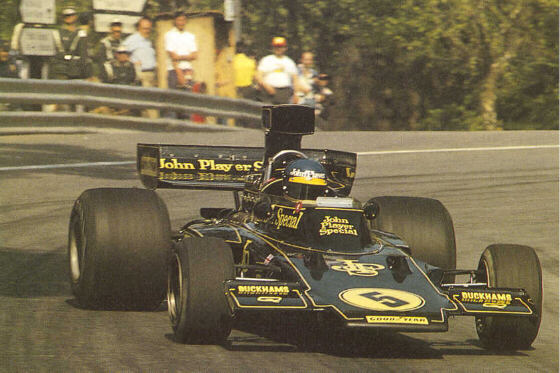 Gran Premio de España 27 April 1975, Montjuich Park
Ronnie Peterson har i Lotus 72:an inte haft mycket att göra med tätplaceringarna i årets GP cirkus - inte en enda poäng bärgad under de tre första tävlingarna. Inför sin 66:e F1-start har Ronnie i tidskvalet erhållit en plats i sjätte startled med tolfte "bästa" tid. I "pole position" står Niki Lauda med sin Ferrari, i första startledet tillsammans med teamkompisen Clay Regazzoni. Omedelbart bakom är James Hunt (Hesketh) och Mario Andretti (Parnelli).
Redan på det första varvet tvingas Lauda bryta och Hunt kan ta ledningen. Loppet blir spännande och ser tätpositionen skifte vid ett flertal tillfällen. Bl a tar sig Andretti (med snabbast varv 1.25,10) upp i ledning, men Mario tvingas bryta på det 18:e varvet efter problem med fjädringen. Stommeln övertar tätpositionen och strax bakom jagar Pace och Ronnie. Ronnie tvingas dock bryta på det 24:e varvet efter att ha varit inblandad i en kollision med Migault (Hill) i samband med varvning. Under resten av säsongen lyckas Ronnie inte placera sig bättre i fältet än denna dag...
På det 26:e varvet bryts bakvingen sönder på Stommelns bil. Han kör rätt ut i barriären, studsar tillbaka in på banan och kraschar med Pace. Stommelns bil (Hill) fortsätter över banan och kolliderar med barriären på andra sidan. Bilen slungas över staketet och dödar fem människor. Stommeln blir svårt skadad.
Det tar arrangörerna fyra varv att få stopp på tävlingen och då har Jochen Mass i en McLaren gått upp i ledningen. Innan loppet hinner avbrytas tar sig Jacky Ickx i en Lotus 72:a (!) förbi, men Mass kan svara och tar sig till slut i mål som vinnare av Spaniens GP då loppet flaggas av på det 29:e varvet. Detta blir den enda seger Jochen Mass tar under sin F1 karriär.
Ickx blir således tvåa, detta före Carlos Reutemann i en Brabham. Fyra blir Jarier (Shadow) - som tas ifrån en placering p g a att ha kört om under gulflagg - före Brambilla i en March. För första gången i Formel 1 tar en kvinna GP-poäng i och med Lella Lombardis sjätteplats i en March.
Endast halva poäng tilldelas i detta lopp eftersom så få varv hann köras.
Loppet ser följande förare i ledning: Hunt 1-6; Andretti 7-16; Stommelen 17-21, 23-25; Pace 22; Mass 26-27, 29; Ickx 28.
Summary in english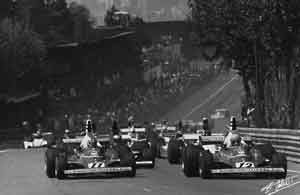 Two weeks after the South African Grand Prix Tom Pryce won the Race of Champions at Brands Hatch, showing the pace of the new Shadow DN5 but a month later Niki Lauda was the winner of the International Trophy at Silverstone in the new Ferrari 312T. This paved the way for the Spanish GP in Montjuich Park, the opening round the European season.

Most of the new cars had appeared by Williams showed off his new FW04 and with Jacques Laffite busy racing in F2 at the Nürburgring, he ran a new rising star Tony Brise. There were two other F1 debutantes: Australian Alan Jones who was at the wheel of the original Hesketh which had been sold to Harry Stiller and Roeluf Wunderink who brought sponsorship from Dutch security company HB Bewaking to the Ensign team. Graham Hill entered Francois Migault alongside Rolf Stommelen.

There was controversy from the start of the meeting because the Grand Prix Drivers Association was unhappy with the state of the barriers, which were not properly bolted together, and they went on strike. Of the major runners only Jacky Ickx (not a member of GPDA) did any running on Friday. Work was carried out overnight and on Saturday morning many of the teams sent their staff out to help get everything finished in time for qualifying. The drivers were still not keen to go out but the threat of legal action from the organizers forced the teams to pressure the drivers to give up. There was little time left and so practice was rather hit or miss. Emerson Fittipaldi was still unhappy and did just three slow laps, the minimum needed.

The two Ferraris were side by side on the front row with Niki Lauda just ahead of Clay Regazzoni. James Hunt (Hesketh) shared the second row with Mario Andretti (Parnelli) while the third row featured Vittorio Brambilla (March) and John Watson (Surtees). The top 10 was completed by Patrick Depailler (Tyrrell), Pryce, Stommelen and Jean-Pierre Jarier (Shadow). Of the other usual front-runners Jody Scheckter (Tyrrell) and Carlos Pace (Brabham) were 13th and 14th and Carlos Reutemann (Brabham) was 15th.

On Sunday morning Emerson Fittipaldi announced that he was not going to race and headed for home.

At the start Brambilla tried to pass Andretti and the two cars collided. The Parnelli was punted into the back of Lauda's Ferrari and this went into Regazzoni's car and so both Ferraris were out of the running, although Regazzoni did pit for repairs and rejoin later. Also retiring was Depailler with suspension damage. Wilson Fittipaldi and Arturo Merzario withdrew because they were unhappy with safety.

All this left Hunt in the lead from Andretti (who had managed to keep going), Watson, Stommelen, Brambilla and Pace. On the fourth lap Scheckter suffered an engine failure and dropped oil on the road. This resulted in Jones and Mark Donohue (Penske) both crashing. On lap seven Hunt did the same. This left Andretti in the lead with Watson second and Stommelen third. Watson began to suffer from a serious vibration and so he pulled into the pits. Andretti led for another seven laps but then retired when a rear suspension failure sent him into the guardrail.

Stommelen was left in the lead with Pace and Peterson chasing him and then came Jochen Mass (McLaren) and Jacky Ickx (Lotus). Peterson disappeared on lap 24 when he collided with Migault while lapping him.

Two laps later Stommelen's rear wing broke. The car went into the barriers and bounced back into the road causing Pace to crash. The Hill then hit the barrier on the other side of the track and flew over it. Five people were killed and Stommelen was very seriously injured. The organizers were in chaos and took four laps to stop the race by which time Mass had overtaken Ickx to take the lead. Jarier was third on the road but it was later established that he had passed Reutemann under a yellow flag and so the Brabham was given third place. As the race was stopped early half points were awarded, Jochen Mass thus becoming the first winner of "half" a Grand Prix. Jarier was fourth, Brambilla fifth and Lombardi collected half a point for sixth place, becoming the first woman to score in the World Championship.
Sammanställning

Grand Prix

Spanien

Datum

27 April 1975

Bana

Säsong

1975

Deltävling

4

Längd (km)

3.791

Varv

29

Tid

42:53.700
| | | | | | |
| --- | --- | --- | --- | --- | --- |
| Placering | Nr | Förare | Team | Tid | Grid |
| 1 | 2 | | | 42:53.700 | 11 |
| 2 | 6 | | | 1.099 | 16 |
| 3 | 7 | | | +1 varv | 15 |
| 4 | 17 | | | +1 varv | 10 |
| 5 | 9 | | | +1 varv | 5 |
| 6 | 10 | | | +2 varv | 24 |
| 7 | 21 | | | +2 varv | 18 |
| 8 | 18 | | | +3 varv | 6 |
| r | 22 | | | +4 varv | 9 |
| r | 8 | | | +4 varv | 14 |
| nc | 11 | | | +4 varv | 2 |
| r | 5 | | | +6 varv | 12 |
| r | 16 | | | +6 varv | 8 |
| r | 31 | | | +9 varv | 19 |
| nc | 23 | | | +11 varv | 22 |
| r | 27 | | | +13 varv | 4 |
| r | 14 | | | +22 varv | 23 |
| r | 24 | | | +23 varv | 3 |
| r | 3 | | | +26 varv | 13 |
| r | 28 | | | +26 varv | 17 |
| r | 25 | | | +26 varv | 20 |
| r | 4 | | | +28 varv | 7 |
| r | 20 | | | +28 varv | 25 |
| r | 30 | | Fittipaldi | +28 varv | 21 |
| r | 12 | | | +29 varv | 1 |
| ns | 1 | | | | |
| | | |
| --- | --- | --- |
| NC=Not Classified | NT=No time set in qualifying | R=Retired |
| EX=Excluded from meeting | W=Withdrawn | DQ=Disqualified |
| NS=Did not start | NQ=Did not qualify | NPQ=Did not pre-qualify |

Aktuell ställning
| | | | |
| --- | --- | --- | --- |
| Position | Förare | Nation | Poäng |
| 1 | | | 15 |
| 2 | | | 12 |
| " | | | 12 |
| 4 | | | 9.5 |
| 5 | | | 9 |
| 6 | | | 7 |