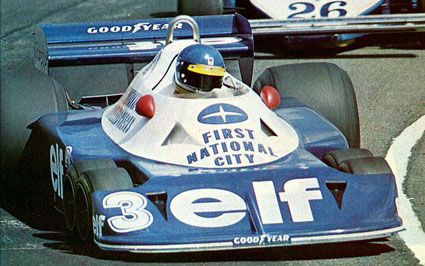 Gran Premio de la Republica Argentina 9 Januari 1977, Buenos Aires
Ronnie Peterson gör sin 93:e F1 start i ett nytt stall och i en ny bil. Den 6-hjuliga Tyrrellen har nått vissa framgångar under 1976, men som ersättare till Jody Scheckter har Ronnie inte lyckats komma till rätta med bilen inför säsongsupptakten i Argentinas GP - Ronnie lyckas endast prestera en fjortonde bästa kvalificeringstid, långt efter regerande världsmästaren James Hunt i "pole position".
Första startled delas av John Watson i en Brabham, följt av Ronnies teamkompis Patrick Depailler och med Niki Lauda som fyra i sin Ferrari.
Starten tas av Watson, före Hunt och Lauda. På det elfte varvet kan Hunt gå upp i ledning, men tretton varv senare får denna ge upp efter problem med fjädringen. Watson återtar ledningen, men tvingas lämna över till stallkamraten Pace efter att också ha haft problem med fjädringen. Pace i sin tur blir till slut utmattad av hettan i cockpit och måste lämna över till Jody Scheckter i den nya Wolf:en (en bra uppåkning från elfte plats). Med endast fem varv kvar att köra kan Wolf-stallet få en smakstart på den nya säsongen och sensationen blir ett faktum då ekipaget går i mål som segrare i denna debuttävling.
Tvåa blir Carlos Pace (Brabham) drygt 43 sekunder efter och trea slutar Carlos Reutemann (Ferrari), knappt därpå.
Och Ronnie? Tja, efter halva loppet spinner Ronnie av - ovan som han är vid en mycket speciell skapelse till Formel 1-bil...
Snabbaste varv får James Hunt (McLaren) med 1.51,06 och loppet ser följande förare i ledning: Watson 1-10, 25-34, Hunt 11-24, Pace 35-47; Scheckter 48-53.
Summary in english
The exciting 1976 season has ended with high drama at Mount Fuji with James Hunt winning the World Championship. In the weeks that followed before the new season began in January, there was a lot of action. McLaren was the only major team not to change drivers. Ferrari had signed up Carlos Reutemann and his job at Brabham went to John Watson, who was out of work after Roger Penske's decision to close down his team. The assets were sold to wheel-making magnate Gunther Schmid of the ATS company, who planned to run Hans Stuck. This left a seat open at Shadow alongside Tom Pryce and the team hired Renzo Zorzi. Reutemann's arrival at Ferrari meant that Clay Regazzoni was out of work for 1977 and he decided to join Ensign, which had showed well at the end of the 1976 season while Reutemann's original replacement at Brabham Larry Perkins joined the Stanley BRM team which had landed backing from Rotary watches.

With Jody Scheckter having gone to the new Walter Wolf Racing (to drive a new car designed by Harvey Postlethwaite) Tyrrell needed a new driver and signed up Ronnie Peterson from March and with Vittorio Brambilla joining Surtees (where he was joined by Hans Binder), March decided to hire two new drivers Ian Scheckter (Rothmans International) and Alex Ribeiro (Hollywood). The field in Argentina was completed by Fittipaldi running Emerson Fittipaldi and Ingo Hoffmann and Jacques Laffite's Ligier.

In qualifying the World Champion James Hunt used an old M23 to take pole position from Watson's Brabham-Alfa Romeo. Patrick Depailler was third for Tyrrell with Niki Lauda fourth on the grid in his Ferrari. Then came Jochen Mass (McLaren), Carlos Pace in the second Brabham-Alfa Romeo and Carlos Reutemann in the second Ferrari. The top 10 was completed by Mario Andretti in the new Lotus 78, Tom Pryce in the Shadow and Gunnar Nilsson in the second Lotus. Scheckter was 11th in the Wolf. Nilsson ended up as a nonstarter after Andretti's car was seriously damaged when a fire extinguisher exploded during the morning warm-up on race day.

At the start Watson took the lead with Hunt tucking in behind him. Lauda was third ahead of Andretti, Mass, Reutemann, Pryce and J Scheckter. Nothing changed at the front until lap 11 when Hunt took the lead and behind him Andretti overtook Lauda for third place. On the next lap Lauda dropped behind Mass as well and on lap 16 the Ferrari was also behind Pace's Brabham. On lap 21 Mass overtook Andretti to take third place but eight laps later the German spun off. Three laps later Hunt suffered a suspension failure and crashed out of the lead, leaving Watson ahead of his team mate Pace. Watson was struggling with suspension trouble and soon let Pace ahead. Behind then Andretti was third but he was caught and passed by Scheckter in the new Wolf. When Watson retired on lap 42 Scheckter moved to second place. In the closing laps Pace was slowed with exhaustion because of heat in his cockpit and on lap 48 Scheckter took the lead. Andretti also overtook Pace but went out immediately with a wheel bearing failure and so Pace finished second with Reutemann third, Fittipaldi fourth and Andretti being classified fifth and Regazzoni sixth.

The Wolf team could not have asked for a better start.
Sammanställning

Grand Prix

Datum

9 Januari 1977

Bana

Säsong

1977

Deltävling

1

Längd (km)

5.968

Varv

53

Tid

1:40:11.190
| | | | | | |
| --- | --- | --- | --- | --- | --- |
| Placering | Nr | Förare | Team | Tid | Grid |
| 1 | 20 | | | 1:40:11.190 | 11 |
| 2 | 8 | | | 43.240 | 6 |
| 3 | 12 | | | 46.020 | 7 |
| 4 | 28 | | | 55.480 | 16 |
| r | 5 | | | +2 varv | 8 |
| 6 | 22 | | | +2 varv | 12 |
| r | 19 | | | +5 varv | 13 |
| r | 10 | | | +8 varv | 17 |
| nc | 16 | | | +8 varv | 9 |
| r | 7 | | | +12 varv | 2 |
| r | 9 | | | +14 varv | 20 |
| nc | 26 | | | +16 varv | 15 |
| r | 4 | | | +21 varv | 3 |
| r | 1 | | | +22 varv | 1 |
| r | 2 | | | +25 varv | 5 |
| r | 3 | | | +25 varv | 14 |
| r | 29 | | | +31 varv | 19 |
| r | 11 | | | +33 varv | 4 |
| r | 18 | | | +35 varv | 18 |
| r | 17 | | | +51 varv | 21 |
| ns | 6 | | | | 10 |
| | | |
| --- | --- | --- |
| NC=Not Classified | NT=No time set in qualifying | R=Retired |
| EX=Excluded from meeting | W=Withdrawn | DQ=Disqualified |
| NS=Did not start | NQ=Did not qualify | NPQ=Did not pre-qualify |

Aktuell ställning
| | | | |
| --- | --- | --- | --- |
| Position | Förare | Nation | Poäng |
| 1 | | | 9 |
| 2 | | | 6 |
| 3 | | | 4 |
| 4 | | | 3 |
| 5 | | | 2 |
| 6 | | | 1 |