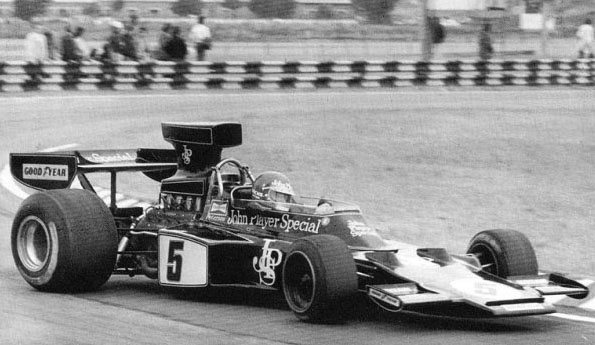 Gran Premio de la Republica Argentina 12 Januari 1975, Buenos Aires
Ronnie Peterson i säsongens första tävling - Ronnies 63:e F1 start sedan debuten 1970. Ronnie kommer till start med nr 5 på den svarta Lotusen - en nummer han därefter kör med resten av säsongen. Trots löften från Colin Chapman om en nykonstruerad Lotus är det fortfarande den ålderstigna 72:an som gäller. Detta gör det mycket svårt att hävda sig mot de mer konkurrenskraftiga bilarna från de övriga toppstallen, vilket tidskvalet visar med önskvärd tydlighet - Ronnie är inte bättre än 11:a.
Jean-Pierre Jarier i en Shadow skulle egentligen ha stått i "pole position" före Carlos Pace i en Brabham - en något förvånande startordning - men han kommer inte till start! Istället blir det Carlos Reutemann som från det andra ledet tar starten, en ledning han håller till det 26:e varvet då James Hunt i en Hesketh tar sig förbi. Denna tätposition får Hunt dock endast behålla i åtta varv (trots bästa varvtid med 1.50,91), varefter Emerson Fittipaldi (McLaren) blir för svår. Fittipaldi håller ledningen in i mål och tar sin första seger för säsongen före Hunt och Pace. Loppet har då sett följande förare i ledarposition: Reutemann 1-25; Hunt 26-34; Fittipaldi 35-53.
Ronnie tvingas bryta loppet efter 15 varv och problem med växellådan och bromsarna...
Summary in english
There were not many changes in the winter of 1974-75. Yardley withdrew and so McLaren concentrated it efforts on the two Marlboro cars. John Mass was taken on to replace the retired Denny Hulme. The Tyrrell, Lotus, Ferrari, Brabham, Shadow, Hesketh and Hill teams remained with the same drivers. Brabham landed sponsorship from Martini while Hill began to build his own cars his team having developed the Lola to such an extent that it ceased to be a Lola. Frank Williams finally began to race cars under his own name, having ended the relationship with Iso because the Italians had not paid. He retained Arturo Merzario and Jacques Laffite. March announced that it was not going to continue but then changed its mind and entered Vittorio Brambilla with backing from Beta. There were big chances at BRM following financial problems with Sir Alfred Owen's Rubery Owen company. The team was renamed Stanley BRM after Louis Stanley (who was married to Owen's sister Jean) and most of the existing management departed. Tim Parnell giving up as team manager and designer Mike Pilbeam moving on. Only one car was entered and, in an effort to drum up British support the car were painted red, white and blue and was driven by Mike Wilds. Surtees also reduced its involvement to one car (with support from Matchbox Toys) and hired John Watson to drive, Hexagon of Highgate having closed down its F1 operation. Penske and Parnelli both became full-time F1 teams with drivers Mario Andretti and Mark Donohue while Wilson Fittipaldi began campaigning the Fittipaldi chassis, designed by Richard Divila and supported by Copersucar.

Helping to level the playing field, Firestone announced that it was withdrawing from F1 and so Goodyear ended up with a virtual monopoly (although Parnelli did run Firestones briefly in the course of the year).

The big news in qualifying in Buenos Aires was the pace of the new Shadow DN5 with which Jean-Pierre Jarier took pole position by nearly half a second, beating Brabham's Carlos Pace. The second row featured Carlos Reutemann in the other Brabham and Niki Lauda in the Ferrari. Then came World Champion Emerson Fittipaldi (McLaren), James Hunt (Hesketh), Clay Regazzoni (Ferrari) and Patrick Depailler (Tyrrell). The top 10 was completed by Jody Scheckter (Tyrrell) and Andretti. The Lotuses were not very competitive with Ronnie Peterson 11th and Jacky Ickx 18th.

On the final parade lap Jarier's transmission failed and so the race started with the pole position man and this enabled Reutemann to jump ahead of his team mate Pace at the start, to the delight of the crowd. At the first corner Mass and Scheckter collided and both cars ended up in the pits. Lauda ran third with Hunt right behind him and on lap eight the Hesketh finally overtook the Ferrari and chased after the two Brabhams.

There was some excitement when the new Fittipaldi spun out of control, crashed into a barrier and caught fire. Wilson Fittipaldi was able to get out but the car was destroyed in the blaze. While this was happening Pace took the lead but then spun near the scene of the accident and dropped to seventh place. Hunt closed gradually up on Reutemann and on lap 26 he took the lead. As Hunt closed in on Reutemann Fittipaldi (E) moved ahead of Lauda to run third and he was soon past Reutemann as well and closing on the leader. On lap 35 the McLaren went ahead.

The order remained unchanged at the front with Fittipaldi winning from Hunt and Reutemann. Pace was fourth until he suffered engine failure and so the place went to Regazzoni with Depailler fifth and Lauda sixth.
Sammanställning

Grand Prix

Datum

12 Januari 1975

Bana

Säsong

1975

Deltävling

1

Längd (km)

5.968

Varv

53

Tid

1:39:26.290
| | | | | | |
| --- | --- | --- | --- | --- | --- |
| Placering | Nr | Förare | Team | Tid | Grid |
| 1 | 1 | | | 1:39:26.290 | 5 |
| 2 | 24 | | | 5.910 | 6 |
| 3 | 7 | | | 17.060 | 3 |
| 4 | 11 | | | 35.790 | 7 |
| 5 | 4 | | | 54.250 | 8 |
| 6 | 12 | | | 79.650 | 4 |
| 7 | 28 | | | +1 varv | 16 |
| 8 | 6 | | | +1 varv | 18 |
| 9 | 22 | | | +1 varv | 12 |
| 10 | 3 | | | +1 varv | 21 |
| 11 | 3 | | | +1 varv | 9 |
| r | 16 | | | +2 varv | 14 |
| 13 | 23 | | | +2 varv | 19 |
| 14 | 2 | | | +3 varv | 13 |
| r | 8 | | | +7 varv | 2 |
| nc | 20 | | | +9 varv | 20 |
| r | 27 | | | +26 varv | 10 |
| r | 14 | | | +29 varv | 22 |
| r | 5 | | | +38 varv | 11 |
| r | 21 | | | +38 varv | 17 |
| r | 30 | | | +41 varv | 23 |
| dq | 18 | | | | 15 |
| ns | 18 | | | | |
| | | |
| --- | --- | --- |
| NC=Not Classified | NT=No time set in qualifying | R=Retired |
| EX=Excluded from meeting | W=Withdrawn | DQ=Disqualified |
| NS=Did not start | NQ=Did not qualify | NPQ=Did not pre-qualify |

Aktuell ställning
| | | | |
| --- | --- | --- | --- |
| Position | Förare | Nation | Poäng |
| 1 | | | 9 |
| 2 | | | 6 |
| 3 | | | 4 |
| 4 | | | 3 |
| 5 | | | 2 |
| 6 | | | 1 |