Gran Premio de la Republica Argentina 28 Januari 1973, Buenos Aires
Ronnie Peterson gör sin 33:e start i Formel 1 i en ny bil och som stallkamrat till regerande världsmästaren Emerson Fittipaldi i Lotus. Trots ovanan med Lotus 72:an lyckas Ronnie prestera femte bästa tid efter tidskvalet. Ronnie har nr 4 på Marchen. Clay Regazzoni står i främsta startledet tillsammans med Fittipaldi.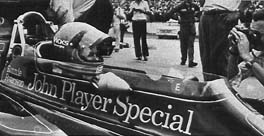 Det blir till slut Fittipaldi som vinner före Cevert och Stewart i en varsin Tyrrell. Ronnie Peterson tvingas bryta på det 66:e varvet efter problem med oljetrycket (sprucket oljerör).
Fittipaldi får snabbaste varv med 1.11,22 och loppet ser följande förare i ledning: Regazzoni 1-28; Cevert 29-85; Fittipaldi 86-96.
Summary in english
The boom in Formula 1 which followed the arrival of the Cosworth DFV continued in 1973 with two new constructors planning to enter the formula and a 15 races wanting to be part of the World Championship. There were political battles between the teams (a new organization called the Formula One Constructors Association) and the race organizers.

The experiment of having the Argentine Grand Prix in January was repeated in 1973 despite political instability in the country (following the return from exile of General Juan Peron) which had meant that the race was canceled and then reinstated.

In consequence the field was small but it highlighted the major changes of the driver lineup. The big news was that Ronnie Peterson had left March and had been hired as Emerson Fittipaldi's teammate at Team Lotus. Clay Regazzoni left Ferrari to join BRM, where he was joined by former March driver Niki Lauda. March decided to run only one factory car for rising star Jean-Pierre Jarier, while Mike Beuttler continued to run in a privately-entered car.

Tyrrell remained unchanged with Jackie Stewart and Francois Cevert and McLaren retained Denny Hulme and Peter Revson. Bernie Ecclestone began to take more control at Brabham and dropped Graham Hill. To replace Regazzoni Ferrari hired Arturo Merzario to be Jacky Ickx's partner and gave up using commuting US driver Mario Andretti. Beltoise was the only survivor of the previous year's BRM team, with Howden Ganley joining Williams where he replaced Carlos Pace, who had been poached by Surtees. This was bad news for Tim Schenken who found himself out of work. Nanni Galli quit Tecno to join Ganley at Williams (which had backing from Iso Rivolta and Marlboro) and that left Chris Amon with no choice but tecno, as Matra decided it was time to leave the sport. The new teams did not appear but Shadow had Tony Southgate working on its new car (which would be raced by Jack Oliver and George Follmer) and Mo Nunn was building the first Ensign F1 car for Rikki Von Opel. Graham Hill refused to retire and arranged a deal to run a new Shadow in Embassy colors but it was ready to race in Argentina.

Regazzoni took pole position for BRM with Emerson Fittipaldi alongside him on the front row. The second row featured Ickx and Stewart with Peterson and Cevert behind them. The top 10 was completed by Beltoise, Hulme, Reutemann and Mike Hailwood (Surtees).

At the start Cevert, Fittipaldi and Regazzoni all arrived at the first corner side-by-side and it was the Frenchman who emerged ahead from sixth on the grid. Regazzoni challenged the Tyrrell driver at the second corner and forced his way into the lead. The order at the front did not change until lap 29 when Cevert took the lead, Regazzoni having worn out his tires. The man who made the most progress was Stewart who had worked his way up through the field and he took second place from Regazzoni on lap 32. Fittipaldi and Peterson followed him through on laps 33 and 34. The top four remained unchanged until lap 68 when Peterson stopped with an engine problem. Stewart then began to run into tire trouble and on lap 76 dropped behind Fittipaldi. The Brazilian then closed on Cevert and after a lively battle he took the lead on lap 86. Cevert finished second with Stewart third.
Sammanställning
Grand Prix
Argentina
Datum
28 Januari 1973
Bana
Buenos Aires No.9
Säsong
1973
Deltävling
1
Längd (km)
3.345
Varv
96
Tid
1:56:18.220
| | | | | | |
| --- | --- | --- | --- | --- | --- |
| Placering | Nr | Förare | Team | Tid | Grid |
| 1 | 2 | Emerson Fittipaldi | Lotus | 1:56:18.220 | 2 |
| 2 | 8 | François Cevert | Tyrrell | 4.690 | 6 |
| 3 | 6 | Jackie Stewart | Tyrrell | 33.190 | 4 |
| 4 | 18 | Jacky Ickx | Ferrari | 42.750 | 3 |
| 5 | 14 | Denny Hulme | McLaren | +1 varv | 8 |
| 6 | 12 | Wilson Fittipaldi | Brabham | +1 varv | 12 |
| 7 | 32 | Clay Regazzoni | BRM | +3 varv | 1 |
| 8 | 16 | Peter Revson | McLaren | +4 varv | 11 |
| 9 | 20 | Arturo Merzario | Ferrari | +4 varv | 14 |
| r | 22 | Mike Beuttler | March | +6 varv | 18 |
| r | 24 | Jean-Pierre Jarier | March | +12 varv | 17 |
| r | 30 | Jean-Pierre Beltoise | BRM | +17 varv | 7 |
| nc | 38 | Howden Ganley | Williams | +17 varv | 19 |
| r | 4 | Ronnie Peterson | Lotus | +30 varv | 5 |
| r | 34 | Niki Lauda | BRM | +30 varv | 13 |
| r | 10 | Carlos Reutemann | Brabham | +80 varv | 9 |
| r | 28 | Carlos Pace | Surtees | +86 varv | 15 |
| r | 26 | Mike Hailwood | Surtees | +86 varv | 10 |
| r | 36 | Nanni Galli | Williams | +96 varv | 16 |
| | | |
| --- | --- | --- |
| NC=Not Classified | NT=No time set in qualifying | R=Retired |
| EX=Excluded from meeting | W=Withdrawn | DQ=Disqualified |
| NS=Did not start | NQ=Did not qualify | NPQ=Did not pre-qualify |

Aktuell ställning
| Position | Förare | Nation | Poäng |
| --- | --- | --- | --- |
| 1 | Emerson Fittipaldi | BRA | 9 |
| 2 | François Cevert | FRA | 6 |
| 3 | Jackie Stewart | GBR | 4 |
| 4 | Jacky Ickx | BEL | 3 |
| 5 | Denny Hulme | NZ | 2 |
| 6 | Wilson Fittipaldi | BRA | 1 |