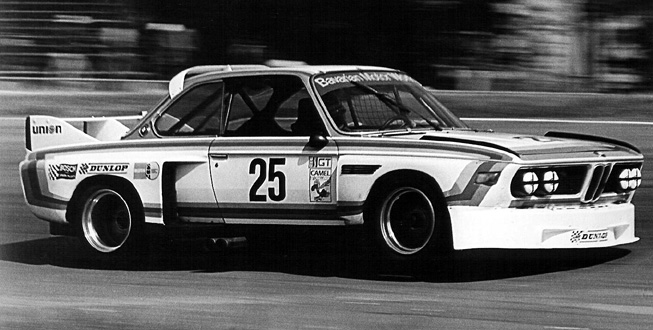 6 Hours of Watkins Glen World Championship of Makes and SCCA Trans-Am Championship 12 juli 1975 (9.omgången i VM) (10)
Ronnie Peterson har varit tvungen att resa 22 timmar från Monaco till New York för att kunna ställa upp i 6-timmarsloppet på Watkins Glen - problem med försenade flygplan, ombokningar och missade flygplan. Ronnie ställer upp på Watkins Glen tillsammans med Hans-Joachim Stuck och de sitter som vanligt i en BMW 3.0 CSL tävlande för BMW Motorsport. Tävlingen har lockat 50.000 åskådare.
Ronnie blir positivt överraskad under det första träningsvarvet på Watkins Glen. I Europa kör stallet med 15-tims bakhjul, men i USA är det tillåtet att köra med 17-tums vilket ger bilen en mycket bättre balans och stabilitet. De närmaste konkurrenter från Porsche är långsammare under träning. Dock är standardvagnarna helt naturligt långsammare än sportvagnarna - där Alfa redan säkrat VM-titeln. Däremot imponerar de små 1,5 liters Renault Alpine på Ronnie - 318 km/h på rakan mot Alfas treliters sportvagn som endast gör 292. Hemligheten var turbomatningen - en teknik som ryktena sade snart skulle komma även till Formel 1...
Ronnie presterar åttonde bästa träningstid. Själva loppet är stundtals ren kalabalik. Då Ronnie efter 1½ timme tar över efter Stuck leder BMW:n stort över Porscharna. Efter nästa byte hinner Stuck endast köra ett par varv innan det börjar regna. Alla väntar på att han skall komma in för byte till regndäck och då ekipaget till slut dyker upp på ettan i depåböjen står det snart klart att bilen blivit påkörd av en Corvette. Då BMW står i begrepp att bryta rödflaggar tävlingsledningen loppet och under avbrottet hinner bilen nödtorftigt ställas i ordning. Det håller ett tag, men sedan visar det sig att bränsletanken har gått sönder och BMW bryter loppet på det 85:e varvet av totalt 152. Paret slutar på en tjugondeplats i sammandraget. Vinner gör paret Pescarolo/Bell i en Alfa Romeo 33TT12.
   Tränande:   32   (S3.0 - 7, S2.0 - 0, GT - 9, T - 5, - - 10)
   Startande:     29   (S3.0 - 6, S2.0 - 0, GT - 8, T - 5, - - 10)
   Klassificerade:  14   (S3.0 - 6, S2.0 - 0, GT - 8, T - 5, - - 10)
 Tävling: 5,435 km * 152 varv = 826,083 km     SNITT: 137,148 km/h
 Snabbaste varv:  Gérard Larrousse                1  Alpine Renault A442 Turbo     1:45,956   184,6529 km/h 
Pos.  Nr  Förare / Nationalitet        Bil                         Stall                     Varv   Tid/brutit     Grupp         Träning
  1.   4 Henri Pescarolo / F          Alfa Romeo 33TT12       	  Willi Kauhsen Racing Team   152   6:01:23,900    1. S3.0       3.  1:46,450  
         Derek Bell / GB
  2.   3 Arturo Merzario / I          Alfa Romeo 33TT12       	  Willi Kauhsen Racing Team   152   6:02:43,932    2. S3.0       4.  1:46,623  
         Mario Andretti / USA
  3.   1 Gérard Larrousse / F         Alpine Renault A442  A442/2 Renault Alpine              149                  3. S3.0       2.  1:43,462  
         Jean-Pierre Jarier / F
  4.   8 Reinhold Jöst / D            Porsche 908/3 Turbo     008 Scuderia Brescia Corse      149                  4. S3.0       5.  1:48,222  
         Mario Casoni / I
  5.  95 Bob Hagestad / USA           Porsche Carrer 911 460 9057 Bob Hagestad Porsche-Audi   143                  1. GT        10.  1:57,311  
         Hurley Haywood / USA
  6.  24 Sam Posey / USA              BMW 3.0 CSL                 BMW Motorsport              142                  1. T          9.  1:56,980  
         Brian Redman / GB
  7.  14 Al Holbert / USA             Porsche Carrera RSR         Holbert's Porsche+Audi      141                  2. GT        11.  1:58,654  
         Peter Gregg / USA
  8.  74 Ludwig Heimrath / CDN        Porsche Carrer 911 560 9123 Heimrath Racing             138                  3. GT        12.  2:01,076  
         Rudy Bartling / CDN
  9.  78 Babe Headley / USA           Chevrolet Corvette 427      Babe's Garage               126   6:08:11,300       -         20.  2:07,623  
         Paul Misuriello / USA
 10.  77 Bruce Jennings / USA         Porsche 911S                Bruce Jennings              123                  4. GT        29.  0:00,000  
         Bob Beasley / USA
 11.  92 John Orr / USA               Chevrolet Corvette 545      E.F. Miller & Co.           118                     -         22.  2:08,352  
         Bill Jobe / USA
 12.  33 Bob Sharp / USA              Datsun 280Z                 Bob Sharp Racing            117         Engine      -         15.  2:03,422  
         Jim Fitzgerald / USA
 13.  67 Michael Oleyar / USA         Chevrolet Corvette 454      Little Foreign Car Shop     115                     -         26.  0:00,000  
         Sam Feinstein / USA
 14.  93 Ray Walle / USA              Mazda RX-3                  Ray Walle                   111                  2. T         30.  0:00,000  
         Tom Reddy / USA
 15.  76 Allan Anderson / USA         Chevrolet Corvette 350      Allan Anderson              105                     -         18.  2:07,442  
         Ray Anton / USA
 16.  91 Roger Pierce / USA           Chevrolet Corvette          Pierce Racing               104                     -         23.  2:08,615  
         Alex Davidson / USA
 17.  13 Warren Agor / USA            Chevrolet Monza 350         Warren Agor                 103 Puncture, acci      GT        14.  2:01,715  
         Stephen Behr / USA
 18.   5 John Greenwood / USA         Chevrolet Corvette 427      John Greenwood               96         Engine      -         13.  2:01,653  
         Bill Adam / CDN
 19.  22 Denny Long / USA             Chevrolet Corvette 460      Bandag                       88                     -         25.  0:00,000  
         Tim Startup / USA
 20.  25 Hans-Joachim Stuck / D       BMW 3.0 CSL                 BMW Motorsport               85 Broken fuel ta      T          8.  1:55,647  
         Ronnie Peterson / S
 21.   9 Jürgen Barth / D             Porsche 908/3           012 Scuderia Brescia Corse       67        Gearbox      S3.0       7.  1:55,347  
         Michael Keyser / USA
         Bert Kuehne / CDN
 22.  90 Thomas Rynone / USA          Chevrolet Corvette 427      Rynone Ind.                  67       Accident      -         17.  2:06,690  
         Michael Wiernicki / USA
         Neil Wiernicki / USA
 23.  57 Bob Grossman / USA           De Tomaso Pantera           Grossman Motors              61         Engine      GT        24.  0:00,000  
         Elliot Forbes-Robinson / USA
 24.  28 Richard Weiss / USA          Porsche 911S                Weiss Motor Racing           56 Broken oil lin      GT        27.  0:00,000  
         Jerry Karl / USA
 25.  88 Tony DeLorenzo / USA         Chevrolet Monza  DeKon-1001 Carter Racing Services       52     Lost wheel      GT        16.  2:06,518  
         Maurice Carter / CDN
 26.  11 Bert Everett / USA           Alfa Romeo Alfetta GT       Bobcor Performance           50         Engine      T         28.  0:00,000  
         Frank Marino / CDN - DND
 27.   2 Jody Scheckter / ZA          Alpine Renault A442  A442/1 Renault Alpine               29         Valves      S3.0       1.  1:42,890  
         Patrick Depailler / F - DND
 28.  32 Bill Seip / USA              Chevrolet Corvette          Warren & Ginny Wagner        25         Engine      -         31.  0:00,000  
         David Lloyd / USA
 29.  56 Craig Carter / USA           Chevrolet Camaro            Carter Bros.                  1         Engine      T         21.  2:07,856  
         David Laughlin / USA - DND